Donald Trump vs. Alec Baldwin Redux: 'SNL' Again the Target of President-Elect's Ire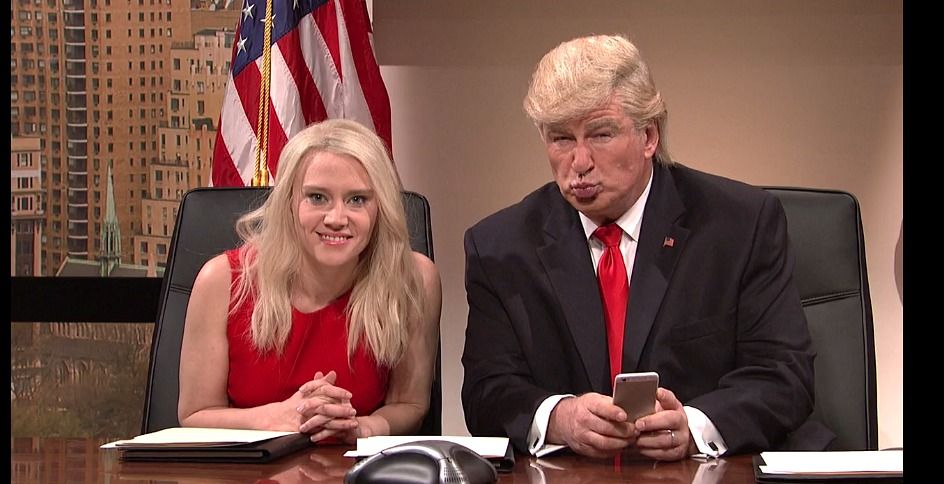 Donald Trump really, really hates Alec Baldwin's impersonation of him.
The president-elect of the United States and the actor got into another tiff this weekend over Twitter after Trump again used his favorite micro-blogging site to criticize "Saturday Night Live's" portrayal of him as a feckless, disinterested vulgarian.
"Just tried watching Saturday Night Live—unwatchable! Totally biased, not funny and the Baldwin impersonation just can't get any worse. Sad," Trump tweeted at 12:13 a.m. Eastern, after the NBC show led its broadcast with a sketch mocking Trump's inability to focus and penchant for retweeting questionable accounts. Trump's feed went dark until after 6:30 a.m., when he started ranting about imposing a 35 percent tax on goods from businesses who move operations overseas.
RELATED: Alec Baldwin responds to Trump's criticism
"Release your tax returns and I'll stop," tweeted Baldwin, whose feed is highly critical of Trump's decisions since winning election.
Saturday's cold open featured Baldwin's Trump and adviser Kellyanne Conway, played by Kate McKinnon, in Trump Tower receiving a security briefing. Well, aides were at least trying to brief the president-elect, whose attention kept wandering to his phone and Twitter app.
"This could not wait," Trump says after retweeting a teenager. "It was from a young man named Seth. He's 16, and he's in high school and I really did retweet him, seriously. This is real."
"He really did do this," McKinnon's Conway says. 'SNL' satirizes Conway as someone who is sensible but has sold her principles for a spot at the seat of power, and Saturday they cast her in the guise of a truth-teller.
"There is a reason actually that Donald tweets so much. He does it to distract the media from his business conflicts and the very scary people in his cabinet," Conway says, after a week in which the actual Trump used Twitter to suggest unconstitutionally stripping flag-burners of their citizenship rights.
The sketch also made light of Trump's recent overtures to Pakistan, the Philippines and Taiwan that have roiled the diplomatic world, and also suggested the president-elect's flirtation with Mitt Romney for secretary of state is motivated by a desire to "make him look like a little bitch."
Trump will take office in a relatively enviable position, unlike President Obama, who was inaugurated as the world economy was in free fall. Baldwin's Trump didn't shy from taking credit for what he's inheriting.
"I was elected 25 days ago and already unemployment is at a nine-year low, millions and millions of people have healthcare and Osama Bin Laden is dead," he says.
"Yes, he is dead. Just like my soul and all of my hair," Conway says.
It's only been two weeks since the president-elect used Twitter to broadcast his feelings on pop culture, scolding the cast of "Hamilton" for directing a message of inclusion at Vice President-elect Mike Pence and slamming "SNL" as "one-sided" and "biased."
"You know what I would do if I were Prez? I'd be focused on how to improve the lives of as many Americans as possible," Baldwin tweeted that weekend. "I'd be focused on improving our reputation abroad, including actually fighting for freedom and not just oil. I would make appointments that encouraged people, not generate fear and doubt. I could go on. You want more advice, call me. I'll be at SNL," Baldwin wrote.
Read more at Newsweek.com: