Donald Trump Tells Americans 'Calm Down and Enjoy the Ride' in 2019
President Donald Trump on Tuesday welcomed Americans into the new year with an all-caps message urging folks to just chill out.
He posted to Twitter early on New Year's Day: "HAPPY NEW YEAR TO EVERYONE, INCLUDING THE HATERS AND THE FAKE NEWS MEDIA! 2019 WILL BE A FANTASTIC YEAR FOR THOSE NOT SUFFERING FROM TRUMP DERANGEMENT SYNDROME. JUST CALM DOWN AND ENJOY THE RIDE, GREAT THINGS ARE HAPPENING FOR OUR COUNTRY!"
While Trump's all-caps tweet urging folks to just "ENJOY THE RIDE" was somewhat odd, the president had already delivered a different but equally odd New Year's message. He posted a video of himself talking at the White House with the text "HAPPY NEW YEAR!" He seemd to be guilt tripping America for partying.
"While I'm at the White House working, you're out there partying tonight. But I don't blame you," he said in the video. "Enjoy yourselves. We're going to have a great year. Have a really, really happy new year."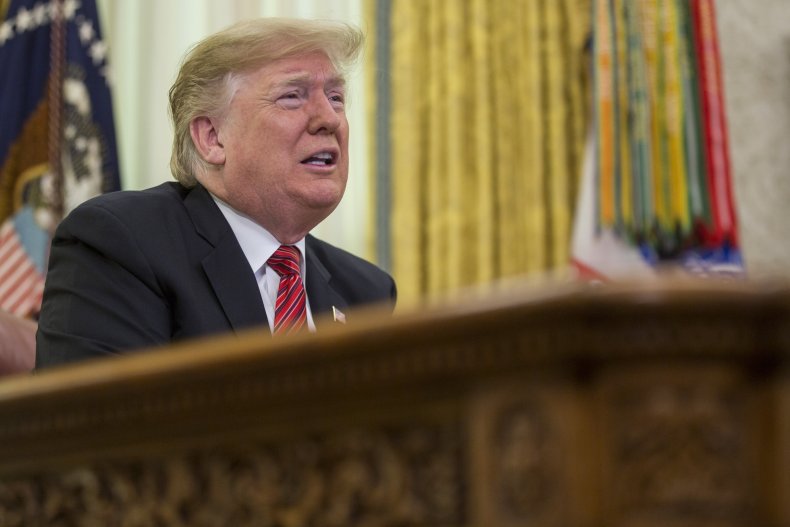 While Trump might've been working on Monday, he did make time for Fox News. He said during an interview with Fox's Pete Hegseth that his New Year's resolutions were for "success, prosperity and the health of our country." He was also asked who the winners and losers of the year were. He said the winners were "the American people" because he got them tax cuts, jobs and took "care of our military."
The losers? The people considering running against him in 2020—such as Democratic Massachusetts Senator Elizabeth Warren, who announced an exploratory committee for a potential presidential run on Monday.
"I think that when you look at some of the candidates that are announcing right now, I think they will end up being the losers. You know, a lot of people, 32 people they say could be with the Democrats, let's see what happens," Trump told Fox News. "But I'm really more interested in the winners, and the winners are the people of the United States."