Donald Trump Says New Year's Resolutions Are 'Success, Prosperity And Health Of Our Country'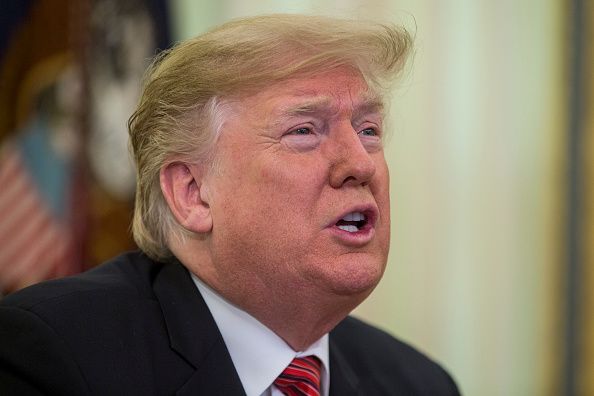 Even the President of the United States makes New Year's resolutions.
In an interview with Fox News on Monday night, Donald Trump said that his personal resolutions for 2019 are "success, prosperity and the health of our country."
Trump's phone interview — the 41st interview given to the news network since his presidency began in 2017 — was pre-recorded with the network's Pete Hegseth.
Hegseth asked Trump for any personal resolutions at the end of the interview, following questions about the ongoing government shutdown, border security, and withdrawing troops from Syria.
"It's New Year's Eve. For a lot of our viewers, it is a time for reflection," Hegseth said to the president. "You look back on 2018, you look forward to 2019. If I could, Mr. President, on a lighter note, your winners and losers for 2018. Who are the big winners and the big losers in the last year?"
Trump said that Americans are the winners.
"I think the winners are the American people," Trump said. "Because we've gotten them tax cuts and we've gotten them jobs, jobs like they've never had before. We've taken care of our military, we've rebuilt large portions of and, very shortly, all of our military, which was totally depleted under the previous administration."
On the opposite side, the president said that the candidates announcing a run 2020 campaign for president will end up being the losers.
"You certainly have a lot of people that wanted to do things that it didn't work out," Trump said. "I think that when you look at some of the candidates that are announcing right now, I think they will end up being the losers. You know, a lot of people, 32 people they say could be with the Democrats, let's see what happens."
"But I'm really more interested in the winners, and the winners are the people of the United States," Trump concluded.
Trump's comments come hours after Massachusetts Senator Elizabeth Warren announced she is forming an exploratory committee for a potential 2020 presidential campaign. Trump also took a jab directly at Warren during the interview, saying that only her psychiatrist knows if the senator thinks she could win the presidency and that he would "love to run" against her.
Thus far, Warren is the only candidate to announce the possibility of a presidential campaign, though other candidates are expected to announce their intentions in the coming months.
The interview aired during Fox News' "All American New Year" program.