Donald Trump Jokes About Elizabeth Warren's 2020 Campaign In Fox News Interview; Says 'Ask Her Psychiatrist' If She Thinks She Will Win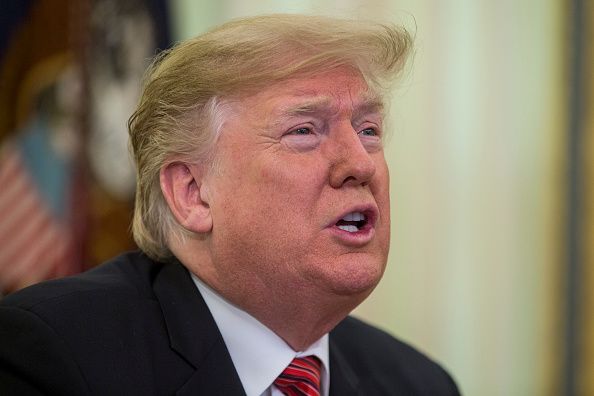 President Donald Trump's final interview of 2018 hasn't aired yet, but it's already making headlines.
Fox News will air a pre-recorded interview with the president during the network's "All American New Year" program and, following today's announcement from Massachusetts Senator Elizabeth Warren, released a portion of the phone interview ahead of the broadcast.
In the audio clip, Fox News' Pete Hegseth asked Trump if Warren thinks she could win the presidency in 2020.
"Well, that I don't know. You'd have to ask her psychiatrist," Trump said.
On Monday, Warren announced that she is organizing an exploratory committee ahead of potential 2020 presidential run.
Trump also said that he would love to run against Warren.
"We'll see how she does. I wish her well, I hope she does well, I'd love to run against her," Trump said.
Trump also took aim at Warren's alleged Native American ancestry, telling Hegseth that both he and the news anchor likely have more Native American blood than Warren.
"I think you have more than she does, and maybe I do too, and I have nothing," Trump said.
Trump has frequently referred to Warren as "Pocohantas" due to her claim of Native American heritage.
In October, Warren made headlines when she released the results of a DNA test to reportedly prove her claims. The DNA test stated that most of Warren's ancestors are European but there was evidence of Native American ancestry, "likely in the range of six to 10 generations ago," the test results said.
The test did not go over well among members of the Cherokee Nation.
"Using a DNA test to lay claim to any connection to the Cherokee Nation or any tribal nation, even vaguely, is inappropriate and wrong. It makes a mockery out of DNA tests and its legitimate uses while also dishonoring legitimate tribal governments and their citizens, whose ancestors are well documented and whose heritage is proven. Senator Warren is undermining tribal interests with her continued claims of tribal heritage," Cherokee Nation Secretary of State Chuck Hoskin Jr. said in a statement.
Trump's interview will air in full tonight on Fox News. While the exact time of the interview is unknown, "All American New Year" begins at 10 p.m. ET.