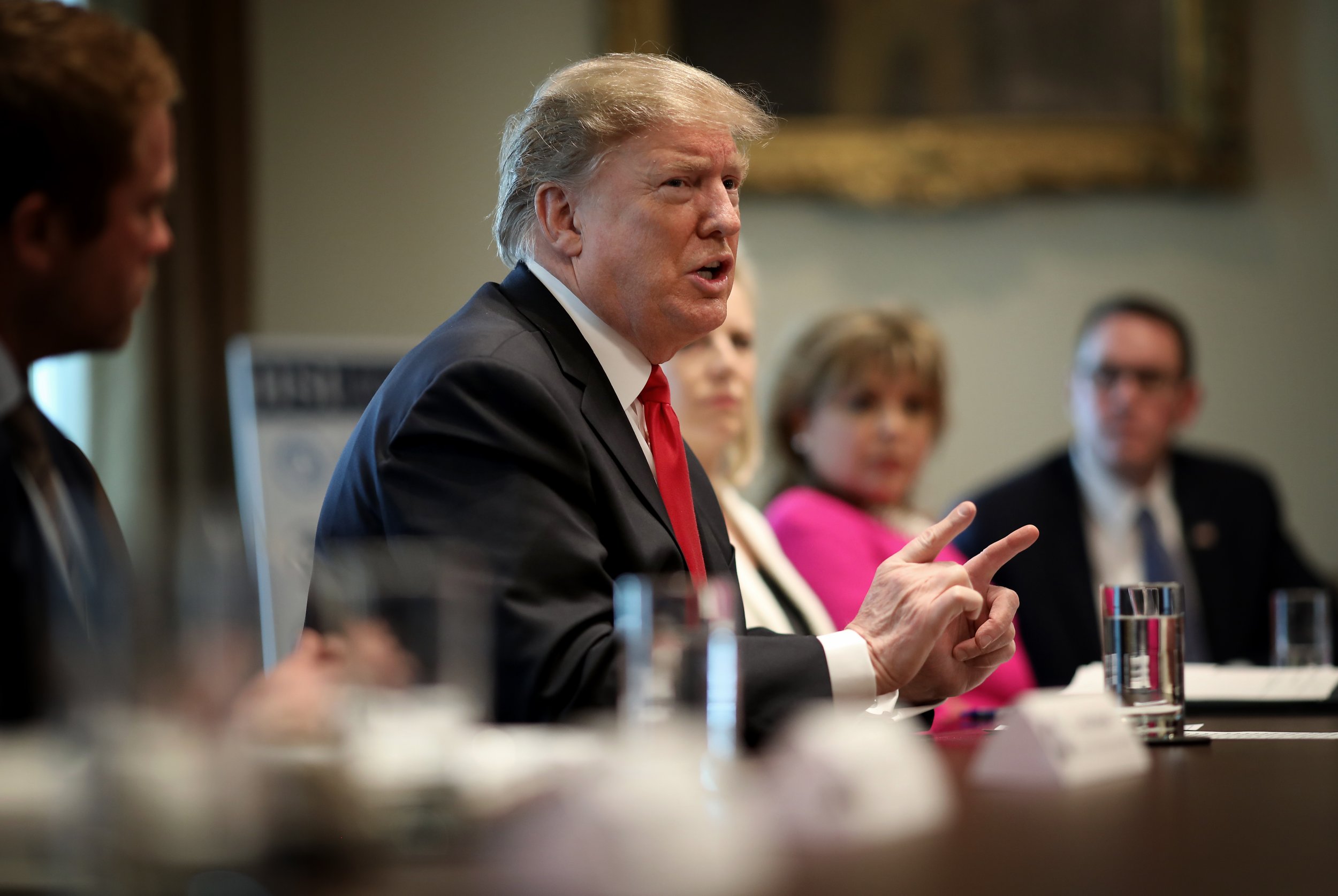 President Donald Trump has criticized two Central American nations supporting his stance on the political crisis in Venezuela, where the United States and a number of regional allies have recognized an opposition leader as acting president.
At a press briefing Friday, Trump reiterated his support for a border wall project that has polarized the country's political atmosphere, prompting the longest government shutdown in U.S. history as Republicans and Democrats failed to agree on a spending bill for nearly five weeks, until a temporary compromise was reached last month. Trump has argued that the wall would stem the flow of undocumented immigration, especially from Latin America—a region with an extensive history of U.S. intervention.
Trump railed against Mexico, calling it "the most unsafe country in the world" and went on to attack Central America, from where migrants have fled crime and poverty in caravans attempting to enter the U.S. Some have been met with a militant response at the border a the Trump administration enforces its hard-line on immigration.
"We need a protective barrier in our country," Trump said. "And that doesn't include Honduras, who we are not happy with and we're looking very serious at taking away all funding, and the same thing for Guatemala, and the same thing for El Salvador. It's a disgrace what's going on in these countries. For years and years, the United States has paid them hundreds of millions of dollars and they do nothing for us."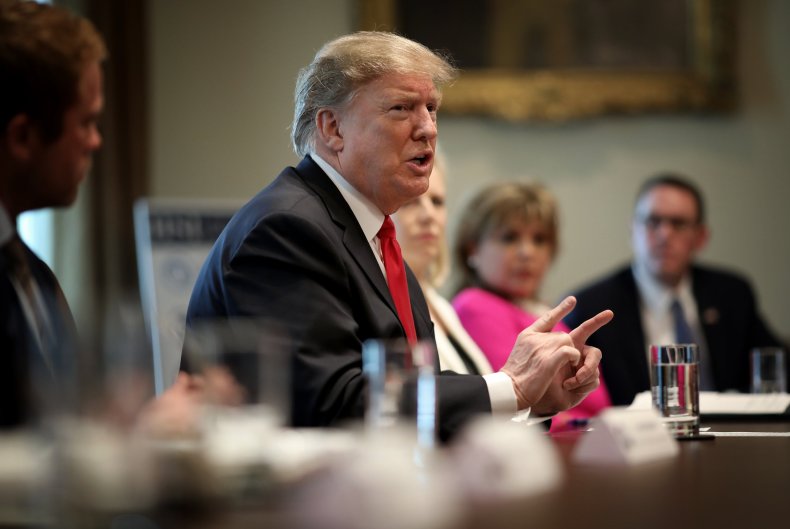 While the U.S. has provided foreign aid to El Salvador, Guatemala and Honduras, the crises plaguing these three nations have deep roots in of Washington-sponsored attempts to eradicate left-wing and socialist movements across Latin America. In 1954, the CIA overthrew the leftist government of Guatemala and would go on to support right-wing military leaderships there and in El Salvador, Honduras and Nicaragua as they battled left-wing revolutionary forces.
This Cold War-era doctrine, expanded under former President Ronald Reagan in the 1980s, extended to much of South America as well, leaving the entire region deeply affected by U.S. foreign policy. The strategy continued into the 21st century with State Department official Elliot Abrams—convicted, but later pardoned for his role in a plot to sell weapons to Iran in order to fund "contra" rebels against the socialist Sandinistas leading Nicaragua—being allegedly involved in a 2002 coup attempt against Venezuelan President Hugo Chávez.
Chávez survived the coup, but his country would go on to suffer an economic crisis that continued to worsen after his death from cancer in 2013. His successor, President Nicolás Maduro, has struggled to rein in historic hyperinflation rates, soaring levels of crime and persistent allegations of human rights abuses. The Trump administration has sought to oust the socialist leader and last year enacted sanctions preventing his government from restructuring or issuing new debt.
As protests surrounded the swearing-in of Maduro's second term last month, National Assembly head Juan Guaidó declared himself interim president in a move quickly recognized by the Trump administration, which appointed Abrams to be its special envoy on Venezuela. The U.S. move was backed by most Latin American countries, including right-wing Guatemala and Honduras, while El Salvador and Nicaragua joined fellow left-led Bolivia and Cuba—also targets of U.S. intervention in the 21st century—in supporting their ally Maduro.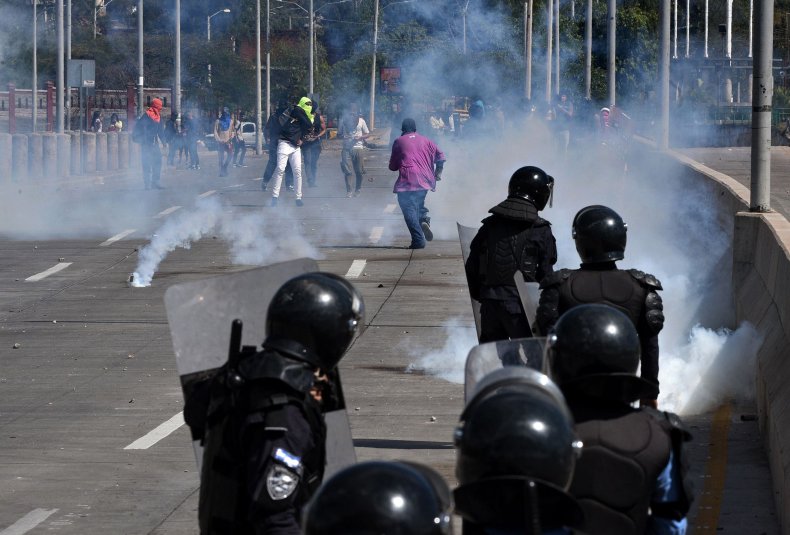 Maduro has also received support abroad from nations such as China, Cambodia, Iran, Laos, North Korea, Russia, Syria and Turkey, while others like Australia, Canada, the European Union and Israel have joined the U.S. in backing Guaidó. Mexico and Uruguay have maintained their recognition of Maduro and have offered to host international talks in hopes of resolving the dispute peacefully. Moscow has also volunteered to mediate as it considers Venezuela to be a key for its own regional ambitions.
Trump reminded reporters Friday that military action was "always an option" in dealing with Venezuela. The remarks came after White House national security adviser John Bolton's rolling out of new sanctions on Venezuela's state-run oil company Monday at a press conference in which observers noticed a note on his pad that read "5,000 troops to Colombia," another right-wing-led ally of the U.S. and a longtime rival of Venezuela, which is also bordered by U.S.-backed, right-wing-led Brazil.
Maduro and the Venezuelan armed forces, which support the government, have vowed to defeat what they have described as a "coup" motivated by U.S. oil interests, but have also agreed to hold talks with the opposition. Guaidó's envoy to Washington, Carlos Vecchio, told the Atlantic Council on Wednesday that the self-proclaimed president was "not willing to participate in any dialogue of the type that Maduro is interested" and that the "only thing we will accept is our agenda: How do we negotiate his exit?"