Donald Trump has joined the list of Republican figures who criticized the Biden administration for releasing $6 billion in frozen Iranian money in exchange for the release of five American detainees.
The deal, which was announced in August, will see a blanket sanctions waiver for international banks to allow the money from past Iranian oil sales be allowed to move from countries such as South Korea and Qatar so the American citizens currently held captive in Iran can be released, with the U.S. releasing five Iranian prisoners as part of the deal.
Secretary of State Antony Blinken signed off on the sanctions waivers last week, but Congress was only made aware of the deal on Monday, according to the Associated Press. The news that five Iranian prisoners would be released as part of the deal was also only just disclosed.
In a post on Truth Social, Trump, who is facing four criminal trials and calls to be barred from the 2024 election over allegations he violated the 14th amendment by inciting and engaging in an insurrection on January 6, has called for Republicans to take steps to remove President Joe Biden from office over the $6 billion deal.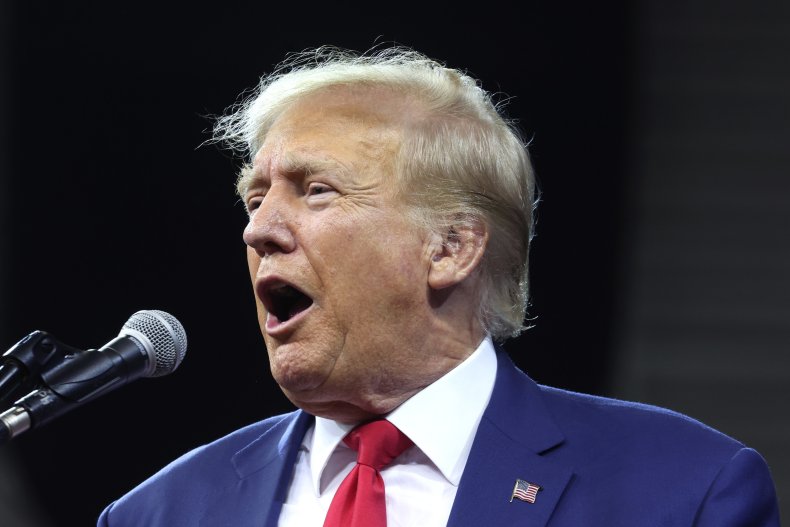 "Because of the Rigged and Stollen [sic] 2020 Presidential Election, just look at our Nation, and indeed the World, NOW!" Trump wrote in reference to the false claims he lost the last election due to widespread voter fraud.
"It is all a shadow of its former self. Ukraine, Inflation, Bad Economy, Woke Military, No World Standing, No Respect, and today, 6 Billion Dollars for hostages. Where is the call from Republicans for the 25th Amendment?" he said, referring to the amendment that deals with what happens when a president is removed, resigns or dies in office.
The White House has been contacted for comment via email.
A number of other GOP figures have hit out at the multi-billion-dollar deal, arguing it may encourage the capture of further American citizens. It comes at a time when the U.S. and Iran have clashed over Tehran's nuclear program and its support for Shiite militia groups in the Middle East.
"If we're paying a billion dollars per kidnapped individual, then you're going to see more kidnappings. That's why you don't negotiate with terrorists, that's why you don't negotiate with kidnappers. The idea of basically paying to release, in this effect, a hostage is a terrible idea," Utah Senator Mitt Romney told The Hill.
In a post on X, formerly Twitter, Iowa Senator Chuck Grassley said: "It's ridiculous for US to be blackmailed into paying $6B for hostages which will help indirectly finance the number 1 foreign policy of Iran: terrorism Last time it was $1.7B traded for hostages next time it will probably be $10B the price keeps going up & up."
Arkansas Senator Tom Cotton added in a Monday statement: "First Joe Biden used 9/11 as an excuse to flee Afghanistan. Now he desecrates this day by paying ransom to the world's worst state sponsor of terrorism. Shameful."
The White House has dismissed the criticism of the sanctions waiver, saying it was a "procedural step" to push through the agreement reached with Iran in August, which also allowed four of the detained U.S. citizens to move into house arrest. A fifth was already under home confinement.
"What is being pursued here is an arrangement wherein we secure the release of five wrongfully held Americans," said Adrienne Watson, a spokeswoman for the National Security Council.
"This remains a sensitive and ongoing process. While this is a step in the process, no individuals have been or will be released into U.S. custody this week."
The State Department said the funds would be moved to restricted accounts in Qatar, and the United States would have oversight as to how and when the funds were used.
"It is longstanding U.S. policy to ensure our sanctions do not prevent food, medicine, and other humanitarian goods and services from flowing to ordinary people, no matter how objectionable their governments," it said in a statement on Monday.