Donald Trump Objects to 9/11 as Date of Afghanistan Withdrawal, Calls for Earlier Exit
Former President Donald Trump objected to September 11 of this year as the date President Joe Biden has set to pull all U.S. troops out of Afghanistan, ending the nation's longest war.
"I wish Joe Biden wouldn't use September 11th as the date to withdraw our troops from Afghanistan," Trump said in a statement released Sunday.
The U.S. entered Afghanistan after the attacks on the World Trade Center in New York City on September 11, 2001. American troops have remained in the country ever since and posed a decision-making challenge to both Democratic and Republican administrations.
Trump, who advocated through his presidency for leaving Afghanistan, cited "two reasons" why the historic date of September 11 shouldn't be used to mark the end of the conflict.
The first was that "we can and should get out earlier" because 19 years in Afghanistan is "far too much and way too long." The former Republican commander-in-chief continued that he made "early withdrawal possible by already pulling much of our billions of dollars of equipment out" and reducing the number of troops in Afghanistan to fewer than 2,000 from 16,000.
The second factor Trump cited was that September 11 is "a very sad event" and the "positive" moment of bringing troops home would take away from the "day of reflection."
Trump concluded his statement by saying that he had planned to withdraw by May 1 and suggested "we should keep that as close to that schedule as possible."
Trump's response comes after Biden announced on Wednesday that he would pull 2,500 U.S. armed forces from Afghanistan between May 1 and September 11, defying the 14-month period established in a February 2020 agreement signed by Trump, U.S. NATO allies, and the Taliban. This move is effectively an extension of the war in by several months, as the Biden administration cited a need for more time to ensure a safe and responsible withdrawal.
"We will reorganize our counterterrorism capabilities and the substantial assets in the region to prevent the reemergence of terrorist threat to our homeland over the horizon," the president said. "We'll hold the Taliban accountable for its commitment not to allow any terrorist to threaten the United States or its allies on Afghan soil. The Afghan government has made that commitment to us as well, and we'll focus our full attention on the threat we face today."
Biden's move was immediately met with opposition, especially from Republicans in addition to Trump.
"Apparently, we're to help our adversaries ring in the anniversary of the 9/11 attacks by gift-wrapping the country and handing it right back to them," Senate Minority Leader Mitch McConnell (R-KY) said in a speech on the Senate floor Wednesday.
GOP Senator Lindsey Graham of South Carolina echoed McConnell's sentiments, saying that Biden's choice to end America's longest-ever war will contribute to "instability."
"We're going to withdraw completely from Afghanistan, make sure the Taliban take care of Al Qaeda and ISIS, that's insane," Graham told Fox News opinion host Jeanine Pirro during a Saturday interview. "I'm really worried about the world under the Biden administration. They're clueless, in my view, in terms of the threats we face at the border and abroad."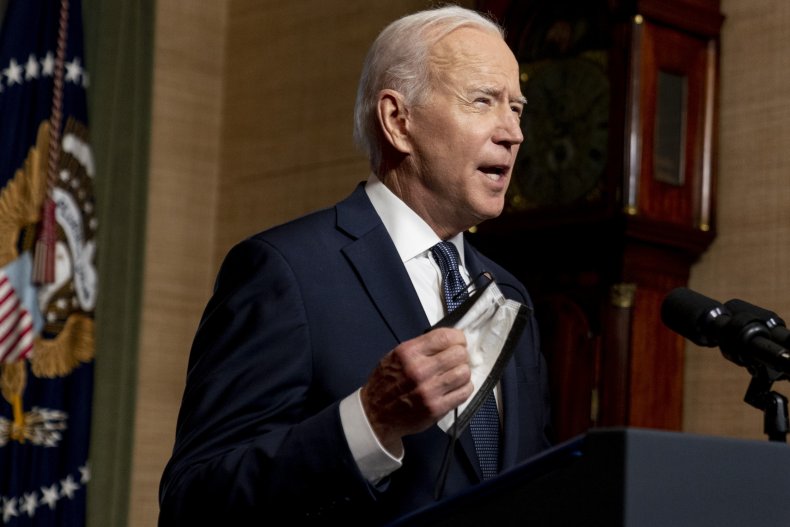 Biden reportedly rejected Pentagon requests to keep a limited presence in Afghanistan, according to The New York Times, and also said there would be no conditions on the departure. The war that has cost over 2,400 American lives, 20,000 injuries to troops and more than 13,000 airstrikes, would be over in full, despite little progress being made in the region. To Biden, the decision was a matter or exiting totally now or never leaving, and the new president was not willing to rescind on years of advocating to leave the country.
"No one wants to say that we should be in Afghanistan forever, but they insist now is not the right moment to leave," the president said on Wednesday. "So when will it be the right moment to leave? One more year? Two more years? Ten more years?"
He also said: "We cannot continue the cycle of extending or expanding our military presence in Afghanistan hoping to create the ideal conditions for our withdrawal, expecting a different result. I am now the fourth American president to preside over an American troop presence in Afghanistan. Two Republicans. Two Democrats. I will not pass this responsibility to a fifth."
To Congresswoman Liz Cheney (R-Wyo), Biden's attempt to interrupt the "cycle" keeping U.S. troops abroad is inadvertently "a huge propaganda victory" for terrorist organizations including the Taliban and Al Qaeda, especially given his selection of Sept. 11 for the removal date.
"Now I'm not sure why the White House has selected [Sept. 11], but I can tell you that that is a huge victory, a huge propaganda victory for the Taliban, for al Qaeda," she said to reporters on Wednesday, according to The Hill. "The notion that on the day that they attacked us, we are going to mark that anniversary by withdrawing our forces?"
She also told reporters: "Any withdrawal of forces based on a political timeline ... any withdrawal of forces that is not based on conditions on the ground puts American security at risk."
Secretary of State Antony Blinken defended Biden's move on Sunday morning to ABC News' This Week, saying: "We will have the means to see if there is a resurgence, a reemergence of a terrorist threat from Afghanistan. We'll be able to see that in real time with time to take action. And we're going to be repositioning our forces and our assets to make sure that we guard against the potential reemergence."
He added: "That's exactly why we're going to make sure that we have assets appropriately in place to see this coming, if it comes again, to see it and to be able to deal with it."
But the removal of troops doesn't mean the end of all threats, the Times reported. When Biden's new CIA director, William J. Burns, presented the Senate Intelligence Committee with the annual threat assessment on Wednesday, he was candid that Biden's decision to pull out would mean security costs: "When the time comes for the U.S. military to withdraw, the U.S. government's ability to collect and act on threats will diminish. That is simply a fact."
Updated 3:24 PM ET, with additional information.