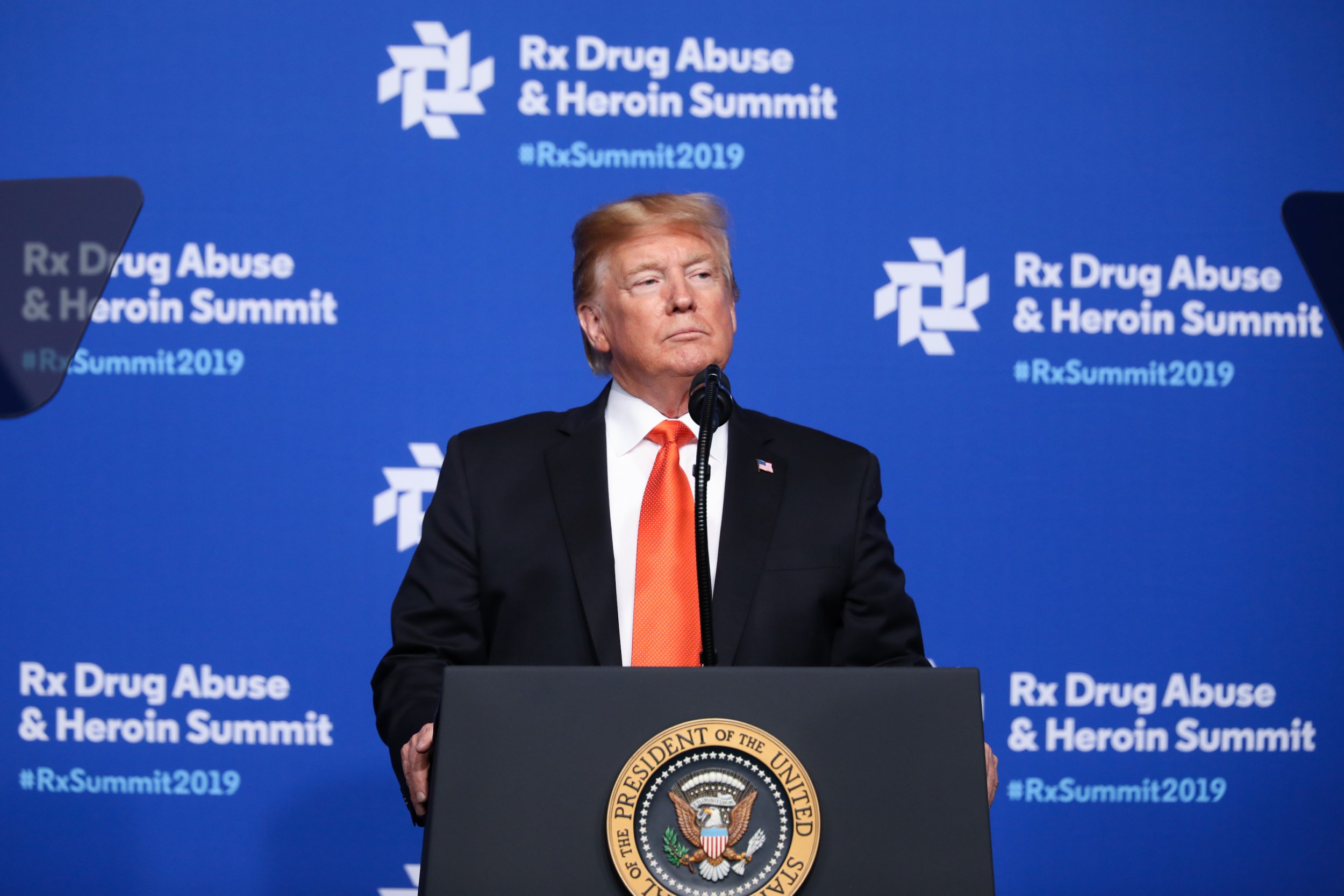 President Donald Trump said he did not want money from big pharmaceutical companies because of their role in America's deadly opioid crisis.
According to the Centers for Disease Control and Prevention, 130 Americans die every day from an opioid overdose. In 2017, 68 percent of the 70,200 drug-overdose deaths involved an opioid. The crisis stems from the over reliance on opioids to treat pain, a problem that has been attributed to big pharma.
"My administration is also taking aggressive action to reduce the oversupply of highly addictive prescription drugs," Trump said in a speech to the Prescription Drug Abuse & Heroin Summit in Atlanta on Wednesday.
"The Department of Justice has prosecuted more than 3,000 defendants in cases involving opioids. Earlier this week, the United States filed criminal charges against the sixth-largest drug wholesaler for illicit distribution of opioids.
"Because we are holding big pharma accountable. They should be accountable. And they didn't give to my campaign, I don't want their money. They gave to a lot of other campaigns, that's the problem...I couldn't care less. They've got to do what's right."
According to the Center for Responsive Politics, the pharmaceuticals sector gave Trump $386,862 in the 2016 election cycle. His Democratic rival Hillary Clinton received $2,664,585.
In both cases, the figures represent a fraction of the total money raised by their campaigns, which was $333,127,164 for Trump and $563,756,928 for Clinton.
The opioid wholesaler Trump referred to in his speech is Rochester Drug Cooperative.
On Tuesday, the U.S. Attorney's Office in Manhattan indicted Rochester and two of its former top executives for unlawfully distributing oxycodone and fentanyl—a synthetic opioid 50 times stronger than heroin—and conspiring to defraud the Drug Enforcement Administration.
The executives are Laurence F. Doud III, Rochester's former chief executive officer, and William Pietruszewski, the company's former chief compliance officer.
"This prosecution is the first of its kind: Executives of a pharmaceutical distributor and the distributor itself have been charged with drug trafficking, trafficking the same drugs that are fueling the opioid epidemic that is ravaging this country," U.S. Attorney Geoffrey S. Berman said in a statement.
"Our office will do everything in its power to combat this epidemic, from street-level dealers to the executives who illegally distribute drugs from their boardrooms."
CNBC reported that Rochester agreed to pay the federal government $20 million to settle civil and criminal cases against the company, which will also be monitored for three years by an independent expert who reports back to the DEA. The ex-executives still face charges.
Trump has declared the opioid crisis a public health emergency.