Trump Brags About Ohio State Football While Addressing East Palestine
Former President Donald Trump bragged about his role in getting Big Ten football started during the COVID-19 pandemic during a visit to East Palestine, Ohio, on Wednesday.
Trump was in Ohio following the train derailment earlier this month that exposed the town of East Palestine and surrounding communities to toxic chemicals and prompted evacuation orders.
During his remarks, Trump detoured from thanking officials and first responders to talk about his role in getting football back during the pandemic.
He said that when the COVID-19 pandemic, or "China virus" as he called it in his speech, began, Ohio State said it would not be playing football that season.
Trump said he called the head of Big Ten football to say that "you gotta get this football open."
"They were great, they responded and Ohio State played that season," he said. "We got that open very early, and you had a great season of football to put it mildly."
In September 2020, Trump tweeted that he called Big Ten Conference Commissioner Kevin Warren to talk about "immediately starting up Big Ten football" after the conference decided to postpone the college football season due to COVID-19. The conference reversed its decision to postpone the season weeks later.
During his remarks Wednesday, Trump added that this action led to the NFL and "most of the rest of football in the country" beginning.
"You led it through Ohio State and Big Ten and we got that done, and I did that very personally and called the commissioner, and he did a good job," Trump said.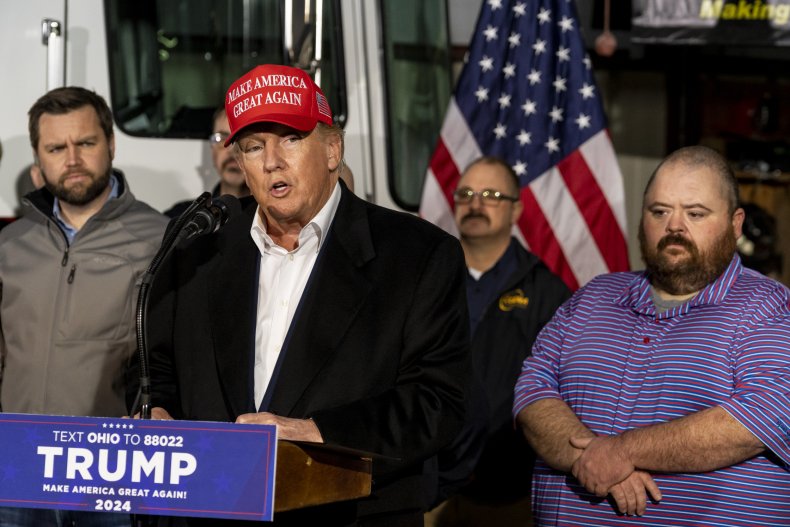 Trump compared his role in restarting Big Ten football to FEMA's delayed response in Ohio.
He said the community's "goodness and perseverance" were met with "indifference and betrayal," claiming that the agency said it would not send aid to the town "under any circumstance."
Trump then said that FEMA "changed their tune" after he announced his trip last week.
He said FEMA could have been in East Palestine at least two weeks earlier "but they decided to do it this way, and I guess it came from the top."
He also blasted President Joe Biden and other lawmakers for not visiting East Palestine and, instead, allegedly prioritizing support for Ukraine.
"I sincerely hope that when your representatives and all of the politicians get here, including Biden, they get back from touring Ukraine, that he's got some money left over," he said.
During his time in Ohio, Trump met with residents, local and state officials and first responders. He also brought cleaning supplies and bottled water to the community.
"President Trump is meeting with the citizens of East Palestine, and he will never forget them and what they are going through. Contrast that with Biden and the federal government, who have failed them from the beginning," Trump spokesperson Steven Cheung said to Breitbart News.
The 2024 presidential candidate said Americans have been "inspired" by the strength and courage of the residents and emergency responders.
"To the residents of East Palestine and nearby Pennsylvania, we have told you loud and clear: You are not forgotten. We stand with you," he added.
Newsweek reached out for comment from Donald Trump's team.