Donald Trump's Golden Opportunity
Donald Trump has an ideal chance truly to kick-start his 2024 presidential campaign as he visits the site of a major train derailment in Ohio on Wednesday.
The former president confirmed he will be arriving in East Palestine on February 22. It has been nearly three weeks since 50 carriages of a Norfolk Southern train carrying harmful chemicals fell off the tracks.
The derailment forced the evacuation of the Ohio village, with fears remaining that it caused dangerous toxic chemicals to pollute the air and drinking water.
Trump's arrival in East Palestine on Wednesday could be seen as hugely significant. For he will visit there before Joe Biden, with the pair expected to be the Republican and Democratic candidates at the next presidential election.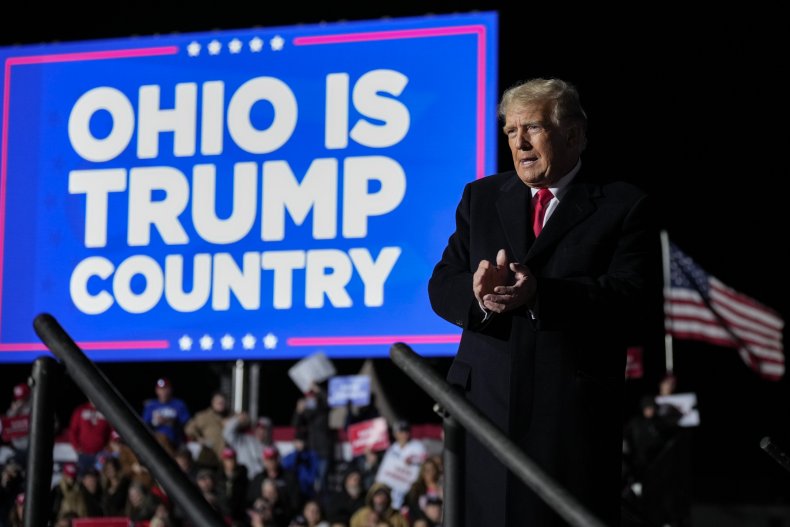 Trump will be hoping to capitalize on the conservative criticism of President Biden for not visiting East Palestine. This increased as it emerged that he has visited Poland, via a surprise trip to Ukraine, before the site of the Ohio derailment.
On Monday, East Palestine Mayor Trent Conaway told Fox News that Biden's visit to Ukraine on Presidents Day was the "biggest slap in the face" for the community.
"He can send every agency he wants to, but I found out that he was in the Ukraine giving millions of dollars away to people over there, not to us, and I'm furious," Conaway said.
Trump could also use the visit to give a much-needed boost to what critics are already suggesting is a floundering presidential campaign.
Despite confirming his intentions to run for the White House again in November, Trump has so far only taken part in two low-key events in New Hampshire and South Carolina.
Several Republicans, including those close to Trump, have also expressed concerns that the former president is choosing to spend most of his time at his Mar-a-Lago resort in Florida, rather than hitting the trail.
"Donald Trump is desperate to get back into the spotlight, and the disaster in East Palestine provides a potential ready-made opportunity," David B. Cohen, professor of political science at the University of Akron in Ohio, told Newsweek.
"The disaster-affected area of Ohio is becoming redder by the day, and there are many people angry at what they see as a woeful governmental response to the train derailment.
"They're justifiably angry that their environment has been poisoned and that they have been exposed to very hazardous chemicals because of corporate greed and lack of regulations on the railroad industry," Cohen added. "The disaster fires up the MAGA base, and Trump is hoping to take advantage of this to rekindle his sputtering campaign."
Whether Trump's visit to East Palestine on Wednesday will make any real difference to his 2024 chances in Ohio is marginal.
Trump beat Biden in Ohio by eight percentage points and more than 475,000 votes in 2020. The Buckeye state is no longer considered a key battleground swing as Georgia and Arizona now are.
However, Trump could still improve his numbers nationally if he is able to put aside his personal grievances and act "presidential" while visiting the site of the derailment.
"Donald Trump hasn't done much since announcing his 2024 presidential campaign that would convince voters that he's serious about running for, and more importantly serving as, president again," Christopher Devine, an associate professor of political science at the University of Dayton, told Newsweek. "Of course, it remains to be seen what Trump will make of this trip.
"Will he use it as an opportunity to engage with, and show compassion for, people on the ground? Will he propose policy solutions that could help to prevent, or better recover from, such events in the future? Or will he show an inability to go beyond attack mode, by criticizing federal agencies such as the EPA and Transportation Department," Devine added.
"Trump's handling of this situation could influence whether voters—particularly, wary Republicans—see him as a serious contender for the presidency again, in 2024, or someone who is just seeking publicity wherever he can find it."
During the visit, it is reported that Trump will donate thousands of gallons of cleaning supplies and more than a dozen pallets of drinkable water and concerns about contamination from the train chemical spill.
"President Trump is meeting with the citizens of East Palestine and will never forget them and what they are going through," a Trump adviser told Fox News Digital.
"Contrast that with Biden and the federal government who has failed them from the beginning."