Trump Sets Date to Visit Ohio Derailment Village Before Biden or Buttigieg
Former President Donald Trump is planning a visit to the village of East Palestine, Ohio, the site of a massive train derailment that triggered a hazardous chemical leak.
A source familiar with Trump's itinerary told Fox News on Friday that the former president will travel to the eastern Ohio village on Wednesday. While Trump has not confirmed the report, his eldest son, Donald Trump Jr., also posted about the trip on Twitter Friday evening.
"Breaking News: Trump will visit East Palestine, Ohio next week," read Trump Jr.'s tweet. "If our 'leaders' are too afraid to actually lead real leaders will step up and fill the void."
On February 3, a 150-car train derailed, with several dozen of its cars slipping off the tracks. Of the derailed cars, 20 contained hazardous chemicals, including vinyl chloride, which becomes hydrogen chloride and phosgene when burned.
Officials conducted a controlled burn of the toxic chemicals to prevent an explosion, and residents were permitted to return home on February 8 after air-quality testing showed readings satisfactory to the safety screening levels.
Despite continued reassurance from the Environmental Protection Agency (EPA) and partnering organizations that say round-the-clock monitoring has not detected vinyl chloride or hydrogen chloride in the air, residents of East Palestine have expressed several health concerns.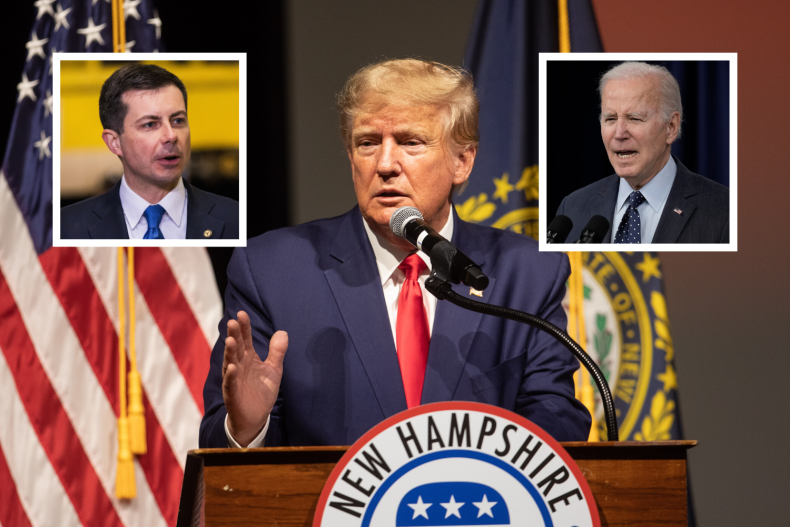 Since returning home, some in the village have reported headaches and breathing difficulties. Others have witnessed their pets die or suffer from supposed choking fits. Water quality has also been a concern for communities outside the initial crash site, as butyl acrylate—one of the chemicals onboard the derailed train—has been detected in the Ohio River.
Some residents of East Palestine voiced their questions and concerns at a town hall meeting on Wednesday, where representatives from Norfolk Southern, owner of the derailed train, were noticeably absent after the company cited threats to its employees as its reason for avoiding the forum.
Also absent from the town hall were President Joe Biden and Department of Transportation Secretary Pete Buttigieg, who have both taken flak from both sides of the aisle over their perceived tepid response to the toxic spill.
Buttigieg posted about the derailment in a Twitter thread on Tuesday, writing that the DOT is "constrained by law on some areas of rail regulation (like the braking rule withdrawn by the Trump administration in 2018 because of a law passed by Congress in 2015), but we are using the powers we do have to keep people safe."
While other industry insiders have also pointed a finger at Trump-era policies, the residents in eastern Ohio have said that blaming the former president is "absurd."
Speaking to Fox News reporter Sara Carter this week about the claim that Trump was partly to blame for the derailment, one resident said: "Trump hasn't been there [in the White House] for three years. How can you blame somebody who hasn't been on the switch for three years?"
EPA administrator Michael Regan visited East Palestine on Thursday to explore the derailment site and hear from residents, reported ABC News, asking people during a press briefing to "trust" his agency to do its job.
"Let me be clear, EPA will exercise our oversight and our enforcement authority under the law to be sure we are getting the results that the community deserves," Regan said.
Newsweek has reached out to the Department of Transportation for comment.