Rail Company in Ohio Toxic Spill Backs Out of Town Hall Over 'Threat'
Norfolk Southern Railway announced it will not attend the town hall scheduled for Wednesday night in East Palestine, Ohio, fearing "the growing physical threat" to its employees.
The meeting is set to be held nearly two weeks after a Norfolk Southern train derailed near the village in eastern Ohio, igniting a major fire and ultimately leading to a controlled release of the toxic chemicals onboard. East Palestine Mayor Trent Conaway said the town hall offers a chance for residents to ask questions and express their concerns regarding the derailment.
In a statement obtained by Newsweek, however, Norfolk Southern announced that it will not be attending, due to a heightened "physical threat" to its employees.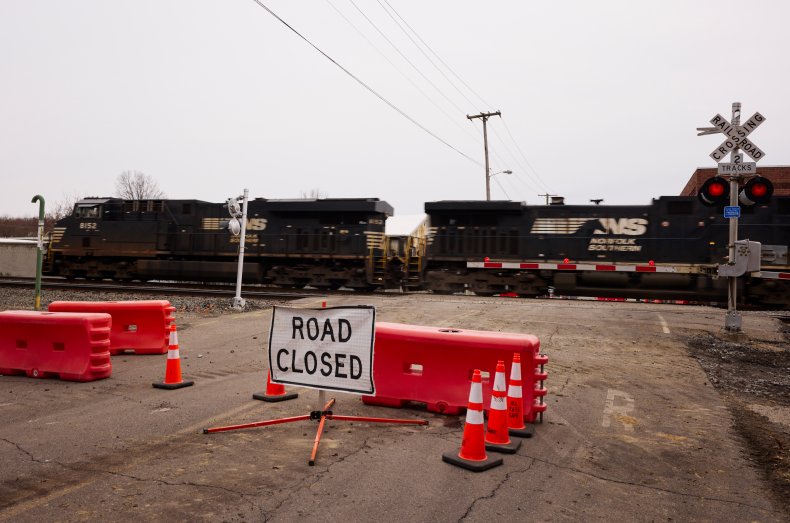 "Today, we hoped to join local, state, and federal officials at a town hall to update the East Palestine community on the steps we are taking to thoroughly, responsibly, and safely clean up the accident site and to provide the latest results from ongoing water and air testing," read the statement. "We also wanted to be available to provide information on resources from our Family Assistance Center.
"At the same time, we know that many are rightfully angry and frustrated right now. Unfortunately, after consulting with community leaders, we have become increasingly concerned about the growing physical threat to our employees and members of the community around this event stemming from the increasing likelihood of the participation of outside parties.
"With that in mind, Norfolk Southern will not be in attendance this evening."
Newsweek was unable to identify when or where Norfolk Southern employees have been threatened.
Residents in the surrounding area of the crash site were ordered to evacuate for several days as officials worked to release the hazardous materials, but were told it was safe to return home on February 8 after air quality in the area showed readings "below safety screening levels for contaminants of concern."
While the EPA has said that it continues to conduct air-quality monitoring around the clock, worries about the safety of communities near the derailment persist. On Tuesday, Pennsylvania Governor Josh Shapiro sent a letter to Norfolk Southern CEO Alan Shaw with a list of concerns the Democratic leader has over the company's handling of the derailment.
West Virginia Emergency Management Division also released a statement that officials had detected low levels of butyl acrylate in the Ohio River, and "recommended, out of an abundance of caution, to shut down all water intakes until additional information could be obtained."
Ohio Governor Mike DeWine told East Palestine residents at a news conference Tuesday that while he would likely return home if he were in a similar situation, he would also "be drinking the bottled water," adding: "And I would be continuing to find out what the tests were showing as far as the air."
"I would be alert and concerned," DeWine said. "But I think I would probably be back in my house."
Norfolk Southern has previously said that it is "committed" to cleaning up the site of the train derailment, reiterating in its statement Wednesday, "We are not going anywhere."
"We are committed to East Palestine and will continue to respond to community concerns through our Family Assistance Center and our hotline for citizens to ask questions regarding return to home and health questions," the rail company added. "We also plan to look for other opportunities to update residents on our actions over the coming days."
It is unclear if Norfolk Southern will host a different community meeting for residents to express their concerns.