Fact Check: Has Joe Biden Acknowledged East Palestine, Ohio, Derailment?
The fallout from the East Palestine, Ohio, train derailment, which saw the spillage of thousands of gallons of hazardous chemicals, has led to calls for the White House to take more pronounced and public action to deal with the disaster.
Some of the president's critics, such as Rep. Marjorie Taylor Greene (R-GA), have also criticized President Joe Biden for visiting Ukraine before East Palestine, as investigations and cleanup in the Ohio town continue.
A number of social media posts also accused Biden of failing to acknowledge the derailment at all.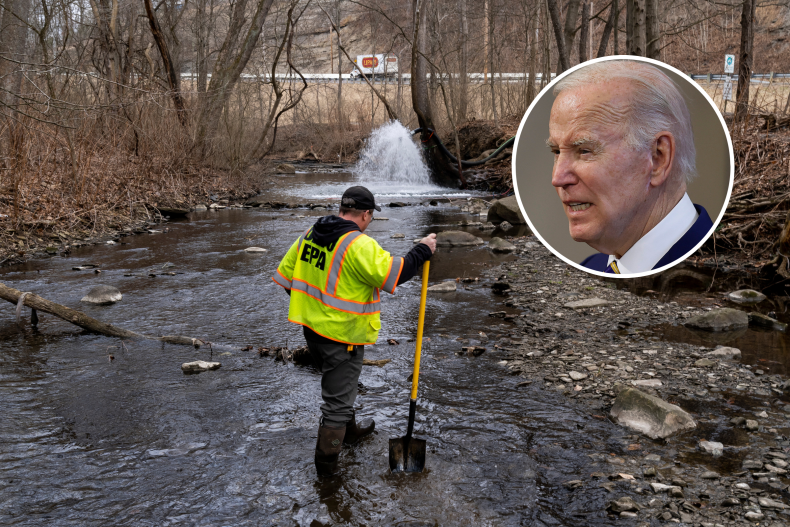 The Claim
A Reddit post by user PerpetualHillman, published on February 20, 2023, which received more than 3,000 upvotes, stated: "Just a reminder that Biden has never even acknowledged that the derailment even happened."
A similar tweet, by user The Trump Train, also posted February 20, 2023, which has been viewed more than 116,000 times, added: "Joe Biden flew across the world and visited Kyiv, Ukraine and gave them another $500 million.
"He still hasn't visited East Palestine, Ohio or even acknowledged what's going on there."
The Facts
Criticism of the president's actions following the derailment has not been limited to his opponents in Congress, with the mayor of East Palestine calling Biden's decision to visit Ukraine instead of Ohio "the biggest slap in the face."
White House officials, such as Transport Secretary Pete Buttigieg, have also faced sharp criticism; a video of Buttigieg, confronted about the crash, has been viewed more than a million times as of Tuesday.
At the time of the social media posts, lamenting Biden's alleged lack of acknowledgment of the derailment, the president had not made a public statement about the situation.
Searching through the 380 messages released via the White House press pool from the date of the crash (February 3, 2023), to February 22, 2023, revealed no direct statements from Biden.
A statement, however, by the Biden-Harris administration on February 17 detailed the actions the White House planned to take in response.
On February 16, 2023, White House press secretary Karine Jean-Pierre, also said that Biden had been in contact with Ohio's Republican Governor Mike DeWine to "offer federal assistance."
This claim was repeated by DeWine who said: [President Biden] called me and said 'Anything you need.' I have not called him back after that conversation. I will not hesitate to do that if we're seeing a problem, but I'm not seeing it."
Nonetheless, in the past day, Biden began tweeting about the derailment, bookending the lack of public statements until then.
Among the seven related tweets on February 21, 2023, Biden wrote: "Today, the @EPA ordered the train company, Norfolk Southern, to pay for the clean-up and disposal of hazardous materials. This is common sense. This is their mess. They should clean it up."
Biden laid out some of the actions his administration was taking in response, and also sought to put blame on other politicians and the Trump Administration for rail safety issues.
The president tweeted: "Rail companies have spent millions of dollars to oppose common-sense safety regulations. And it's worked. This is more than a train derailment or a toxic waste spill – it's years of opposition to safety measures coming home to roost.
"We'll continue to hold rail companies accountable when they fail to put safety first. But first, we've got Norfolk Southern's mess to clean. I want affected residents to know that we've got your back. And as I said to your govs, they'll have every resource that they need."
A White House official told Newsweek: "While some saw an opportunity for political posturing and gamesmanship, this Administration saw a community in need and immediately rolled up its sleeves to do the actual work of holding Norfolk Southern accountable and making the company clean up its mess.
"Federal teams were on the ground within hours of the train derailing, and President Biden called Governors DeWine and Shapiro soon after to offer any additional Federal assistance they need."
At the time the accusations on social media were made, the only word that Biden had acknowledged the derailment in East Palestine came from comments made by others in his administration.
Since, the president has now, more than two weeks on from the derailment, made his own public statements as well.
EPA investigators recently released a full list of toxic chemicals from the derailment, including vinyl chloride, which is carcinogenic, and butyl acrylate, which can cause skin, eye, and respiratory irritation.
While Biden has received criticism for his actions since the crash, former president Donald Trump has also been put in the spotlight with an industry insider saying the incident was more severe because of the last administration repealing a key safety rule.
The Ruling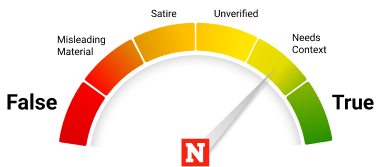 Needs Context.
At the time the posts on social media were published, claiming that Biden had not acknowledged the East Palestine, Ohio, train derailment, the president had not made a public statement about the crash.
The White House had however released a series of actions it was taking to respond to the crisis. Biden then tweeted on February 21, 2023, directly addressing the disaster and taking aim at train company Norfolk Southern, among others.
FACT CHECK BY Newsweek's Fact Check team