Marjorie Taylor Greene Rages at 'Fool' Joe Biden Over Kyiv Trip
Georgia congresswoman Marjorie Taylor Greene has criticized President Joe Biden for going to the Ukrainian capital, Kyiv, before visiting the scene of the train derailment in Ohio.
On Monday, Biden made a surprise visit to Ukraine, the first time the president has entered the eastern European country since the Russian invasion began almost a year ago.
During the visit, Biden met Ukrainian President Volodymyr Zelensky while confirming the U.S. is ready to affirm its "unwavering commitment to Ukraine's democracy, sovereignty, and territorial integrity," including by sending hundreds of millions of dollars in further military aid.
Hours after Biden arrived in Ukraine, Greene hit out at the president for not choosing to spend Presidents Day visiting East Palestine, the scene of the derailment of a train carrying toxic chemicals on February 3.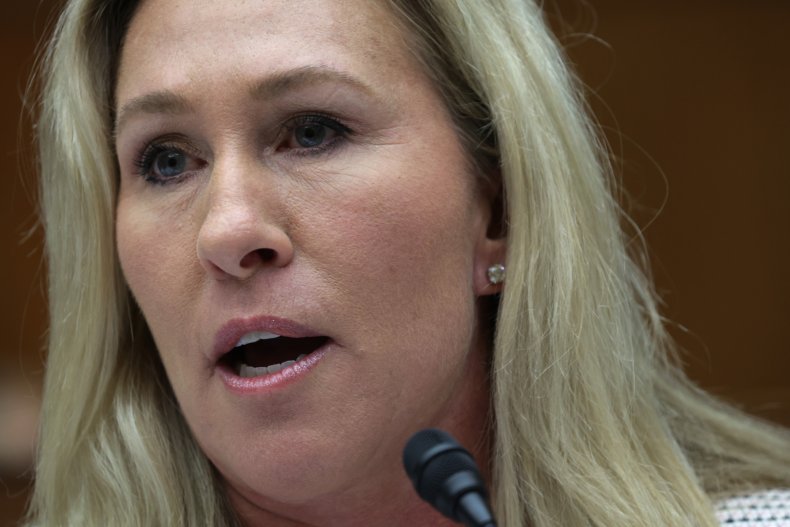 Greene also made reference to her desire to impeach Biden for continuing to send military aid to Ukraine.
"Biden didn't go to East Palestine, Ohio on President's Day. He went to Ukraine, a NON-NATO nation, whose leader is an actor and is apparently now commanding our United States military to world war," Greene tweeted.
"We must impeach this America Last fool before it's too late."
Greene has frequently criticized Biden for sending military aid to Ukraine since the Russian invasion broke out in February 2022.
Greene was recently one of 10 House Republicans who co-sponsored Florida Rep. Matt Gaetz's "Ukraine Fatigue Resolution," which for the United States to "end its military and financial aid to Ukraine and urges all combatants to reach a peace agreement."
Other Republican figures have also criticized Biden for visiting Ukraine ahead of a scheduled trip to Warsaw, Poland, before East Palestine.
"The illegitimate guy hasn't visited East Palestine, Ohio where Americans need help, but Biden makes a surprise visit to Kyiv, Ukraine, meets with President Zelenskyy. What an embarrassment," tweeted Amy Kremer, chair of Women for America First and co-founder of Women for Trump.
Right-wing network Newsmax host Benny Johnson added: "Joe Biden visited Ukraine before the war zone of East Palestine, Ohio just an hour from DC. You will never see a more intentionally insulting move by a US President. This cannot be understated. Cravenly cruel."
In a joint press conference, Zelensky described Biden's appearance in the Ukrainian capital amid the war as "the most important visit of the whole history of U.S.-Ukraine relations."
In a White House statement, Biden said that following his visit to Ukraine he will also "announce additional sanctions against elites and companies that are trying to evade or backfill Russia's war machine."