Donald Trump Calls Dr. Birx 'Proven Liar' After She Said She Was Forced To Censor Herself
Former President Donald Trump has accused his former COVID-19 adviser Dr. Deborah Birx of being a "proven liar" after she claimed his administration censored her messaging on the pandemic.
Trump made the remarks in a Monday statement blasting both Birx and Dr. Anthony Fauci, the top experts on his White House Coronavirus Task Force, for recent comments they had made in the media. The former president called the doctors "self-promoters" one day after interviews with them and other key figures of the Trump administration's COVID-19 response aired on CNN, with Birx saying that the Trump White House had forced her to censor her recommendations during the pandemic.
"Dr. Birx is a proven liar with very little credibility left," Trump said. "Many of her recommendations were viewed as 'pseudo-science' and Dr. Fauci would also talk negatively about her and, in fact, would ask not to be in the same room with her. The states that followed her lead, like California, had worse outcomes on Covid, and ruined the lives of countless children because they couldn't go back to school, ruined many businesses, and an untold number of Americans who were killed by the lockdowns themselves."
"Dr. Birx was a terrible medical advisor, which is why I seldom followed her advice," added Trump. "Her motto should be 'Do as I say, not as I do.' Who can forget when Dr. Birx gave a huge mandate to the people of our Nation to not travel, and then traveled a great distance to see her family for Thanksgiving—only to have them call the police and turn her in? She then, embarrassingly for her, resigned."
In December, Birx released a statement saying that she did not go to Delaware for Thanksgiving, but did share a meal with her family at their vacation home on Fenwick Island. She said the intent was to winterize the property prior to its sale. She added that everyone present was from her "immediate family," but said the family members came from two different households. She announced her retirement shortly after the controversy arose.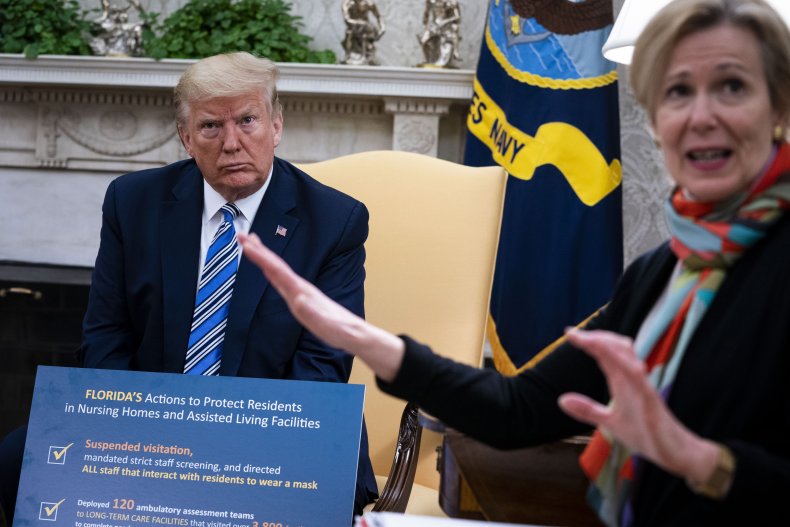 In the interview that aired Sunday, Birx told CNN's Dr. Sanjay Gupta that she traveled around the country to locally urge Americans to wear face masks and take other preventative measures because "clearly someone was blocking" her from doing it at the national level. She said that it was her "understanding" they she could not use similar messaging on the national stage because "the President might see it."
The former president denied a claim from Birx that she received a "very uncomfortable" phone call from him following an August 2020 CNN interview in which she described COVID-19 as being "extraordinarily widespread." Trump called Birx "a very negative voice" and said that he had only kept her and Fauci on as medical advisers "because they worked for the U.S. government for so long—they are like a bad habit!"
Trump also denounced Fauci for taking part in the "fake interview" on CNN, calling him "the king of 'flip-flops' and moving the goalposts to make himself look as good as possible." He reviled the 80-year-old doctor's baseball pitching skills, saying that Fauci "said he was an athlete in college but couldn't throw a baseball even close to home plate," while claiming that he had wrongly "tried to take credit for the vaccine."
Trump went on to say that "even the fake news media knows and reports" that he was personally responsible for the speed of vaccine development. Multiple vaccines were developed by researchers both in the U.S. and abroad and made available in different countries on an emergency basis within months of each other. Some of the vaccines, but not all, were developed with backing from the Trump administration's Operation Warp Speed initiative.
"I felt it was time to speak up about Dr. Fauci and Dr. Birx, two self-promoters trying to reinvent history to cover for their bad instincts and faulty recommendations, which I fortunately almost always overturned," Trump said. "They had bad policy decisions that would have left our country open to China and others, closed to reopening our economy, and years away from an approved vaccine—putting millions of lives at risk."
Newsweek reached out to the George W. Bush Institute, which Birx joined earlier this month as a senior fellow, for comment.