Donald Trump Calls Reporter Maggie Haberman 'Maggot', Slams Upcoming Book
Former President Donald Trump has referred to New York Times reporter Maggie Haberman as "Maggot Haberman" in response to her upcoming book.
On Friday afternoon, the former president issued a statement in response to Haberman's upcoming book, Confidence Man: The Making of Donald Trump and the Breaking of America, which is expected to land on shelves in October. One excerpt from the book that was released this week said toilets in the White House were "periodically" clogged up as papers were being flushed during the Trump presidency.
In his release, Trump also referred to the upcoming work as "yet another fake book, by a reporter who knows nothing about me." He also accused her of making up stories about his relationship with foreign leaders such as Kim Jong Un.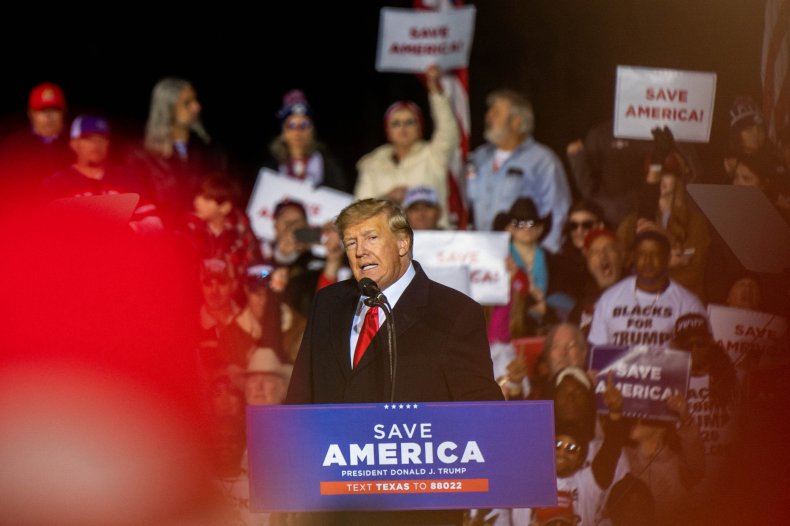 On Thursday, after the report that Trump allegedly clogged toilets with shredded pieces of paper, the former president denied any wrongdoing, referring to it as "another fake story." He went on to say that it is "categorically untrue and simply made up by a reporter in order to get publicity for a mostly fictitious book."
Haberman, who has covered the former president since 2011, said in the recent excerpt from her upcoming book that several staffers in the administration reportedly found pieces of paper in toilets and were under the impression that the former president had tried to flush them. Haberman, in an interview Thursday on CNN, said even the toilet in the White House residence would allegedly get clogged with pieces of paper.
"I learned that staff in the White House residence would periodically find the toilet clogged...what the engineer would find would be wads of clumped up, wet, printed paper," Haberman said. "This was either notes or some other piece of paper that they believe [Trump] had thrown down the toilet."
Following her revelation that Trump was allegedly flushing pieces of paper down the toilet, Haberman was criticized for holding onto that information for her book instead of reporting it during his time in office. Haberman replied that she was unaware such activities were taking place until "well after Trump had left office." She went on to defend herself, saying that she is not "known for sitting on scoops."
Appearing on the View on Thursday, former White House communications director Alyssa Farah said that she never saw Trump's bathroom and never saw him flush anything. However, she did say that she witnessed Trump tearing up documents, which staffers in the White House would then later piece back together. Farah also said that, according to those people that she still speaks to in "Trumpworld," the former president is reportedly "terrified of Maggie Haberman's book."
Mark Meadows, Trump's former chief of staff responded to Haberman's claims on Newsmax on Thursday. Meadows refuted the stories about paper allegedly being shredded or being thrown into the toilet and brought up Speaker of the House Nancy Pelosi and her tearing up a copy of Trump's 2020 State of the Union address.
"When we start talking about this was ripped up, it was taped back together - obviously that was preserved - it's supposed to show some nefarious purpose but yet they will ignore Nancy Pelosi ripping something up on national TV behind the president."
Haberman's revelation follows reports from earlier this week that the National Archives and Records Administration reportedly retrieved as many as 15 boxes of documents from Trump's Mar-a-Lago residence.
Newsweek reached out to a Trump spokeswoman for comment but did not hear back before publication.
Update 2/11/22 4:48 p.m. ET: This story has been updated with additional information.