Donald Trump Can Be Arrested Over Jan 6. Subpoenas—Here's Why He Won't Be
Donald Trump has no extra protection as the former president if he refuses to comply with any subpoena in the House probe of January 6, legal experts have told Newsweek; however, Congress is unlikely to use its historic powers to arrest him over obstruction.
Trump has told allies not to comply with subpoenas over the probe, according to The New York Times, and on Monday he sued the chairman of the House's January 6 committee, Bennie Thompson, and the head of the National Archives, in a bid to block access to White House documents from around the time of the riot.
Such action could potentially leave committee members considering whether or not Trump is obstructing the probe. Using "inherent contempt power," the House could arrest an individual found to be "obstruct[ing] the performance of the duties of the legislature."
Committee members may have already discussed that power, Norman Eisen, co-counsel for the House Judiciary Committee during Trump's first impeachment, told Newsweek.
But he said it was unlikely it would be used "for what [Trump] has done so far."
"The house has not used it's inherent contempt powers for many years, and I do not believe that they will do so for these particular purposes," Eisen said.
Any move to use that power would likely result in litigation and delay, he added.
"That is not to say Trump's position so far is correct. Far from it. But it appears that they will be addressed through the usual civil and criminal channels."
For Kate Shaw, professor of law at the Benjamin N. Cardozo School of Law, while Congress has historically "been understood to possess the authority," it is highly unlikely to be used.
"The power hasn't been used in nearly a century, and it's almost unimaginable to me that it would be revived in the context of a president, even a former one," she said.
Jail for Trump?
The committee has already said it would hold Trump's former adviser Steve Bannon in criminal contempt for refusing to comply with his congressional subpoena. Failure to comply is a criminal offense punishable with a fine and up to one year prison sentence.
So would—theoretically—refusal to comply mean jail for Trump? Experts are divided.
Trump would "not have any protection as an ex-president," Richard Painter, a former White House ethics lawyer in the George W. Bush administration told Newsweek.
"It will go through the courts and if the courts ordered him to testify, and he refused, he could go to jail," he said.
"He could plead the Fifth Amendment and say that he could be incriminated so there is a way out there."
Executive privilege
In Trump's lawsuit with Thompson, a lawyer for the former president argued White House papers around the time of the riot are covered by executive privilege—granting presidents confidentiality over their communications in office.
Yet Trump's claims of executive privilege are not his to make and would be the "prerogative of the current president," Norman Eisen, co-counsel for the House Judiciary Committee during Trump's first impeachment and trial in 2020, told Newsweek.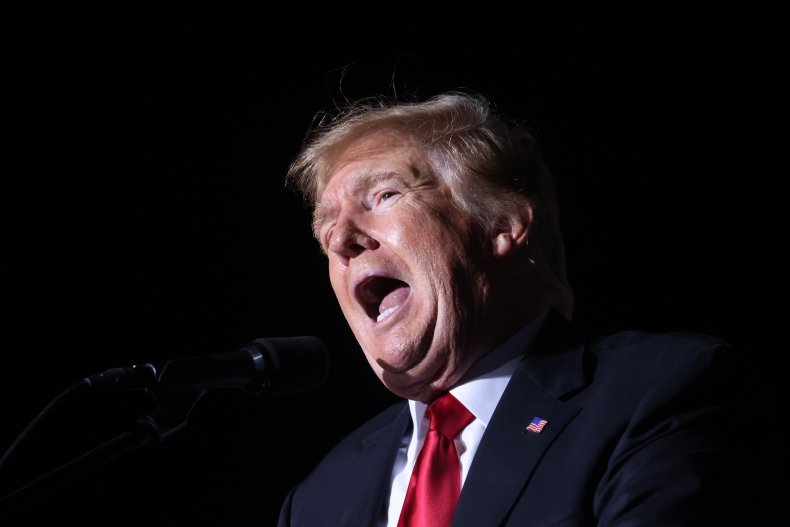 "Because I think his legal position is wrong, I think it will be brushed aside. The only question is how long it will take," said Eisen, who is also a senior fellow at Brookings Institution.
He added: "When Trump is at the center of alleged wrongdoing, it's hard to understand how you can investigate him without hearing from him.
"Whether he will have any better protection than any other witness simply because he is a former occupant of the White House, that is really up to the Biden administration."
However, there is some Supreme Court authority indicating ex-presidents retain at least some privilege pertaining to presidential records and communications.
"Given the political sensitivity of prosecuting a former president for contempt of Congress, not to mention the likely appeals and other delays, it seems unlikely the committee's investigation will result in Trump's arrest," said Timothy Zick, professor of law at William & Mary Law School, in Williamsburg, Virginia.
"These are technical possibilities under the contempt law, but my understanding is the contempt process is rarely invoked and rarely leads to jail time," he said.
GOP Representative Adam Kinzinger (R-IL) last week raised the prospect of forcing Trump to provide information to the congressional January 6 committee into the events that led to the storming of the U.S. Capitol by his supporters.
"If he has pieces of information we need, we certainly will," the committee member told CNN regarding the prospect of issuing the subpoena.
Former administration official Kash Patel, ex-chief of staff, Mark Meadows, and Dan Scavino Jr., a deputy chief of staff have until Thursday to respond to their subpoenas.