Donald Trump Pretended to Be a Corporate Raider, Talking up Stock Prices Before Quietly Selling His Shares: Report
During his business career, President Donald Trump acted like a corporate raider, reportedly using debt to buy shares in a company while suggesting he might soon become a majority owner to boost its value before he sold the holdings quietly to pocket the gains.
According to a Tuesday report in The New York Times, which obtained new tax information on the president, Trump made millions of dollars between 1986 and 1988 using this tactic until investors eventually caught on to what he was doing and ignored his claims.
But Trump's trading profits were short-lived. The Times reported that Trump's federal tax records from 1985 to 1994 show he eventually lost most of the money he made, adding to the mountain of losses he accrued in that decade—$1.17 billion in total.
During that period, Trump's debt-laden businesses, including casinos and hotels, struggled to survive. Several ventures collapsed.
He has since sought to rebuild his wealth and status by licensing his name to real estate and leisure projects, building golf courses, and becoming a reality TV star through The Apprentice. He also inherited hundreds of millions of dollars from his father, Fred Trump.
Charles J. Harder, one of Trump's lawyers, did not respond immediately to Newsweek's request for comment. Harder told The Times its reporting about the president's tax returns and business dealings was "demonstrably false" and "highly inaccurate."
The report comes as Congress battles with Trump to obtain his tax returns from more recent years. Trump is the first president since Richard Nixon to not publicly release his tax returns, breaking with a post-Watergate convention.
The president's campaign insists his tax returns are still under audit, which, according to the Internal Revenue Service, would not preclude him from releasing them (Nixon did it, according to PolitiFact). He said he would consider releasing his tax returns once the audit is complete, or after he leaves office.
The House Ways and Means Committee requested six years of Trump's recent tax returns from the IRS. But Treasury Secretary Steve Mnuchin rejected that request on Monday, citing a Justice Department opinion that to do so would be unlawful.
The issue may end up in the courts. House Ways and Means Committe Chairman Richard Neal, a Democrat from Massachusetts, said in a statement that he would consult with the committee's counsel and "determine the appropriate response."
Trump and his family are suing Deutsche Bank and Capital One, two financial institutions with which they have had dealings, to block them from releasing any information about his taxes or finances.
Both the House intelligence and Financial Services committees subpoenaed the institutions for information about Trump's finances as part of their investigations into the president. Michael Cohen, the president's disgraced former lawyer and fixer, testified to Congress that Trump may have committed tax fraud, and that his returns would provide some answers.
"This case involves congressional subpoenas that have no legitimate or lawful purpose," Trump's suit, filed in Manhattan federal court, alleged.
"The subpoenas were issued to harass President Donald J. Trump, to rummage through every aspect of his personal finances, his businesses and the private information of the president and his family, and to ferret about for any material that might be used to cause him political damage. No grounds exist to establish any purpose other than a political one."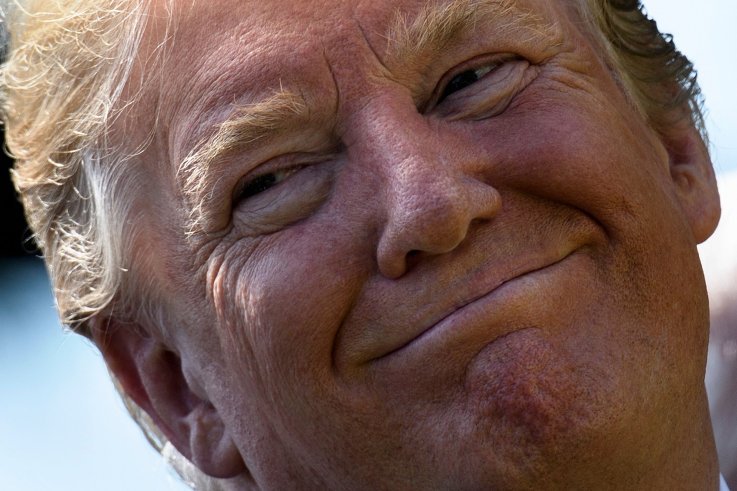 Donald Trump Pretended to Be a Corporate Raider, Talking up Stock Prices Before Quietly Selling His Shares: Report | U.S.