Trump Could Face RICO Charges in Georgia, Ex-U.S. Attorney Explains
Former U.S. Attorney Barbara McQuade believes there's "good reason" to speculate that former President Donald Trump could face a Racketeer Influenced and Corrupt Organizations (RICO) charge in Georgia for his alleged efforts to overturn the results of the 2020 election in the Peach State.
Fulton County District Attorney Fani Willis' sweeping investigation into Trump began two years ago after it was discovered that the former president had called Georgia Secretary of State Brad Raffensperger and implored him to "find" more than 11,000 votes needed to win in Georgia. Since then, the probe has expanded to include Trump's associates, the fake elector scheme, threats and harassments against election workers, and efforts by unauthorized individuals to access voting machines.
On Thursday, the public had its first look into Willis' probe. This week, a judge ordered the release of three portions of the special grand jury's final report, including one section about how jurors had concerns about witnesses lying under oath while testifying to the special grand jury.
Jurors spent seven months hearing testimony from 75 witnesses, including Raffensperger, Trump attorney Rudy Giuliani, Senator Lindsey Graham and Georgia Governor Brian Kemp.
While the special grand jury doesn't have the power to issue indictments, it did make recommendations to Willis, who can then impanel a traditional grand jury who does have the authority to make charges.
One of the charges that McQuade thinks could be a likely outcome in Georgia is a RICO charge, which is used to target organized crime.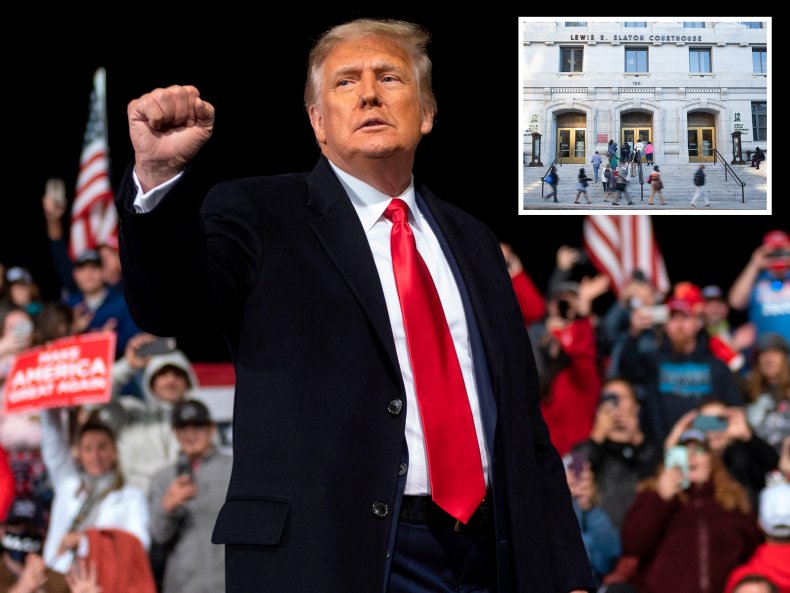 Originally created to try mob-related crime, the RICO Act allows prosecutors to take down a whole organization rather than individual members for particular crimes. It has since been expanded to be used for gangs, political campaigns, insider trading schemes and police departments, among other groups.
"The idea, and why it is so useful, is it allows you to go after the boss," McQuade told MSNBC on Wednesday. "The person who doesn't get his hands dirty and allows his underlings to do all the dirty work."
She explained that it allows prosecutors to bring together various schemes under one umbrella RICO charge to prosecute the whole group, otherwise known as "the enterprise."
In order to prove a RICO case, prosecutors need to show that some member of the group agrees that two racketeering activities were completed, suggesting that there was a pattern of crime. Racketeering activities include arson, bribery, counterfeiting, distribution of a controlled substance, embezzlement, extortion, gambling, homicide, kidnapping, mail fraud, money laundering, robbery, wire fraud and witness tampering.
In Trump's case, McQuade said it could be fraud, tinkering with election machines, pressuring officials like Raffensperger to change the votes or submitting a false slate of electors.
"It's an attractive charge in the case," she said.
Making it even more likely for Willis to bring a RICO charge against Trump is her experience prosecuting RICO cases. The 51-year-old district attorney has built a reputation for prosecuting gangs in Atlanta using the RICO Act.
In 2014, Willis was the lead prosecutor on a well-known RICO case involving 35 teachers, principals and other educators in the Atlanta public school system accused of changing answers on standardized tests for financial gain.
Last May, she made headlines after she issued a sweeping RICO indictment to rappers Young Thug, Gunna and 26 other members of YSL, an alleged gang the district attorney's office says is responsible for more than a decade of violent crime. She has also issued an indictment against rapper YFN Lucci and 11 other supposed members of the Bloods gang and an indictment against 26 alleged members of the Drug Rich gang.
"There's some prosecutors who shy away from [RICO charges], who find it to be needlessly complicated, or maybe are fearful of it—you don't want to charge something so complicated that a jury doesn't understand it," McQuade said. "But [Willis] has shown that she knows how to use it."