After president Trump revealed he tested positive for COVID-19, Twitter policy was being tested: what to do when users say they hope he dies?
Much of the discourse about the president's diagnoses happened on Twitter, with users reacting to the headline-grabbing news in real-time. Trump himself chose that platform to make the announcement—a post that has become his most liked tweet ever.
And after all, the platform's own hateful conduct policy appears resolute on the matter, saying that "wishing, hoping or calling for serious harm on a person"—including "hoping that someone dies as a result of a serious disease"—is against the rules.
The same language is used in Twitter's abusive behavior policy, which states: "We do not tolerate content that wishes, hopes or expresses a desire for death, serious bodily harm or fatal disease against an individual or group of people."
In terms of enforcement, the platform says it could ask the user to remove the violating post before they can tweet again. "Subsequent violations will lead to longer read-only periods and may eventually result in permanent suspension," the rules state.
That warning didn't a flurry of such tweets about Trump, who said he had contracted the disease and would now be quarantining with First Lady Melania Trump, who also tested positive. "We will get through this TOGETHER!," the president tweeted.
In a now-deleted tweet, Zara Rahim, a former Hillary for America spokesperson, wrote: "It's been against my moral identity to tweet this for the past four years, but, I hope he dies." As screenshots of the post circulated, Rahim's profile went private.
Max Berger, a former staffer for Sen. Elizabeth Warren's 2020 presidential campaign, published a series of tweets with little remorse about the virus test result.
"I can't think of anything more distasteful than wishing death upon another human, except maybe causing preventable mass death because you don't want to damage the stock market or your reelection chances. All jokes aside, I hope the President injects himself with bleach," Berger wrote, a tweet that was liked over 150 times.
In a tweet to 39,000-plus followers, comedy writer and producer Alex Blagg wrote: "Just a quick note of support for Hope Hicks and President Trump I hope they both die."
In an update, Blagg later added: "Shout out to all the QAnon psychos sending me death threats for mocking the president contracting a virus they don't even believe is real."
Emmy-winning director Michael Bonfiglio tweeted: "I hope Trump's diagnosis wakes his supporters up to the reality of the pandemic and also that it makes him suffer and die."
Bonfiglio's post has since been removed. "People on here really pretend to get upset if you say the wrong thing about the most powerful man in the world," he wrote.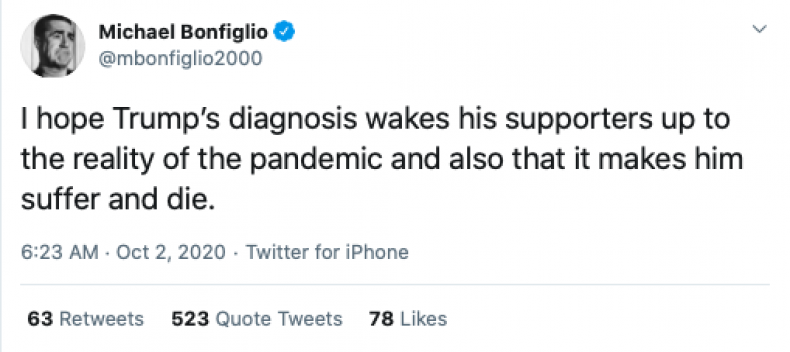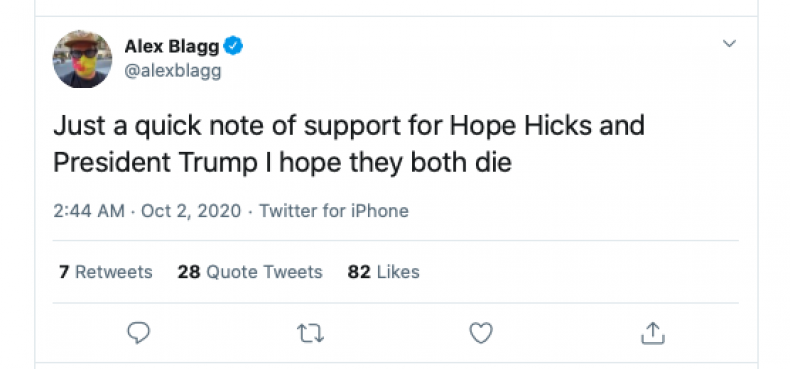 And they were far from alone. "Time to die please," the verified account @chastitysongs wrote in a response to Trump's tweet. Another blue-tick account, @simonsaybrams, wrote after the president's announcement: "For once, I'm rooting for the virus."
It does appear action is being taken, as some of the referenced tweets about Trump's COVID-19 diagnosis are indeed being deleted, but it's unclear if that is being forced on the users by the platform itself. Twitter has been contacted for comment.
A Twitter spokesperson who asked for images of the potentially-violating tweets did not immediately respond after being forwarded multiple screenshots. A spokesperson for Facebook, when asked if that social network had a policy about users publishing posts about Trump's death, sent Newsweek a link to the website's bullying and harassment policy.
The Facebook spokesperson did not immediately respond to a follow-up request.