Donald Trump CPAC 2019 Speech Live Stream: Watch President Address Conservative Conference
President Donald Trump is set to address the annual Conservative Political Action Conference in Maryland Saturday morning, capping off a week which featured blowback from denuclearization talks with North Korea breaking down and his former attorney testifying to lawmakers that he was part of a "criminal scheme to violate campaign finance laws."
Trump is scheduled to begin his speech at 11:30 a.m. ET. A live stream of the event can be viewed, via NBC News, below.
For the third time during his presidency, Trump sparked a backlash by contradicting experts and his own officials this week to side with an authoritarian leader considered a foe of the United States. Following a summit in Vietnam, Trump said that the death of American Otto Warmbier, who slipped into a coma in a North Korean labor camp shortly before being returned to the U.S., had no connections to dictator Kim Jong Un.
Trump was also the focus of ex-attorney Michael Cohen's public testimony to the House Oversight Committee, where he alleged Trump was a "racist," a "conman" and a "cheat" who broke the law as president surrounding hush-money payments to an adult film star with whom he allegedly had an affair.
While it is unknown what the president will touch on during his speech to the conservative crowd, Vice President Mike Pence on Friday bashed Democrats and socialism to the conservative conference-goers, while praising Trump's "promises made and promises kept."
Last year, Trump addressed the issue of gun ownership rights in the wake of a mass shooting at Marjory Stoneman Douglas High School in Parkland, Florida, and touted his new tax law and the country's withdrawal from the Paris climate agreement. In his 2017 address to CPAC, the newly-elected president attacked the press as "fake news," promised to uphold his campaign promises on the economy and to create jobs and vowed to combat Islamic terrorism, which at the time featured his newly-invoked travel ban on Muslim-majority countries being challenged in the courts.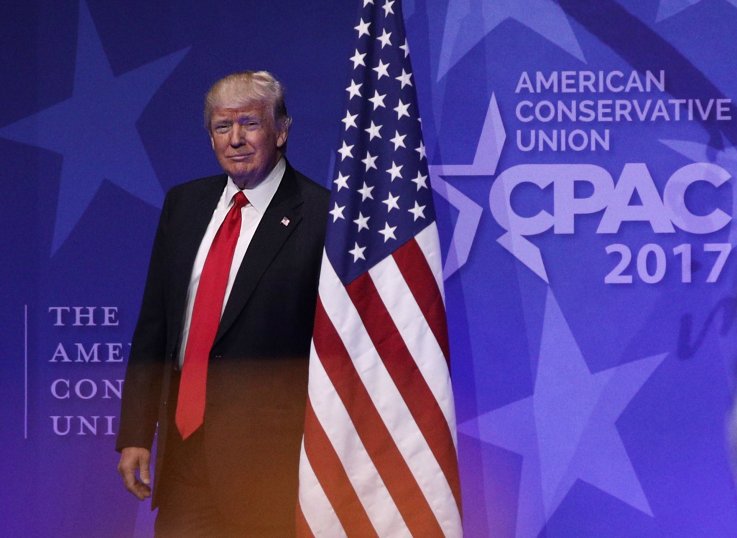 On Friday, Pence also commended the president for his "second historic summit" with Kim this week, despite talks abruptly ending after both sides could not agree on the terms of North Korea denuclearizing. Pence said Trump "will stand firm until we achieve the complete denuclearization of North Korea."
The president created a firestorm of backlash for siding with Kim when it came to Warmbier's death, the 22-year-old college student who was returned to the U.S. after serving 17 months in detainment and being sentenced to 15 years of hard labor for trying to steal a propaganda banner.
"He tells me he didn't know about it, and I take him at his word," Trump said of Kim. "I don't believe he would have allowed that to happen… It just wasn't to his advantage to allow that to happen."
Warmbier's family has called their son's death a murder, saying he was "brutally tortured" prior to his coma.
"You've got a lot of people," Trump told reporters. "Big country, a lot of people. And in those prisons and those camps, you've got a lot of people. And some really bad things happened to Otto... But [Kim] tells me he didn't know about it."
The president's comments were harshly rebuked by Warmbier's family, who said in a statement that, after being "respectful during this summit process, we must speak out."
"Kim and his evil regime are responsible for the death of our son Otto," Fred and Cindy Warmbier said. "Kim and his evil regime are responsible for unimaginable cruelty and inhumanity. No excuses or lavish praise can change that."
Those comments resulted in Trump backing down on Twitter from his denial of Kim's involvement, saying his statements had been "misinterpreted."
"I never like being misinterpreted, but especially when it comes to Otto Warmbier and his great family. Remember, I got Otto out along with three others. The previous Administration did nothing, and he was taken on their watch," Trump tweeted. "Of course I hold North Korea responsible for Otto's mistreatment and death. Most important, Otto Warmbier will not have died in vain. Otto and his family have become a tremendous symbol of strong passion and strength, which will last for many years into the future. I love Otto and think of him often!"
The failure to condemn Kim mirrored his remarks to Russian President Vladimir Putin and Saudi Arabia Crown Prince Mohammed bin Salman. Last summer, he did not condemn Putin for meddling in the 2016 election, despite the U.S. intelligence community concluding that he was responsible in interfering to try and help Trump beat Hillary Clinton.
"They said they think it's Russia. I have President Putin; he just said it's not Russia," Trump said. "I will say this: I don't see any reason why it would be. So I have great confidence in my intelligence people, but I will tell you that President Putin was extremely strong and powerful in his denial today."
Following the murder of Washington Post journalist Jamal Khashoggi, who U.S. intelligence officials said was brutally tortured and murdered, including being dismembered with a bone saw, at Mohammed's order, Trump defended the crown prince.
"The king [Salman bin Abdulaziz Al Saud] firmly denied any knowledge of it," Trump said. "He didn't really know—maybe—I don't want to get into his mind but it sounded to me like maybe these could have been rogue killers, who knows."
Donald Trump CPAC 2019 Speech Live Stream: Watch President Address Conservative Conference | U.S.