President Donald Trump faces mounting criticism after protesters near the White House were tear-gassed ahead of him crossing the street to be photographed outside a church.
Following his address on Monday evening, where he discussed potentially deploying the military to tackle unrest at demonstrations across the nation, Trump visited St. John's Church, which was damaged by a fire lit during protests.
After saying he wanted to pay respects to "a very, very special place," Trump walked out of the White House gates with his security and stood outside the church to be photographed while holding a bible.
Moments beforehand, authorities were seen using tear gas to clear a crowd of protesters that had gathered over the death in police custody of George Floyd, an African American man, in Minneapolis on May 25.
In a joint statement, House Speaker Nancy Pelosi (D-CA) and Senate Minority Leader Chuck Schumer (D-NY) branded Trump "cowardly, weak and dangerous" for "fanning of the flames of discord, bigotry and violence."
They wrote: "Across our country, Americans are protesting for an end to the pattern of racial injustice and brutality we saw most recently in the murder of George Floyd.
"Yet, at a time when our country cries out for unification, this President is ripping it apart. Tear-gassing peaceful protesters without provocation just so that the President could pose for photos outside a church dishonors every value that faith teaches us."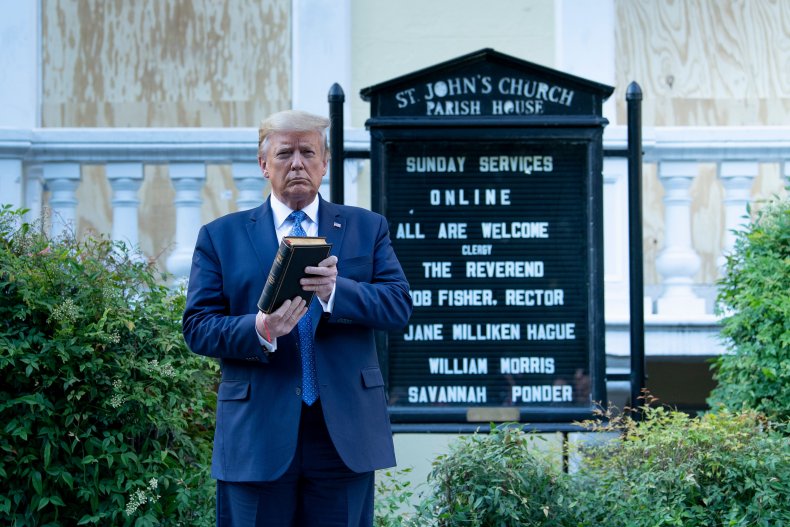 Sen. Schumer also tweeted: "How low can this president go? President Trump ordered federal authorities to fire tear gas at peaceful protesters so that he could hold a photo op to appear like a tough guy. His words are empty. His actions reveal his true nature."
A representative for Schumer told Newsweek he intends to raise the issue on the Senate floor on Tuesday.
Rep. Jerrold Nadler (D-NY), Chairman of the House Judiciary Committee, labeled Trump a dictator, describing him as "incapable of leadership" and knowing "only how to sow division."
"In the midst of the coronavirus pandemic, which has disproportionately impacted African Americans, the killing of George Floyd tore open a deep wound in an already grieving nation," Nadler said.
"Understandably frustrated, thousands of Americans–the vast majority of whom are peacefully exercising their constitutional rights–have taken to the streets to make clear their anguish and frustration with a society that has not addressed the fundamental problems of racial and economic inequality.
"Rather than acknowledge that frustration and seek to soothe tensions, President Trump – from the Rose Garden no less - threatened to deploy armed soldiers to 'dominate' the streets, and allowed tear gas to be fired on peaceful protesters so he could walk across the street for a photo op.
"This is disgusting, and as far from the 'rule of law' and the Constitution as it gets."
Rep. Carolyn Maloney (D-NY) said she was horrified by the president's statements and actions. In a tweeted statement, she said: "#POTUS deployed federal police against American citizens peacefully protesting the unjust murders of Black ppl—for a photo op.
"He commanded the use of tear gas and rubber bullets on innocent men and women—tactics employed by white segregationists in the 1960s. His actions are despicable, and as Americans, we will not stand for them. He should resign immediately."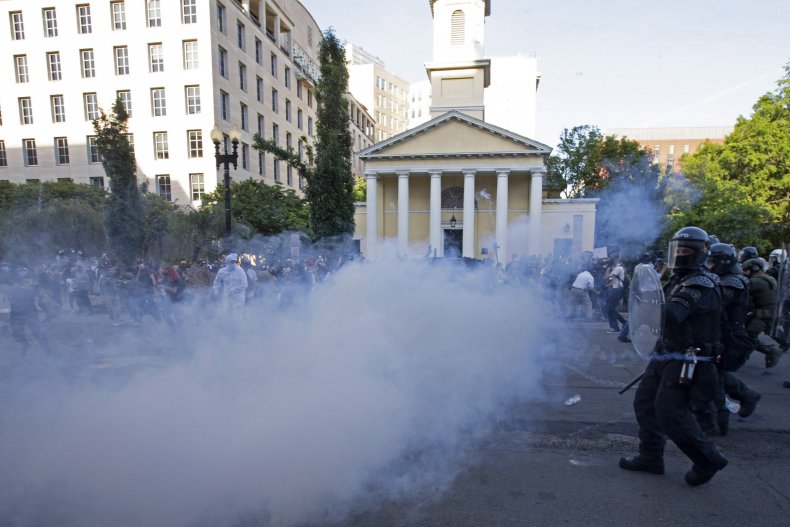 Rep. Mary Gay Scanlon (D-PA), tweeting after the event, said: "Tonight, Donald J Trump used military forces and tear gas against Americans, and used a bible and church for props. He has no respect for our values, our laws, or the American people."
Rep. Alma Adams (D-NC) shared news coverage of the tear gas being used on the crowd and wrote: "Chemical agents should not be used on Americans, especially for a photo op."
Newsweek has contacted the lawmakers mentioned and the White House for comment.
The Episcopal bishop of Washington D.C. also said she was outraged by tear gas being used to clear those gathered.
Mariann Edgar Budde, told the Washington Post: "I am the bishop of the Episcopal Diocese of Washington and was not given even a courtesy call, that they would be clearing [the area] with tear gas so they could use one of our churches as a prop."
Asked about the situation on CNN, she said: "I am outraged. The President did not pray when he came to St. John's, nor as you just articulated, did he acknowledge the agony of our country right now."
Newsweek has reached out for further comment.
Trump on Monday urged every governor to send in the National Guard to tackle violence which has broken out amid some protests, adding he expects states to create an "overwhelming law enforcement presence."
"If a city or a state refuses to take the actions that are necessary to defend the life and property of their residents, then I will deploy the United States military and quickly solve the problem for them," Trump said.
Democratic governors pushed back on the suggestion the military could be deployed to states.
Mass protests continue across the U.S. in response to Floyd's death. The 46-year-old died after a white police officer put a knee on his neck for several minutes while arresting him.
More than 5,600 people have been arrested amid the protests, according to an Associated Press tally.