Violence Continues, Arrests Mount As Governors Grapple With George Floyd Protesters and Trump's Ultimatum
The U.S. endured another night of unrest as governors grappled with President Donald Trump's threat to deploy the military if they did not quell the ongoing protests and looting.
In a speech in the White House Rose Garden on Monday, Trump declared himself the president of "law and order" and "an ally of all peaceful protesters."
But he said that the looting and violence that had erupted at protests sparked by the death of George Floyd, a black man, while in Minneapolis police custody were "acts of domestic terror."
He warned governors that if they do not deploy the National Guard in sufficient numbers to "dominate the streets," then the U.S. military would step to "quickly solve the problem for them."
The president's remarks came shortly after police reportedly dispersed peaceful protesters near the White House with tear gas so he could walk to the nearby St. John's Church and pose for pictures with a Bible.
Earlier on Monday, Trump berated U.S. governors on a phone call, saying they would look "weak" and like "jerks" if they didn't crack down on protesters.
More than 5,600 people across the country have been arrested over the past week, according to an Associated Press tally. People have been detained for offenses including stealing, blocking highways and breaking curfew.
Strict curfews were imposed in at least 42 cities, including New York City, Chicago, Los Angeles and Washington, on Monday night. The National Guard has been activated in at least 23 states and Washington, D.C., according to CNN, in a bid to put an end to the unrest that has roiled much of the country for days.
In New York City, an 11 p.m. to 5 a.m. curfew did little to deter looters, who ransacked stores along Manhattan's Fifth Avenue and the Macy's flagship department store in Herald Square.
Mayor Bill de Blasio said protests had been "overwhelmingly peaceful" on Monday but marred by some who "had nothing to do with the cause."
He took to Twitter on Monday night after a visit to The Bronx to say that there were "real problems" on two streets in the borough. Multiple fires were set on Fordham Road and several stores were broken into
On Monday night, de Blasio said he would extend the city's curfew to Tuesday night, but it would start three hours earlier at 8 p.m.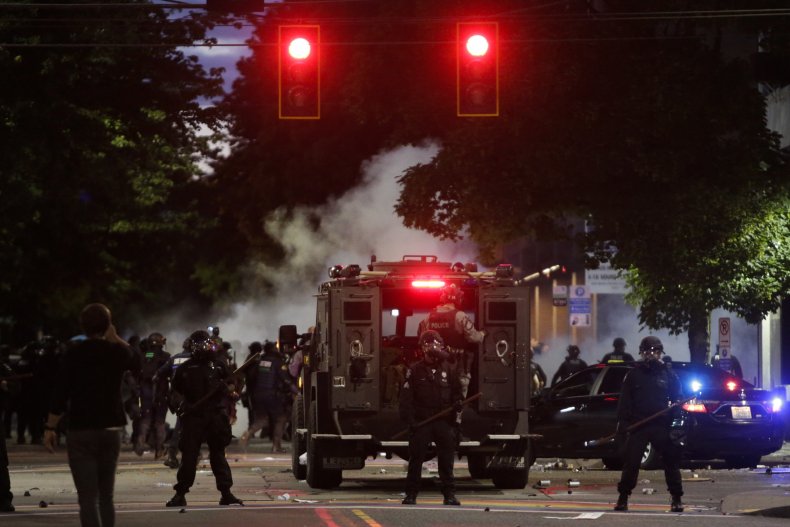 In Los Angeles, where a curfew took effect at 6 p.m., a fire was set at a looted strip mall in Van Nuys. Police fired bean bags at the crowd after looters raided a shoe store, a pharmacy and other small businesses.
According to NBC Los Angeles, the looters in Van Nuys appeared to be unconnected to a nearby protest and other demonstrations in the city, which took place without incident on Monday.
Meanwhile, in Buffalo, New York, two police officers were hit by a vehicle after protests there turned violent.
The New York State Police said on Twitter that one of its officers was in hospital with serious but not life-threatening injures. The other officer is with Buffalo Police, according to Erie County Executive Mark Poloncarz.
Two people were killed during unrest in the Chicago suburb of Cicero, AP reported. Cicero spokesman Ray Hanania said 60 people were also arrested in Cicero after Illinois State Police and the Cook County Sheriff's Officer were called in to help local law enforcement after people looted a liquor store and other businesses.
In St. Louis, Missouri, four police officers were hospitalized after they were struck by gunfire, according to the city's police department. "All have been transported to an area hospital. All are conscious and breathing. Their injuries are believed to be non-life threatening," the police department said.
In Philadelphia, state police fired tear gas into a crowd of protesters an hour before the city's 6 p.m. curfew was due to take effect.
The Philadelphia Inquirer reported that protesters said the demonstration had been peaceful up until police fired the gas, forcing many to scramble up the banks of a highway.
In a statement, Mayor Jim Kenney and Police Commissioner Danielle Outlaw said police released the gas after one officer ordered the crowd to disperse because some protesters had thrown rocks. Dozens of protesters were arrested after the incident on the I-676, the newspaper reported.
Across the country in Seattle, the city's police department declared a riot after a demonstration in the Capitol District turned violent.
The Seattle Times reported that police used flash bangs and tear gas to disperse protesters at around 9 p.m. Police said on Twitter that the crowd had "thrown rocks, bottles and fireworks at officers."
One protester told the newspaper that objects had been hurled at officers, but said the police response was disproportionate.
In Minneapolis, people attending a vigil at the intersection where Floyd was killed were not deterred by a curfew that began at 10 p.m., according to New York Times reporter John Eligon. KARE 11 reported police were not making arrests and allowed most people to remain in the area.
Earlier on Monday, Floyd's brother Terrence Floyd was at the site, calling for an end to the violence because "that's not going to bring my brother back."
"I understand y'all are upset. I doubt y'all are half as upset as I am," he said. "So if I'm not over here blowing up stuff, if I'm not over here messing up my community, then what are y'all doing?"
Floyd died on May 25 after a white Minneapolis police officer was filmed pinning him to the ground with a knee on his neck for more than eight minutes.
The officer, Derek Chauvin, has been charged with third-degree murder and manslaughter. Three other officers were fired from the police department alongside Chauvin, but have not yet been charged.