Donald Trump Demands Networks Give Him Hours to Push Election Fraud on TV
Former President Donald Trump is asking all major networks airing the hearings from the January 6 commission to give him hours of "equal time" for him to bolster his debunked claims about election fraud.
"The Fake News Networks are perpetuating lies, falsehoods, and Russia, Russia, Russia type disinformation (same sick people, here we go again!) by allowing the low rated but nevertheless one sided and slanderous Unselect Committee hearings to go endlessly and aimlessly on (and on and on!)," Trump wrote in a post on his social media platform Truth Social on Thursday.
"It is a one sided, highly partisan Witch Hunt, the likes of which has never been seen in Congress before," he said. "Therefore, I am hereby demanding EQUAL TIME to spell out the massive Voter Fraud & Dem Security Breach!"
Trump's remarks come ahead of the House committee's third public hearing, which will air at 1 p.m. ET on Thursday. It is anticipated to include some of the most explosive findings as the panel turns its focus to former Vice President Mike Pence, who refused to go along with Trump's unfounded claims that the 2020 election was stolen from him via voter fraud.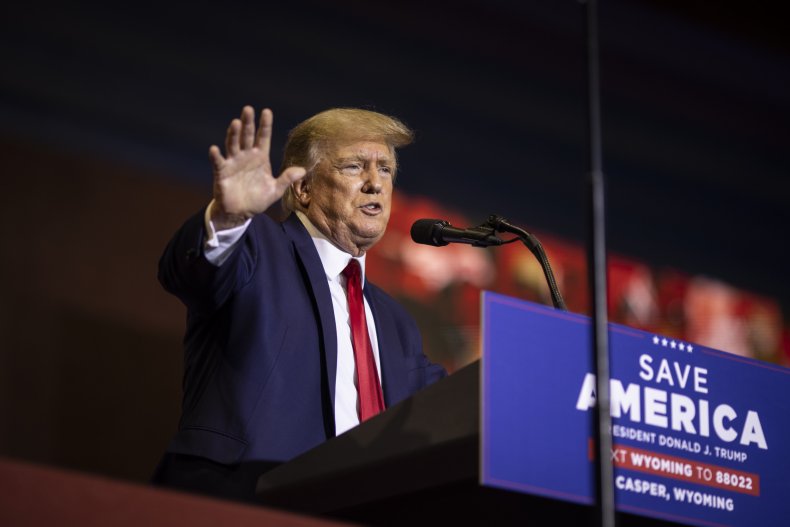 The former president's demands also come just days after he issued a response to the testimony and evidence presented by the January 6 commission. The rebuttal released Monday once again reiterated his claims the election was stolen despite several audits and recounts that found President Joe Biden to be the winner.
In one section, Trump claimed that some states took additional time after Election Day to count ballots as part of an elaborate scheme to include fraudulent votes that would clip his narrow lead over Biden—a theory that was dismissed on Monday by former Fox News politics editor Chris Stirewalt.
"We had gone to pains—and I'm proud of the pains we went to—to make sure that we were informing viewers that this was going to happen because the Trump campaign and the president had made it clear that they were going to try to exploit this anomaly," Stirewalt told the committee earlier this week.
On Tuesday, Trump took to Truth Social to slam the House panel again, calling the hearings "cancel culture."
On Thursday, the House committee is expected to present new details about the threats of violence that Pence faced for certifying the 2020 presidential election and the ways his security team scrambled to keep him away from the pro-Trump mob on January 6, 2021.
Members of the committee will argue that Trump knowingly put Pence's life at risk by declaring "maybe our supporters have the right idea" while aware that rioters were chanting "hang Mike Pence."
A hearing had originally been planned on Wednesday but was abruptly rescheduled for next week due to "technical reasons," according to committee member Representative Zoe Lofgren. There will now be two hearings next week: one on June 21 and another on June 23, both beginning at 1 p.m. ET.
The postponed hearing was set to examine Trump's efforts to convince the Department of Justice to help him overturn the results of the 2020 election.