What Time Is the Jan. 6 Committee Hearing on Thursday, June 16?
The House select committee investigating the January 6 Capitol attack is set to present its third day of live televised hearings.
The latest day of the House proceedings will begin on Thursday, June 16, at 1 p.m. Eastern Time.
The next two scheduled hearings from the January 6 committee will be heard at Tuesday, June 21, at 1 p.m ET; and on Thursday, June 23, at 1 p.m. ET.
Thursday's hearing will focus on former President Donald Trump and his lawyer John Eastman's attempt to pressure former Vice President Mike Pence to stop the certification of the 2020 election results on January 6, 2021, during Pence's purely ceremonial role as presiding officer of the Senate—despite being aware such a tactic was illegal.
The committee had already teased recorded testimony from Trump White House attorney Eric Herschmann, saying he told Eastman "are you out of your f'ing mind?" because Eastman allegedly kept pushing the false election fraud claims in a phone call one day after the January 6 attack.
Two people who are due to testify during Thursday's hearing—retired Republican judge J. Michael Luttig and Greg Jacob, Pence's chief legal counsel—are set to confirm that the former vice president did not have the power to stop the certification of the 2020 election results, despite Trump's insistence.
Trump even continued to suggest to his supporters that Pence will be to blame if Joe Biden is confirmed as president while the Capitol riot was underway, tweeting that the then-vice president "didn't have the courage to do what should have been done" as the rioters were storming the building.
Trump allegedly sent the tweet 10 minutes after he was informed that Pence had been removed from the Senate by the Secret Service for his safety.
During the January 6 attack, Trump supporters could be heard chanting "hang Mike Pence."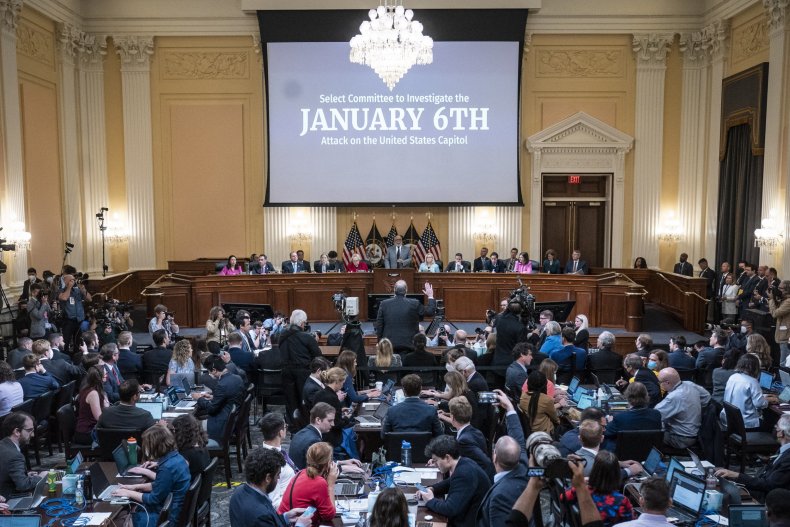 On the first day of proceedings, panel vice chair Rep. Liz Cheney alleged Trump reacted to reports of Capitol rioters chanting "hang Mike Pence" by suggesting they "have the right idea" and that his former vice president "deserves it."
Trump later denied these claims in a post on Truth Social.
"I NEVER said, or even thought of saying, 'Hang Mike Pence,' Trump wrote. "This is either a made up story by somebody looking to become a star, or FAKE NEWS!"
A hearing was due to take place on Wednesday, but was postponed until a later date as a result of "technical issues," according to panel member Rep. Zoe Lofgren.
The hearing was set to focus on Trump's alleged attempts to install a Department of Justice official, Jeffrey Clark, as an attorney general who would be willing to back the former president's false claims that the 2020 election was rigged.