Donald Trump Says Democrats 'Tortured' Brett Kavanaugh and His Family in Sexual Assault 'Hoax'
President Donald Trump claimed on Monday that Brett Kavanaugh was "tortured" by Democrats during his Supreme Court confirmation process.
The comments were made in reference to the fallout from multiple allegations of sexual assault made against his nominee.
"I thought the way they behaved was absolutely atrocious. I've never seen anything like it," Trump said to reporters about Democratic lawmakers involved in the process. Then the president said Kavanaugh—who was confirmed as a Supreme Court justice despite the allegations and questions about his temperament—and his family were tortured.
"I thought that the way they conducted themselves—the way dealt with a high-level, brilliant, going to be a great justice of the Supreme Court—the way they really tortured him and his family," Trump said. "I thought it was a disgrace. I thought it was one of the more disgraceful performances I've ever seen."
Later, the president said he had heard talks of impeaching Kavanaugh and seemingly suggested the allegations against the judge were drummed up by Democrats.
"So I've been hearing that now they're thinking about impeaching a brilliant jurist, a man that did nothing wrong, a man that was caught up in a hoax that was set up by the Democrats using the Democrats' lawyers," Trump said. "And now they want to impeach him. I've heard this from many people. I think it's an insult to the American people."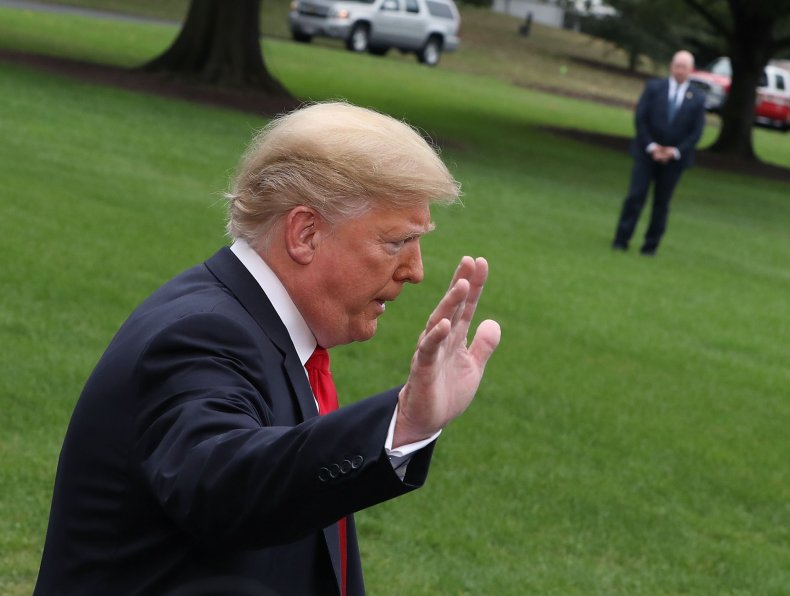 Some have indeed floated impeaching Kavanaugh. New Jersey Senator Cory Booker said it could be possible if the November elections went well for the Democrats.
"The reality is, right now, Republicans control the House and the Senate, and there's no way to do even an investigation unless we flip one of the houses," Booker said to Yahoo. "So I think even before you start focusing on questions about his truthfulness before a Senate committee, you've got to focus on the urgency of the work over the next 30 days, and that's where my focus is."
Removing a justice from the Supreme Court is a big task, however. It requires a supermajority—67 votes—in the Senate, which is a number the Democrats are definitely not hitting this November.