Viral Donald Trump Embroidery Delights the Internet: 'I Can't Stop Staring'
Former President Donald Trump has been immortalized in a piece of embroidery recreating an infamous photo from his time in the White House.
The image of a windswept Trump, with his blonde hair blown back to reveal a dramatic forehead tan line, first went viral on Twitter back in February 2020 alongside the hashtag #orangeface. At the time, Trump branded the picture "fake news" and claimed it was "photoshopped" but by then, the damage was done on social media.
Nearly two years on and it would appear that the picture is back in the public consciousness after a woman took to Reddit to share her colorful embroidered recreation of the photo.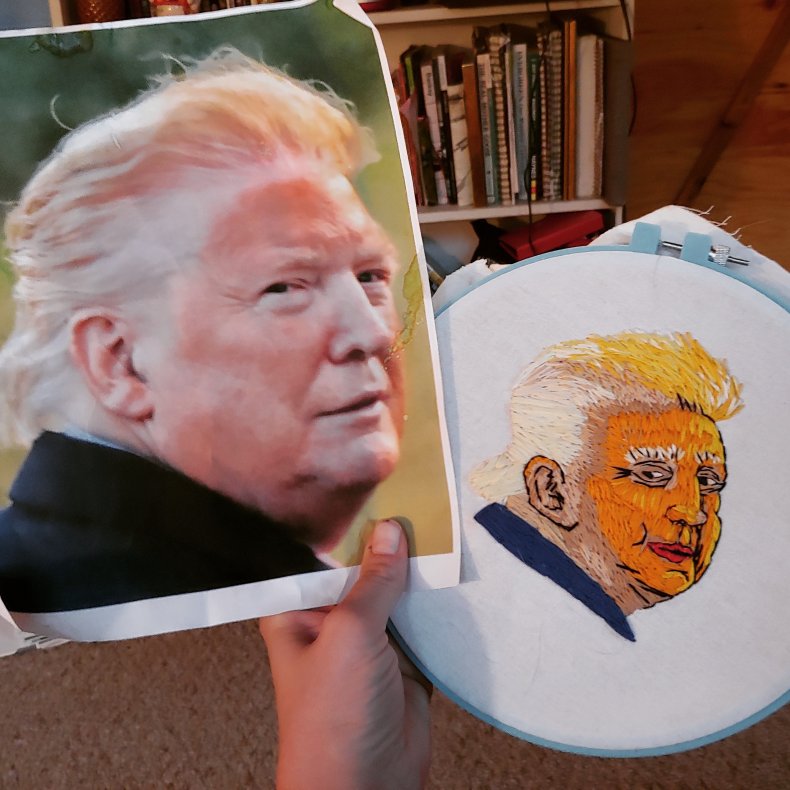 The design is the work of Karen Lundquist, a Colorado woman who regularly posts about her needle work on Instagram under the handle embroiderybuns, but hit the big time after sharing a picture of her Trump tribute on Reddit.
The post has proved popular to say the least, earning over 67,000 upvotes, with the majority of the comments underneath the post proving a mix of horror and delight at the resulting creation.
"That's f***ing terrifying, I love it," youngbarista wrote. "I can't stop staring," murdervon******* commented. "Why would you subject yourself to staring at his face to make that?" FirstPlebian asked.
Ophelia550 said: "This made me laugh so hard. Thank you. I really needed to laugh," while hoaxninja wrote: "I'm sure someone would pay you handsomely for this." Sylphcrow added: "I hate it...it's perfect."
Speaking to Newsweek, Lundquist explained why she chose to create something around this specific picture of Trump. "That photo of him was the most accurate, candid photo and I really wanted to capture the ridiculousness in his non-existent soul," she said. "I didn't see a way I personally could have memorialized him any better to my capabilities."
Lundquist has been a Reddit user "for little over nine years" but this is the first time any of her posts have blown up in this kind of way. She's loved the reaction to it.
"I am not a Trump supporter but I enjoy that both haters and fans alike can come together and appreciate the hours of dedication put into this to memorialize our dear leader," she said.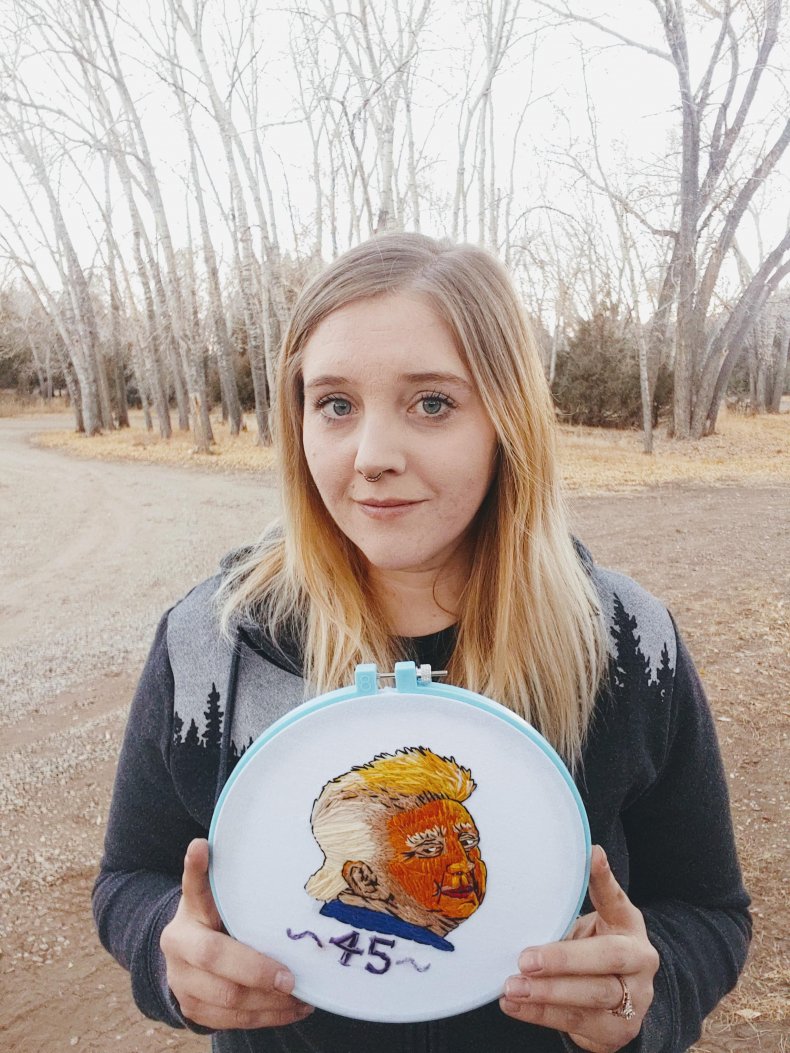 She said she completed work on the embroidery in 2020 and even though she thinks it is "terrible looking," she hoped that sharing it on Reddit would help it serve as a reminder to the American people.
"I really don't want my country to forget that this man is still extremely powerful here and is still at the head of the GOP. There's a very real chance this man could come back into power here," she said.
"As much as I hate seeing his face and I know others hate seeing it, this is the reality we live in and the sooner we forget about him the sooner something like him will happen again."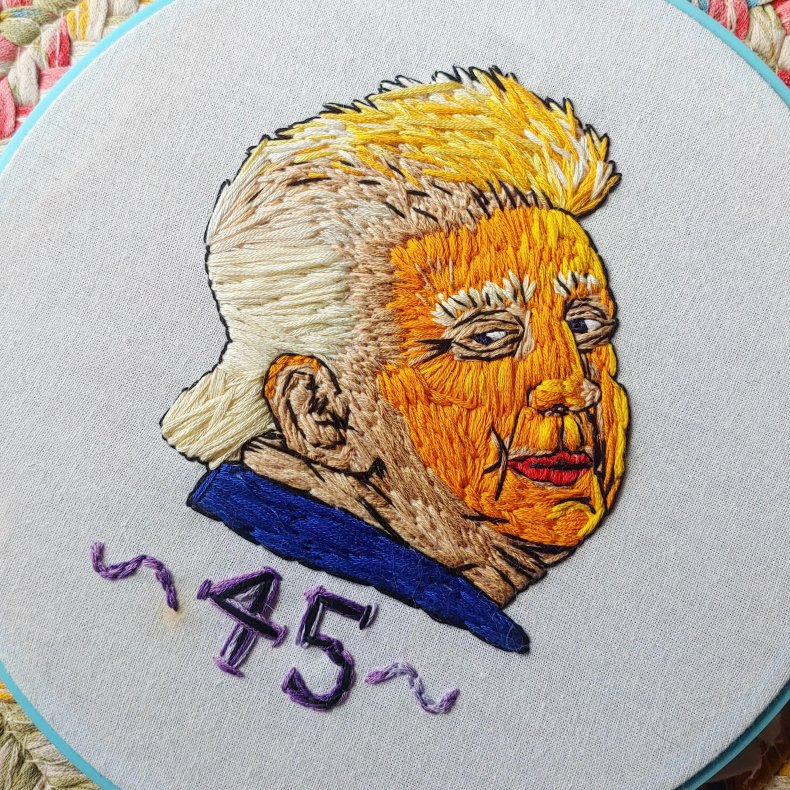 Lundquist said the embroidery itself was a labor of love that took months of work, on and off, to complete. "I made the mistake of completing the eyes first which made the rest of the project extremely uncomfortable to complete," she said. "The most disturbing part is before I started the orange it looked more like Bill Clinton."
Despite garnering praise for her work, Lundquist openly admits she despises the picture. "I hate it and I really want it gone," she said. "I don't feel right selling it, I don't know what to do honestly. It's a curse and I don't feel like it should be let out of the bag that it's in."
Regardless of these reservations, she still has some exciting embroidery plans on the horizon. "This is the first real human portrait I've ever done. I was planning on making this one and making one of Vladimir Putin as well kind of looking back over his shoulder at Trump, maybe with a little wink," she said.
"After that, possibly Kim Jong Un. All kind of looking at each other, subtly. There's also a Museum of Bad Art in America so maybe I could enter it into that."