A foreign policy and terrorism expert believes President Donald Trump and his Turkish counterpart Recep Tayyip Erdogan, "just got played" by Russian President Vladimir Putin, after Turkey was permitted to launch its current attack into northeastern Syria.
The offensive, labeled Operation Spring Peace by the Turks, was launched on Wednesday after a phone call between Trump and Erdogan the previous Sunday. Trump announced the withdrawal of U.S. troops from Syria's border with Turkey soon after the phone call.
Following the withdrawal, Trump was accused of betraying the region's Kurdish population and the Kurdish-led Syrian Democratic Forces (SDF)—a force that was instrumental in quashing the influence of militants from the so-called Islamic State (ISIS) in the region.
Michael S. Smith II, an al-Qaeda and ISIS expert, as well as a lecturer at Johns Hopkins University's Global Security Studies Program, said the move only played into Russia's hands.
He made his comments in response to Lindsey Graham, the GOP senator from South Carolina. The Republican congratulated Trump for plans to impose economic sanctions on the Turkish regime.
"Hi Lindsey," Smith tweeted to Graham on Sunday. "As you used to call me to ask questions about what was going on in Syria during the Obama presidency, I'll explain this in simple terms.
"Erdogan just got played by Putin. Now Putin's pal [Syrian President Bashar] al-Assad will probably control areas Putin wanted him to."
In response to a tweet that suggested America was played as well, Smith said: "America did not get played. Trump did."
His tweets come shortly after the SDF announced an agreement with Assad and Putin on Sunday evening. Kurdish forces agreed to give up control of the semi-autonomous border towns of Manbij and Kobani to Damascus in return for military support.
The agreement will likely spread to the majority of Syria's border with Turkey.
When asked to explain his comments further, Smith told Newsweek: "If you have the ambitions that Erdogan clearly has to transform Turkey into a de facto autocracy, you're logically going to be looking around for reliable partners who are not going to oppose that sort of transformation.
"You can certainly see in 2015 and 2016 that Erdogan was increasingly attempting to legitimize increased partnerships with Putin's regime by referring to the security situation in Turkey's south.
"Meanwhile, I don't think there are many reasonable-minded analysts that would consider the history of Putin's regime as something other than a continuation of a Communist, anti-NATO ethic."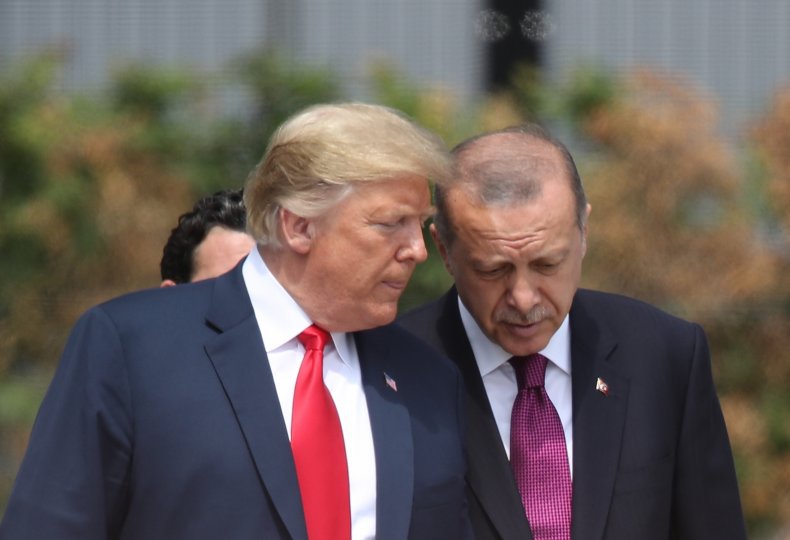 Smith said that Putin emboldened Erdogan's international ambitions in order to increase the tensions within NATO—by putting him at odds with the organization and its stated goals—only then to "pull the rug" from under Erdogan's feet.
"Putin created a situation where he led Erdogan to believe that he would tolerate Erdogan making this move against the Kurds and what Erdogan didn't seem to anticipate is that this enabling of sorts would lead to increased tensions with governments in NATO member states. This factors squarely into Putin's agenda.
"Putin has now made a statement that indicates—on its face at least—that he is opposed to Turkey occupying these territories in Syria. He's put Erdogan in this corner and the question is, who is going to back Erdogan up at this point?
"This is Putin putting on a show of strength and reminding Erdogan who the real power players are in this situation.
"Erdogan did not see this on the cards. He also did not see that he was creating a situation where Putin could step in and seem like the responsible actor on the playing field by basically asserting himself in such a way that looks like he has concerns for human rights.
"In terms of grand strategy, this is what Putin is doing by protecting the Kurds—who were among the United States' most dedicated and competent local allies in the fight against Islamic State.
"This is a game of optics and what Putin has done is made Erdogan and Trump look like clowns."