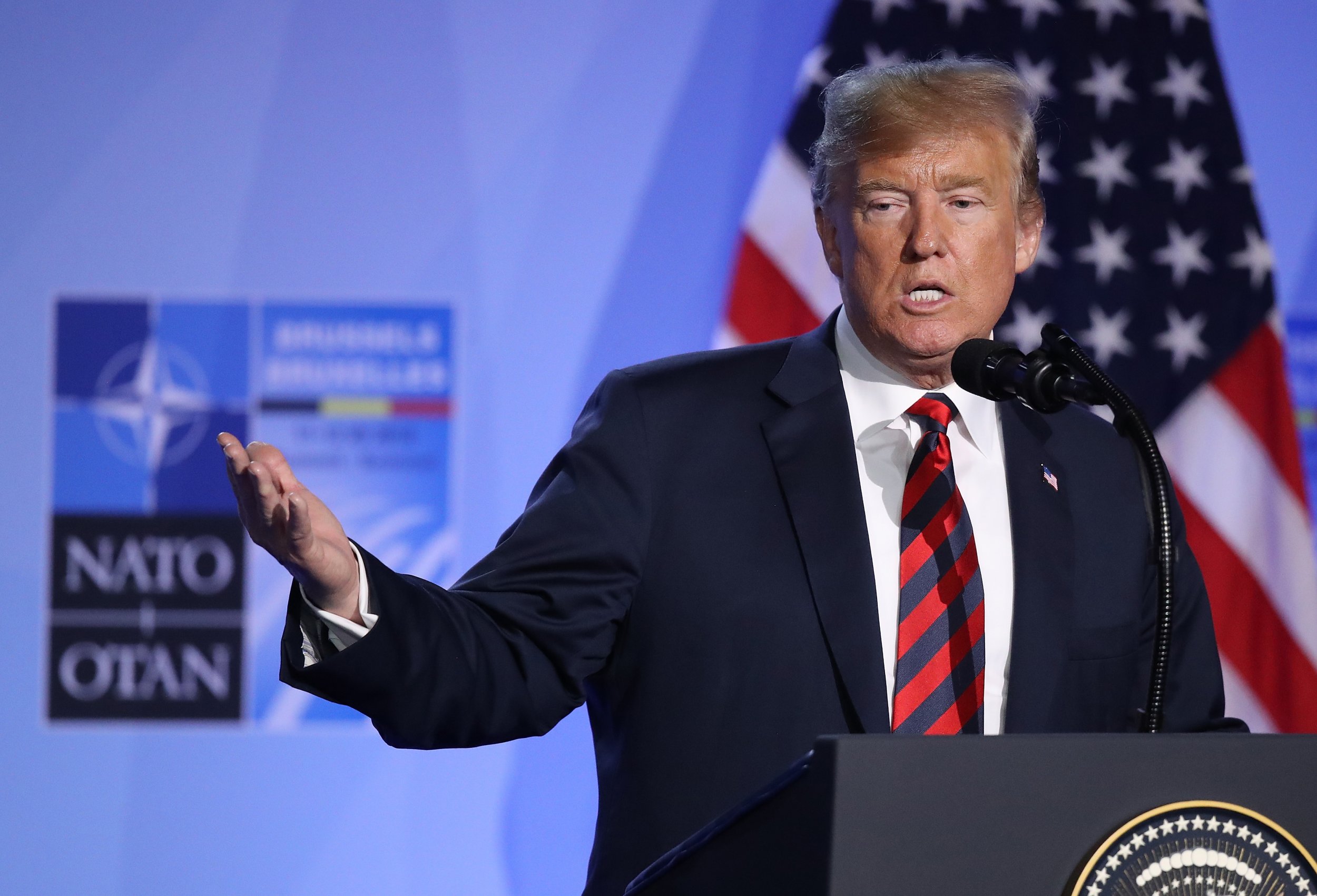 President Donald Trump's performance at the annual NATO summit that concluded Thursday stunned world leaders, causing them to question his commitment to the transatlantic alliance and lead the Pentagon to go into "damage control" to reassure United States allies, according to reports.
During a post-summit briefing, Denmark's foreign minister, Anders Samuelsen, was one of several leaders who pointed to the president's unpredictability on whether the U.S. would remain an ally of the North Atlantic Treaty Organization.
"It is a new reality, and you have to look past both spelling and factual mistakes and take Trump serious when he barrels forward with his Twitter," Samuelsen said, according to Politico.
While at the two-day summit, Trump demanded that NATO double its military spending target to better match the United States' defense contribution. Seeming to question his commitment to the transatlantic alliance, Trump said he "probably [could]" withdraw the U.S. from NATO without congressional approval, although it's "unnecessary."
Trump tried to reassure reporters and NATO leaders at his own post-summit news conference, saying: "I'm very consistent. I'm a very stable genius."
But just hours after the president boarded Air Force One to leave the Brussels summit, U.S. officials at the Pentagon were reportedly on full-fledged "damage control," calling foreign leaders to assure them the U.S. will continue to provide military support for NATO, according to NBC News.
Danish defense minister Claus Hjort Frederiksen said NATO allies "live with the uncertainty" of how Trump operates, triggering other leaders to question whether he has any type of strategy at all.
"Nobody knows when Trump is doing international diplomacy and when he is doing election campaigning in Montana," Frederiksen said, Politico reported. "It is difficult to decode what policy the American president is promoting. There is a complete unpredictability in this, and one of the things you need in this alliance is predictability toward Russia."
Added Danish Prime Minister Lars Løkke Rasmussen following the summit: "The U.S. president has come up with some pretty bombastic announcements and Twitter has moved into the conference room."
The president also reportedly stunned NATO allies when he accused Germany of being "totally controlled by Russia" and spent part of a dinner bragging to allies about his unprecedented meeting with North Korea's Kim Jong Un.
Republican lawmakers also criticized Trump's performance in Brussels.
Arizona Senator John McCain called the president's various comments "disappointing yet ultimately unsurprising" and urged him to "hold [Vladimir] Putin accountable" during Trump's meeting next week with the Russian president in Helsinki, Finland.