Donald Trump's Long List of Falsehoods the Morning After Robert Mueller Declined to Exonerate President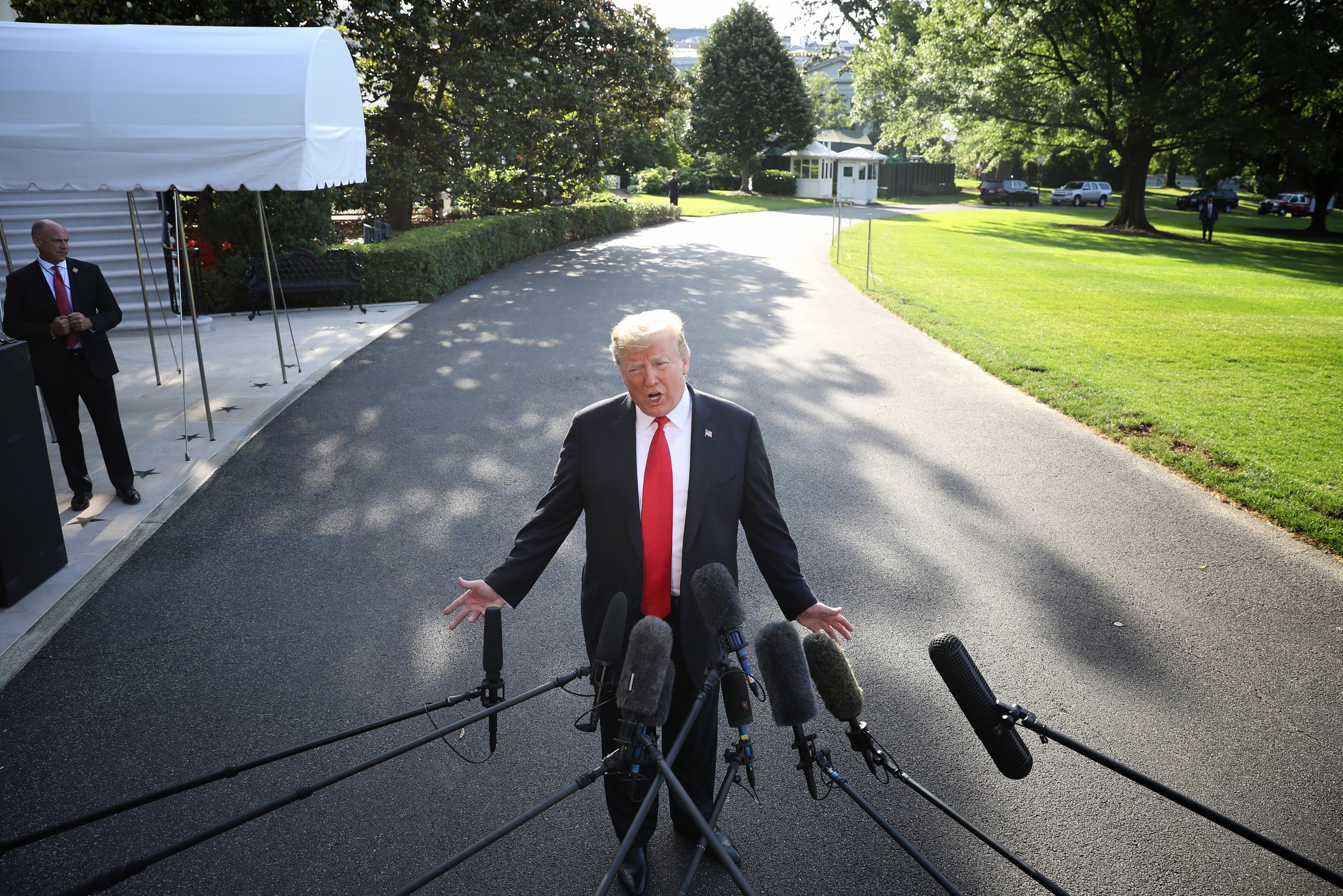 President Donald Trump rattled off numerous contradictory statements, baseless accusations and falsehoods Thursday morning following former special counsel Robert Mueller's rare on-camera statement the day prior, in which he reiterated one of his report's conclusions that he could not exonerate the president of committing crimes.
Among the false claims made by Trump to reporters on the White House's South Lawn before boarding Marine One were that Russia wanted Hillary Clinton to be elected and that the courts would prevent Congress from impeaching him. On the former special counsel, Trump falsely or baselessly claimed that Mueller cleared him of any criminal wrongdoing, wanted another stint as FBI director, was a "never-Trumper" and had conflicts of interest that should have prevented him from becoming special counsel.
In addition to the false claims, the president contradicted himself after publicly acknowledging—for the first time—in a tweet that Russia tried to help him by saying, "Russia help[ed] me to get elected."
"Russia did not help me get elected," Trump told reporters minutes later. "You know who got me elected? You know who got me elected? I got me elected. Russia didn't help me at all. Russia, if anything, I think, helped the other side." He falsely added that "Russia would rather have Hillary Clinton as president."
At a joint press conference with Trump and Russian President Vladimir Putin following a Helsinki summit between the two world leaders in July 2018, Putin was asked whether he wanted Trump to win the 2016 election.
"Yes, I did. Yes, I did," Putin responded in Russian that was translated to English. "Because he talked about bringing the U.S.-Russia relationship back to normal."
The Mueller report also concluded that "the Russian government interfered in the 2016 presidential election in sweeping and systematic fashion." It added that the "Russian government perceived it would benefit from a Trump presidency and worked to secure that outcome, and that the Campaign expected it would benefit electorally from information stolen and released through Russian efforts."
"There was no crime"
The president went on to claim—falsely—that in both Mueller's report and his Wednesday remarks, the former special counsel exonerated him of any criminal wrongdoing, including on obstruction of justice and conspiracy charges.
"[Mueller] said, essentially, 'You're innocent.' I'm innocent of all charges," Trump falsely said. "And, you know, the thing that nobody brings up: There was no crime. They're saying, 'he's obstructing something' and there was no crime."
That was not the case, according to Mueller and his 448-page report that was issued after a 22-month-long investigation into Russian election interference. He detailed several instances of potential obstruction by Trump, which included several attempts to thwart the probe and remove Mueller as special counsel.
"As I said forth in the report after that investigation, if we had had confidence that the president clearly did not commit a crime, we would have said so," Mueller said during his statement Wednesday.
He went on to say they did not "make a determination" as to whether Trump committed a crime and that charging him was "not an option we could consider" due to longstanding Justice Department guidelines against charging sitting presidents with federal crimes. Mueller further added "there was insufficient evidence" to charge him with conspiracy related to Russian election interference.
Brad Moss, an attorney at Mark S. Zaid law firm and a national security legal expert, told Newsweek that Mueller's statements cleared up what Attorney General William Barr's summary and press conference failed to do.
"This was the speech Bob Mueller thought the attorney general should have given from the beginning," Moss said. "It made clear that the 'no collusion, no obstruction' mantra was misleading, incomplete and ultimately not consistent with reality."
A Lifelong Republican
Claims made by Trump that Mueller was a "never-Trumper" and a "conflicted person" who again "wanted to be the FBI Director" were also either false or made without evidence.
Mueller was a lifelong Republican, serving as the director of the FBI for 12 years under Presidents George W. Bush and Barack Obama. The claims by Trump that Mueller sought to regain the FBI director position and that he had conflicts of interest due to a golf course dispute were refuted by one of the president's own former advisers.
"Bannon recalled telling the President that the purported conflicts were 'ridiculous' and that none of them was real or could come close to justifying precluding Mueller from serving as Special Counsel," the Mueller report stated, citing an interview between investigators and former Trump chief strategist Steve Bannon.
In 2011, Mueller resigned from his family's membership at Trump National Golf Club in Sterling, Virginia, according to the Mueller report. He requested a refund associated with the initial membership fee and was placed on a waitlist to be refunded. In the report, it stated that Bannon further classified Trump's claim for this to be a conflict of interest as "ridiculous and petty."
"As for Mueller's interview for FBI Director," the report stated, "Bannon recalled that the White House had invited Mueller to speak to the President to offer a perspective on the institution of the FBI. Bannon said that, although the White House thought about beseeching Mueller to become Director again, he did not come in looking for the job."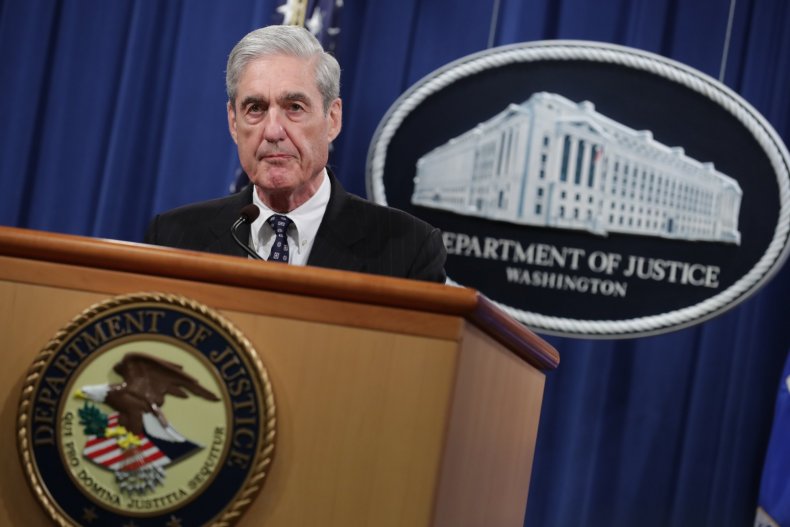 "It's a dirty word"
As House Democrats ramp up talks of impeachment proceedings, the president's ire has been similarly heightened. More Democrats have piled onto the belief that while their congressional probes play out, so, too, should an impeachment inquiry due to the White House's stonewalling of committees' subpoenas for documents and witness testimonies.
"They're possibly allowed, although I can't imagine the courts allowing it," Trump said of impeachment. "I've never gone into it. I never thought that would even be possible to be using that word. To me, it's a dirty word—the word 'impeach.' It's a dirty, filthy, disgusting word."
Courts could not prevent impeachment proceedings, as such a matter is handled solely by Congress. The House holds the power to impeach the president, and the Senate determines whether or not to convict.
"You know, it's 'high crimes and…' not 'with' or 'or.' It's 'high crimes and misdemeanors,'" Trump continued. "There was no high crime and there was no misdemeanor. So, how do you impeach based on that?"
James LaPorta contributed to this strory.