After Robert Mueller's Speech, Democrats Are as Divided as Ever on Impeachment
After Robert Mueller broke his silence during a news conference yesterday, more Democrats decided it was time to join dozens of their colleagues in calling on Congress to initiate impeachment proceedings against President Donald Trump.
For the first time since the Russia investigation into 2016 election interference began more than two years ago, the now-former special counsel did something on Wednesday never previously done: he spoke publicly.
"If we had had confidence that the President clearly did not commit a crime, we would have said so," Mueller told reporters at the Justice Department. Charging Trump with a crime—most likely obstruction, based on the various episodes detailed in the Mueller report, including attempts to thwart the investigation—was "not an option" due to longstanding Justice Department guidelines preventing federal criminal charges against a sitting president, he said. Although they did not "make a determination as to whether the President did commit a crime," Mueller appeared to signal that the ball was in Congress' court.
"[T]he Constitution requires a process other than the criminal justice system to formally accuse a sitting president of wrongdoing," Mueller said.
The short remarks by Mueller were impactful, and left the Democratic Party more divided than ever on opening an impeachment inquiry. Not only did those who already support such a process view Mueller's statement as a call to action, more Democrats piled on, saying it was now time to initiate the significant measure.
Bradley Moss, an attorney at Mark S. Zaid law firm and a national security legal expert, told Newsweek the subtext of Mueller's speech was "absolutely" a signal for Congress to act. "This reaffirms what all of us, except for the Attorney General apparently, always construed Volume II to mean. In short, obstruction is for the political branch to resolve, not DOJ," he said.
But Nancy Pelosi, along with other House leaders, has continued to tamp down calls for impeachment by rebuffing the notion there is any internal division. As the House speaker has done every step of the way when impeachment is referenced, she advocated Wednesday for the focus to remain on the various ongoing congressional probes by House Democrats, including their recent legal victories over the Trump administration.
"I think it's like 35 of them out of 238—maybe it's 38 of them out of 238—have said that they wanted to be outspoken on impeachment and many of them are reflecting their views, as well as those of their constituents," Pelosi said at a Commonwealth Club event in her district of San Francisco, California, shortly after Mueller's statement. "But we want to do what is right and what gets results."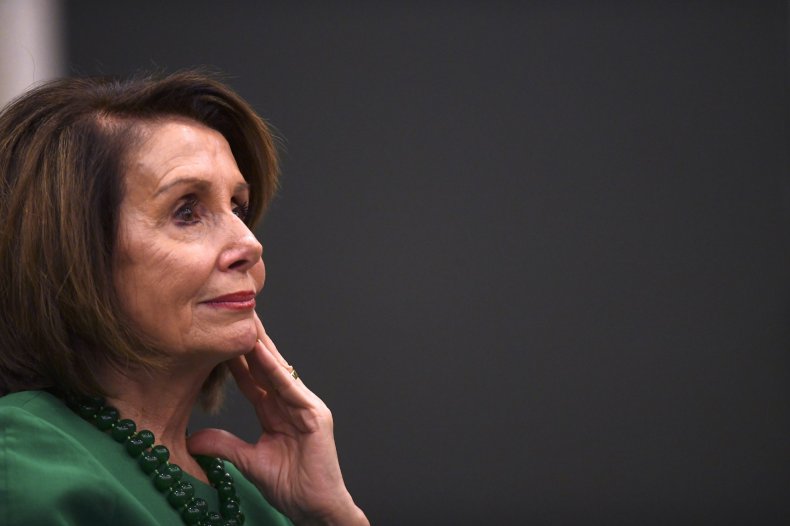 Pelosi also pushed back against the growing number of 2020 Democratic candidates who have called for impeachment proceedings by saying the party "won't be swayed by a few people who think one way or another who are running for president."
Illinois Representatives Danny Davis and Jesús "Chuy" García, who both serve on committees investigating the president, joined their Democratic colleagues Wednesday in calling for an impeachment inquiry. House Homeland Security Committee Chairman Bennie Thompson of Mississippi and Rules Committee Chairman Jim McGovern of Massachusetts did as well, bringing the total number of House Democrats who support impeachment proceedings to roughly 40 out of 235.
Representative Greg Stanton, Democrat from Arizona who serves on Judiciary, joined several of his fellow committee members Thursday afternoon in calling for an impeachment inquiry.
On top of the new additions, some Judiciary Democrats already in the impeachment camp viewed parts of Mueller's statement as a direct message to Congress that they must act. Mueller, who on Thursday returned to the status of private citizen, according to his Justice Department spokesman Peter Carr, said they could not exonerate Trump, it was against Justice Department guidelines to charge a sitting president and that "the Constitution requires a process other than the criminal justice system to formally accuse a sitting president."
"Impeachment is that process," tweeted Representative Val Demings, a Judiciary Committee Democrat. "He's asking us to do what he wasn't allowed to—hold the president accountable."
One of her Democratic colleagues on the committee, Representative David Cicilline, expressed a similar sentiment.
"As the Special Counsel reminded us today, the Constitution gives Congress the sole power to hold a President accountable for high crimes and misdemeanors," Cicilline said in a statement. "If any other American committed these acts, they would be indicted and prosecuted."
After Mueller's remarks, House Judiciary Chairman Jerrold Nadler reiterated to reporters in his New York district that "all options are on the table and nothing should be ruled out"—including impeachment proceedings.
James LaPorta contributed to this story. It was updated to include comments from Brad Moss, a Washington, D.C.-based attorney specializing in national security legal matters. This story was further updated after Rep. Greg Stanton (D-AZ) announced his support for an impeachment inquiry.