What's Going on With Donald Trump and FBI?
On Monday, U.S. politics was upended when Donald Trump announced the FBI had raided Mar-a-Lago, his luxury private members club in Florida.
Acting on a warrant approved by Magistrate Judge Bruce Reinhart, agents removed around a dozen boxes of material, and broke into the former president's safe.
The raid reportedly forms part of an ongoing investigation into claims Trump mishandled sensitive documents, including some marked classified by the National Archives and Records Administration (NARA).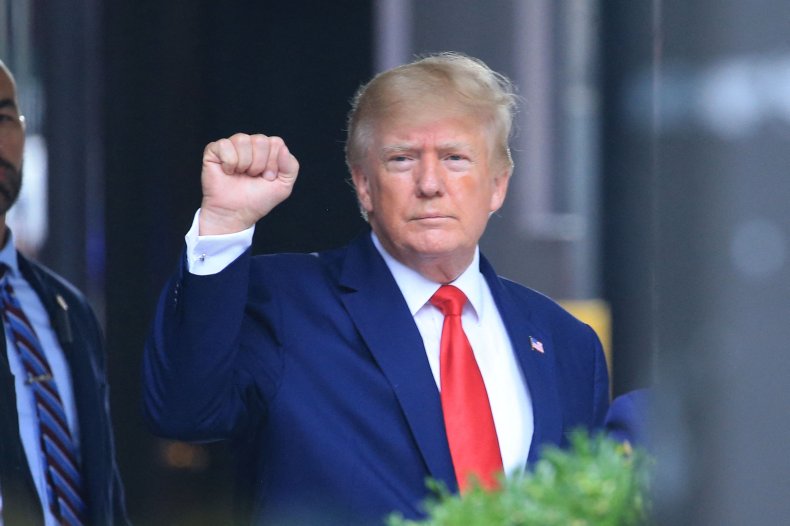 Former presidents are required to turn over all White House materials to the Archives once they leave office, under the Presidential Records Act.
When he left the White House in January 2021, Trump allegedly took 15 boxes of documents with him, which the NARA demanded he return.
After becoming concerned the boxes included classified information, NARA reported the case to the Department of Justice who launched an investigation.
Earlier this year, Trump did return some documents to the NARA, but fears over his handling of confidential information remained.
Speaking to The Washington Post, people close to the investigation said the documents sought in the raid included classified papers concerning nuclear weapons. They did not say whether any such papers were recovered in the raid, or whether they related directly to the U.S. nuclear weapons program or those of another country.
On Thursday, Attorney General Merrick Garland gave a highly unusual statement from the Justice Department, in which he confirmed he personally approved the decision to seek a search warrant for Mar-a-Lago.
Lawyers for the Justice Department are seeking to unseal the search warrant used for the Mar-a-Lago raid.
In a motion, they said: "The public's clear and powerful interest in understanding what occurred under these circumstances weighs heavily in favor of unsealing."
Trump could object to this unsealing, potentially blocking it, but on Thursday night, the former president released a statement calling for the warrant's "immediate release."
Commenting on his Truth Social website, the ex-president said: "Not only will I not oppose the release of documents related to the unAmerican, unwarranted, and unnecessary raid and break-in of my home in Palm Beach, Florida, Mar-a-Lago, I am going a step further by ENCOURAGING the immediate release of those documents."
Trump went on to claim the warrant had been drawn up by "radical left Democrats and possible future political opponents, who have a strong and powerful vested interest in attacking me."
Donald Trump and the Department of Justice have been contacted for comment.
Monday's raid is the first time a former president's home has ever been searched as part of a criminal investigation.
At Thursday's press conference, Garland defended the Justice Department and FBI staff involved in the search, stating: "I will not stand by silently when their integrity is unfairly attacked."
Speaking to Newsweek, two top government officials said information for the raid, including where documents were being kept, was provided by an informer.
Also on Thursday, an armed man, later named as Ricky Shiffer, was shot and killed after attempting to break into an FBI building in Cincinnati before fleeing the scene.
Police tracked Shiffer down after which he was killed in a shootout. The 42-year-old is suspected of having been in Washington, D.C. on the day of the Capital Hill riot, though he had not been charged with any crimes related to that day.