Trump's Cheat Sheet In Florida Survivors Meeting Reminded Him To Say 'I Hear You'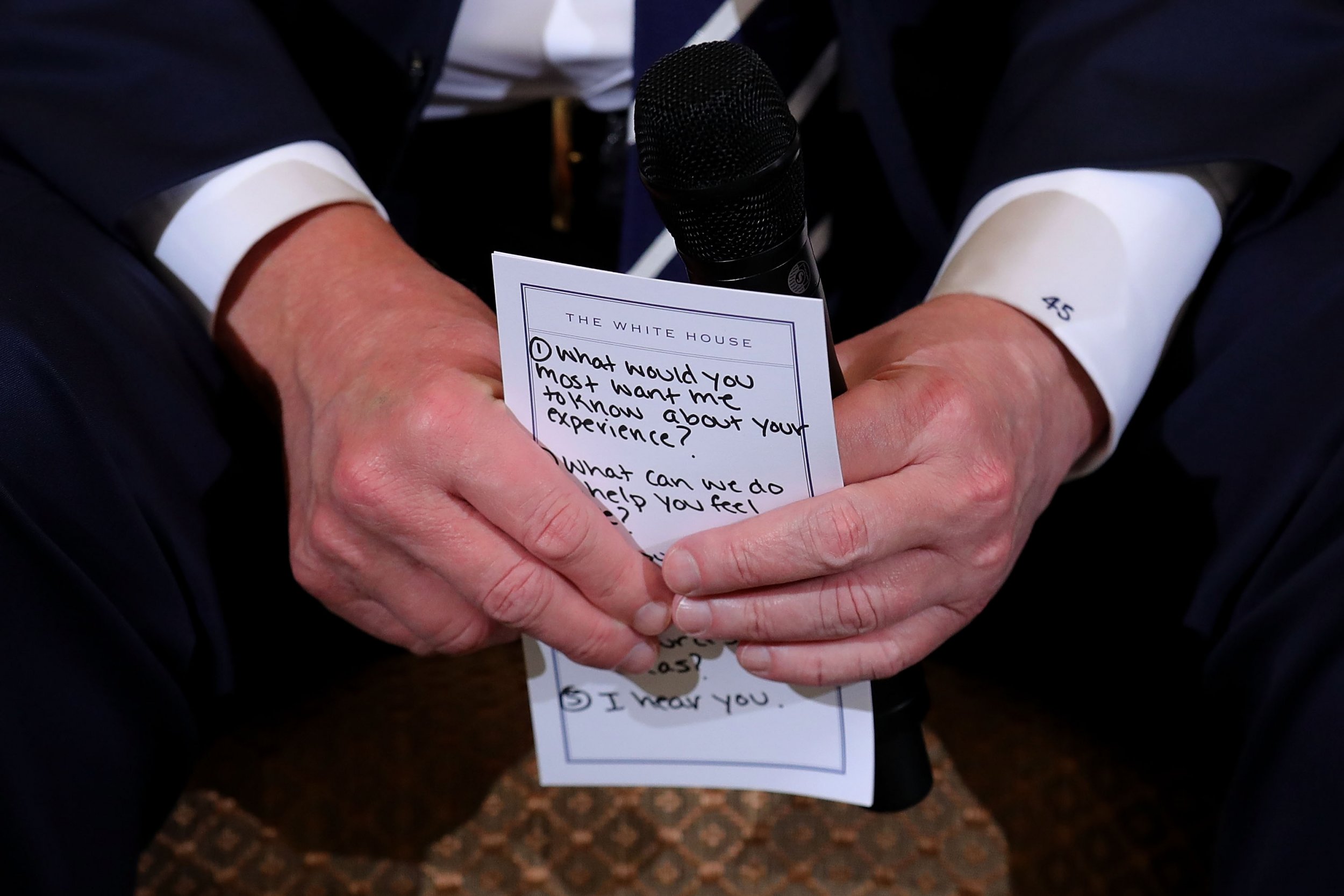 President Donald Trump appeared to have written down helpful hints on how to be compassionate as he spoke with survivors of the Florida school shooting on Wednesday, with one reminding for him to tell students "I hear you."
Trump met with students and families of victims from Marjory Stoneman Douglas High, Parkland, for a listening session in the wake of the February 14 attack that left 17 people dead and others injured, but appeared to need a reminder about how to interact with them.
A five-point cheat sheet, which was photographed by a number of media outlets that attended the session, which also included survivors of previous shootings, reminded the president to ask "What would you most want me to know about your experience?" and "What can we do to help you feel safe?"
The president had also written under point number five: "I hear you," prompting criticism after a photograph of the crib sheet was shared on social media.
"He needed a cheat sheet so he would remember to say I HEAR YOU? What kind of person needs notes to show empathy to children who were under heavy fire from a maniac? Kids who lost 17 people in the time it took the killer to aim his rapid fire AR-15," user Cveronica wrote, while others suggested the president would not have been able to remember all five points.
Survivors of the shooting, as well as the families of those who lost their lives, have been outspoken about the need for discussion on gun control following the attack—with a number calling the president out and prompting him to participate in the listening session.
As well as suggesting that 20 percent of teachers in schools should be armed, Trump told the group he would take action, in a comment that did not appear to come from his crib sheet.
"Some of your suggestions, I've heard some of them. We're going to do something about this horrible situation that's going on," Trump said. "I want to listen. And then after I listen, we're going to get things done."