Donald Trump's Former Fixer Now One of His Greatest Threats
The Manhattan district attorney's office on Monday is scheduled to begin presenting evidence to a grand jury as part of an investigation into former President Donald Trump's alleged role in paying hush money to adult film star Stormy Daniels, according to The New York Times.
The development could potentially lead to prosecutors filing criminal charges against Trump. One person who is expected to be a key witness in the probe is Michael Cohen, Trump's former personal attorney.
Speculation that Cohen could soon provide damning testimony against his former boss began earlier this month when Cohen met with the Manhattan DA. Cohen has previously said Trump directed him to pay two women—Daniels and former Playboy model Karen McDougal—for their silence during the lead-up to the 2016 presidential election. (Trump has denied having affairs with both women.)
Cohen made the claims about Trump ordering him to give hush money while pleading guilty to breaking campaign finance laws and other charges in 2018. That case ended with the disbarred lawyer being sentenced to three years in prison, but Cohen served about a year before being released to house arrest due to concerns regarding COVID-19.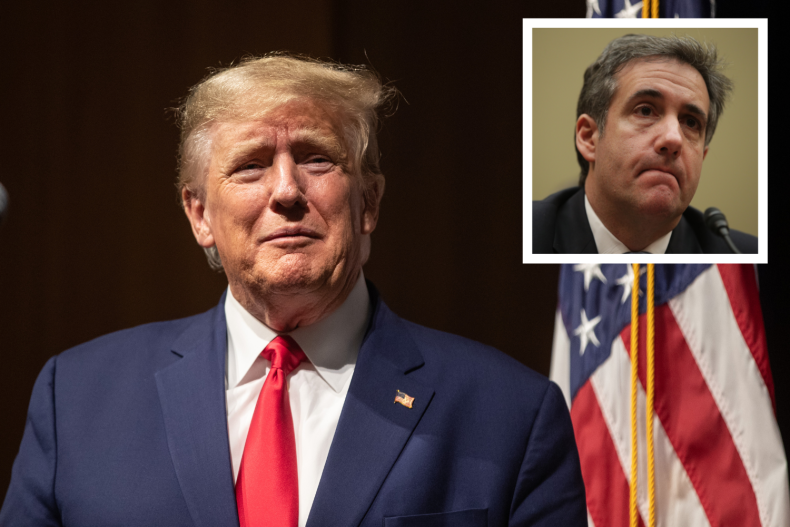 Since pleading guilty, Cohen has been a vocal critic of Trump. He's spoken out against the former president multiple times on talk shows on topics that have included Trump's political future as well as criminal allegations.
Cohen has also published two books about his time working with Trump—the 2020 bestseller Disloyal: A Memoir and 2022's Revenge: How Donald Trump Weaponized the U.S. Department of Justice Against His Critics.
On January 17, Cohen met with the Manhattan DA but did not provide details to reporters afterward about the substance of what was discussed. However, he did tell New York's Daily News after he left the DA's office he was cooperating with prosecutors.
"I remain committed to assisting in the investigation," Cohen told the newspaper. "I remain committed to providing any information or documentation that I can."
Lanny J. Davis, an attorney for Cohen, told Newsweek, "I can't comment on any specifics about any investigation by the Manhattan DA office except to say that Mr. Cohen now, as before, is fully cooperating when and if he is needed."
The focus of the DA's investigation into Trump is the reported $130,000 payment made to Daniels that Cohen has said he facilitated. During his testimony to Congress, Cohen said Allen Weisselberg—the former chief financial officer of the Trump Organization—was involved in the hush payments to Daniels.
Weisselberg is currently serving time in jail after pleading guilty to an unrelated tax fraud scheme. (Weisselberg has never implicated Trump in any wrongdoing.) That same case also resulted in the Trump Organization being convicted and fined $1.6 million.
Joyce Vance, a former U.S. attorney and current law professor at the University of Alabama, said on Twitter that the DA could potentially benefit more from Weisselberg flipping on Trump than from statements made by Cohen.
"Michael Cohen's testimony will be essential but likely not sufficient to prove Trump's guilt," Vance wrote. "Prosecutors would like cooperation from Trump's CFO [Allen] Weisselberg, who has refused to implicate Trump personally so far."
The New York Times wrote that the DA could be pursuing a case based on whether the payments to Cohen for Daniels broke a law regarding the falsifying of business records. The outlet said prosecutors may try to elevate that misdemeanor charge to a felony by trying to prove Trump committed a violation of a New York state election law.
Newsweek reached out to Trump for comment.