Trump Faces 'Criminal Liability' in NY Case That Will 'Wipe Him Out': Cohen
Former President Donald Trump is facing "criminal liability" in New York Attorney General Letitia James' lawsuit into alleged business fraud that could "wipe him out," his ex-personal attorney Michael Cohen said Saturday.
James, a Democrat up for reelection this year, announced Wednesday the civil lawsuit against Trump that seeks at least $250 million in repayment from allegedly fraudulent practices and to remove all of the Trumps from their positions within the Trump Organization. Three of Trump's children—Donald Jr., Ivanka and Eric Trump—and two senior executives at the Trump Organization were also mentioned in the lawsuit.
She alleged that the Trumps enriched themselves with "numerous acts of fraud and misrepresentations" and that Trump "grossly" inflated his net worth by billions of dollars. She also accused him of cheating lenders and others with false and misleading financial statements.
While announcing the investigation, she credited Cohen, who served a prison sentence for campaign finance charges, with providing information to help bolster her case against the former president.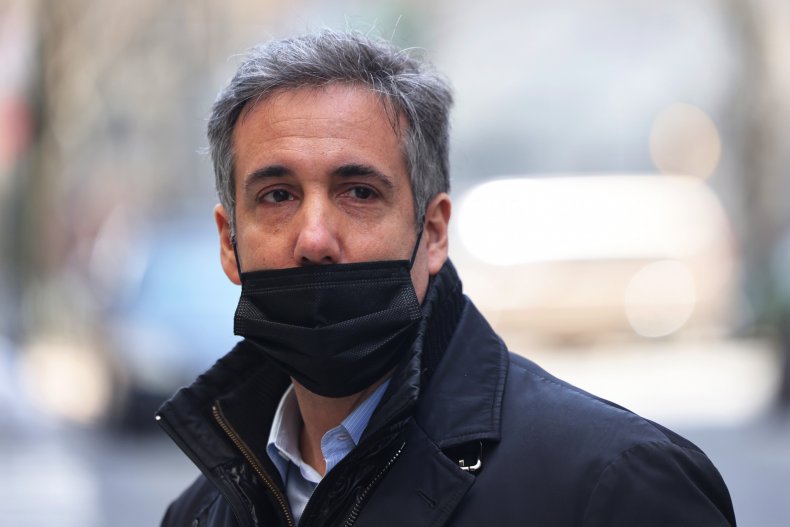 Cohen, once a Trump ally, has now turned against him and has cooperated with investigators looking into Trump's business dealings. He said during a Saturday appearance on MSNBC that James' case leaves Trump facing "the worst situation that he's ever been in, which is criminal liability."
In addition to filing a civil lawsuit against Trump, James also referred alleged criminal violations to the Southern District of New York (SDNY) and the Internal Revenue Service (IRS)—meaning that he could still face criminal charges in the case, though neither agency has announced any.
"Let's see if the Southern District of New York, that's no longer under his control, will pick up the mantle," Cohen said. "IRS—it's an open and shut case. Numbers don't lie. People do. And Donald is one of the biggest liars that you'll ever meet."
Cohen Says Trump Could Pay Up to $1 Billion
Cohen also said that James' lawsuit against Trump could "wipe him out" financially if a court demands he pay restitution—adding that the former president could be ordered to pay much more than the $250 million "baseline" alleged by James in the lawsuit.
"What Tish James writes it that the baseline is $250 million. She's not going below that. The amount is substantially greater," he said. "And again, as I've said on several shows, I believe the number to be somewhere between $750 [million] and $1 billion."
He continued: "That will wipe him out. He doesn't have cash."
Trump Blasts Lawsuit as Investigations Ongoing
After James announced the lawsuit, Trump said during a rally in North Carolina on Friday night that James should be "banished" from the legal profession.
"This raging maniac campaigned for office ranting and raving about her goal," Trump said to the crowd. "Her only goal is, we got to get Donald Trump. We're gonna get him. She knew nothing about me. I never heard of her."
He has also said he cannot be sued for fraud because he repaid loans borrowed from lenders "in full on or before the due date" or is still repaying them.
He also continues to face several other investigations. The Department of Justice is investigating whether he improperly stored documents at his Mar-a-Lago residence, and the committee investigating the January 6, 2021, Capitol riot continues its probe into the former president's conduct.
Meanwhile, Georgia's Fulton County District Attorney Fani Willis is investigating whether Trump's call allegedly requesting Secretary of State Brad Raffensperger to "find" 11,780 votes to tilt the 2020 presidential election in his favor violated state law.
Trump has maintained his innocence in each investigation.
Newsweek reached out to Trump's office for comment.