Donald Trump Says He Can't Be Sued for Fraud Because He Paid the Money Back
Former President Donald Trump wrote Thursday on social media that he cannot be sued for fraud because he repaid loans borrowed from lenders "in full on or before the due date" or is still repaying them.
Trump was responding to a civil lawsuit announced on Wednesday by New York Attorney General Letitia James.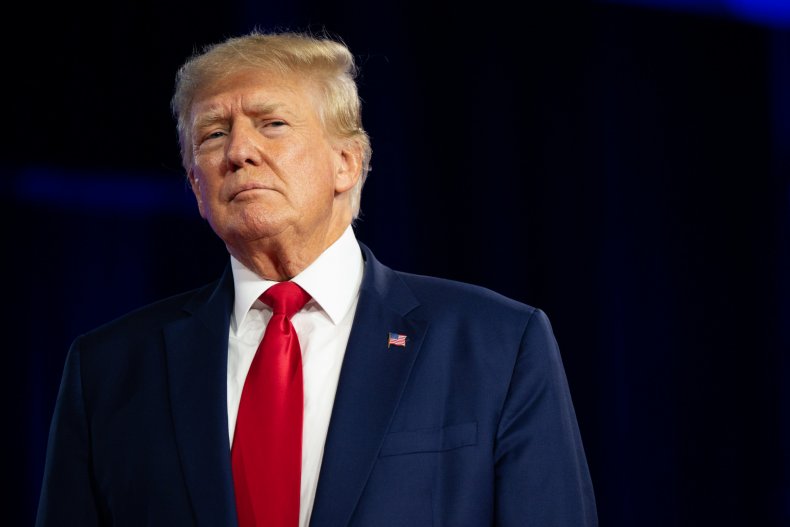 She alleges he, the Trump Organization and his children, Donald Trump Jr., Eric Trump and Ivanka Trump, had inflated his net worth and cheated lenders and others with false and misleading financial statements.
The former president shared a screenshot of a tweet critical of the lawsuit on his Truth Social social media platform on Thursday.
"There are no damages, the banks received full interest payments &, after years of receiving these payments & making a lot of money by such receipt, not to mention fees, the loans were paid off in full on or before the due date or, the loans are current and receiving full interest payments," Trump wrote.
"Peekaboo James is a racist that is trying to get money for banks that are not entitled. She should focus on Murder, Rape, Drugs & other CRIME that is destroying New York. Rich banks don't need her help!" the former president went on with his unfounded claims.
Trump has accused James, who is Black, of being a racist before and said that her investigation into his financial affairs is politically motivated.
Mick Mulvaney, one of Trump's former White House chiefs of staff, made a similar argument about loan repayments on Twitter on Thursday.
"Finally got through the NY AG [New York attorney general's] complaint against Trump," Mulvaney wrote. "Let me get this straight: the AG is suing him for fraud... when he borrowed money...and then paid it back?
"Seriously, who is the victim here? If the banks thought they had been defrauded, they could sue on their own," Mulvaney tweeted.
It's not clear how successful that argument may be when it's tested in court. Newsweek has asked the New York attorney general's office for comment.
Trump's former personal lawyer, Michael Cohen, suggested on Thursday that the lawsuit could cost Trump as much as $1 billion.
Cohen said to MSNBC's Ari Melber: "One of the things you talked about at the beginning is that [James is] seeking $250 million. That's not accurate.
"What she said was the baseline of $250 million. Knowing the documents the way I do and knowing exactly the fraud that was going on, I see the number between $750 million and $1 billion," Cohen said.
Caroline Polisi, a longtime federal defense attorney and legal analyst, told MSNBC's Morning Joe on Thursday that the lawsuit could be the "death knell" for the Trump Organization.
"The breadth and depth of this complaint, over 200 pages of meticulous facts...this is a documents case," Polisi said.
"Documents don't lie. Square footage doesn't lie. You really get the sense the Trump Organization was more of a fraud scheme with a little bit of a legitimate business wrinkled in there at times as opposed to a real organization."