Is Donald Trump a Genius? "People Who Are Mentally Stable Don't Announce It," Stephen Colbert Says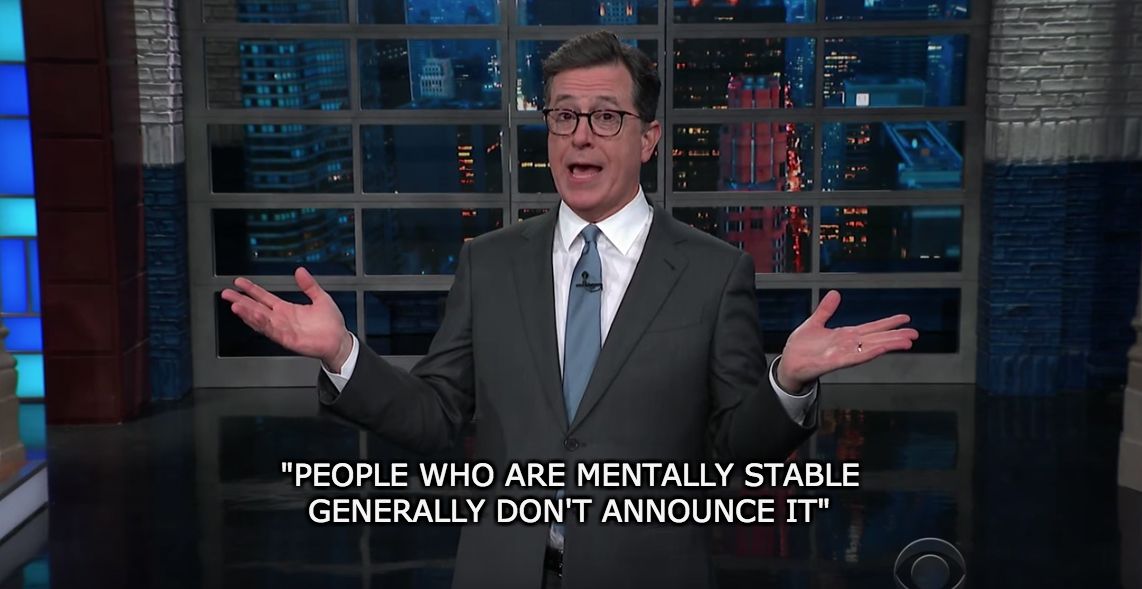 "Speaking of delusional," Stephen Colbert began his monologue on Monday's The Late Show. And, boy, you just knew where this was going.
Colbert ripped President Donald Trump, who, Saturday, tweeted that he had the mental capacity of a "genius," is "like, really smart" and totally "mentally stable," despite Michael Wolff's explosive new book, Fire and Fury: Inside the Trump White House, suggesting otherwise.
As Colbert put it, "I think it's worth mentioning that people who are mentally stable generally don't announce it. If you're going under for surgery, the last thing you want to hear your doctor say is: 'Don't worry, I'm mentally stable and, like, really smart. Let's start stabbing.'"
Homing in on Trump describing himself as "like, really smart," Colbert added: "Being, 'like, really smart' is not the same thing as being really smart, sir. Tootsie Rolls are like chocolate—if chocolates were made of brown wax and disappointment."
After tweeting Saturday that he was a "genius," Trump proved his intellect Monday by tweeting a quote from New York Post columnist Michael Goodwin's recent piece that called Trump's a "consequential presidency." Except Trump misquoted him and wrote "consensual." (He has since rectified the mistake.)
Later in the show, Colbert interviewed Wolff on Fire and Fury, which has gotten so much attention over the past week. Trump has denied giving Wolff access to the White House and called him a "total loser."
But Monday night, Wolff told Colbert's viewers about his book: "You should believe all of it."
"That's the alarming thing. That this is all true," Wolff said.
Wolff said he believes the version of events he has published to be true, but "it's the Trump White House—everybody is telling you different stories. Everybody is lying in their own particular way, because that's what you do in the Trump White House."
He went on to claim that all of the key players in the White House—Trump, Jared Kushner and Steve Bannon among them—had their own press secretaries leaking contradictory stories to the press.