Trump Indictment Predicted in Georgia By Legal Expert: 'Charges Will Stick'
A legal expert is predicting that potential felony charges against former President Donald Trump are likely to have standing in Georgia, and indictments may continue past the Peach State.
"It wouldn't surprise me for Georgia to become the first jurisdiction to indict a former president on felony charges. I doubt it'll be the last. And I think the charges will stick," Laurence Tribe, professor emeritus of constitutional law at Harvard University, tweeted on Friday.
Tribe's remarks came as Fulton County District Attorney Fani Willis ramps up her investigation into Trump's alleged efforts to overturn Georgia's vote in the 2020 presidential election. Trump lost the state by a narrow margin of 0.23 points.
As part of her probe, Willis, a Democrat, has reportedly subpoenaed a number of state officials, including Republican Secretary of State Brad Raffensperger, who recently won a GOP primary in a rebuke of Trump's election fraud claims.
A phone recording obtained by The Washington Post revealed that Trump had asked Raffensperger to help him "find 11,780 votes" to overturn President Joe Biden's win in Georgia and threatened Raffensperger with "a criminal offense" for refusing to assist his efforts.
"I just want to find 11,780 votes, which is one more than we have, because we won the state," Trump is heard saying in the leaked call.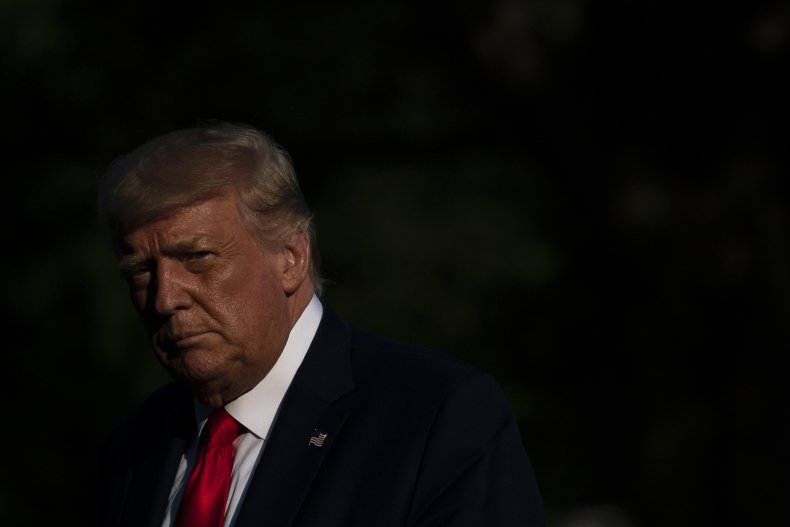 Raffensperger told Newsweek earlier this month that he hadn't been asked to testify yet but that his office would cooperate with Willis' investigation.
"We gave them all the information that they requested at no cost to them. We provided any documentation that they wanted. Some people already have given interviews to them," the secretary of state said.
"Obviously, they're now at that phase where every witness that they bring in they'll bring in with subpoenas, and we will follow the law and follow the Constitution," he added. "We'll just find out who they want to talk to and who they'd find of interest, but other than that, they don't really tell us. They're doing what they do. I don't know really what that is, and you'd have to give them a call, find out where they stand."
Willis has signaled she is prepared to broaden her investigation of the call between Trump and Raffensperger, flying to Capitol Hill earlier this month to meet with members of the House committee investigating the January 6, 2021, Capitol riot, Yahoo News reported.
"Anyone who violates the law will be prosecuted, no matter what their social status is. No matter what their economics are, no matter what their race or gender is. We are not going to treat anyone differently," she told Atlanta's WSB-TV2 in February.
Separately, Trump is also under investigation by New York District Attorney Letitia James, who is investigating the Trump Organization's business practices.
On Friday, a federal judge dismissed Trump's lawsuit seeking to halt James' probe.
"The courts have made clear that Donald J. Trump's baseless legal challenges cannot stop our lawful investigation into his and the Trump Organization's financial dealings," James said in a statement. "No one in this country can pick and choose how the law applies to them, and Donald Trump is no exception."
Trump's attorneys have said they plan to appeal Friday's ruling.