Donald Trump Greeted by Lone Supporter and Angry Protesters As He Returns to New York
Former President Donald Trump was greeted by one supporter and a group of angry protesters as he returned to New York City for the first time since leaving the White House.
As he arrived outside Trump Tower in Manhattan at roughly 9 p.m. Sunday night, the ex-president was reportedly welcomed by one supporter standing across the road alongside members of the press. He waved at the supporter from inside his SUV, before entering the skyscraper.
Protesters gathered outside the building calling for his arrest on Monday morning. Some held signs that read, "Florida Man Go Home," "Indict Trump" and "Arrest Trump," according to the Independent.
Trump arrived without his wife Melania and his reason for returning to New York City is unknown. He's expected to remain in the state until Tuesday. The former president, who was born in Queens, was a longtime New Yorker until he became the 45th U.S. Commander in Chief in 2017.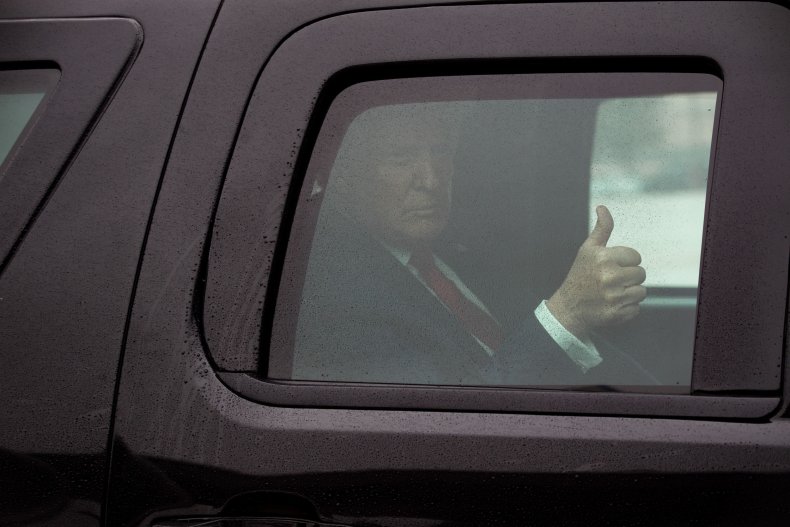 The ex-president is currently facing legal woes in the state of New York, where Manhattan District Attorney Cyrus Vance Jr. is conducting an 18-month probe into hush-money payments allegedly made to women connected with Trump and whether his company manipulated the value of assets for loans and tax gains.
The Supreme Court previously allowed Trump's request to block subpoenas for his tax returns twice. But the court ruled against Trump last month, and on February 25, a spokesperson for Vance confirmed that the tax records had been turned over to him.
A civil investigation into Trump and his company, conducted by New York Attorney General Letitia James, also focuses on some of the same issues as the criminal probe, as well as tax deductions. The Trump Organization wrote-off roughly $1 million in consulting fees, some of which went to his daughter Ivanka.
Recently, James won a series of rulings in court to obtain a slew of records on the Trump Organization from its law firm.
After leaving the White House on January 20, Trump and Melania have been residing in his Mar-a-Lago resort in Palm Beach. In 2019, the former president changed his permanent residence from New York to Florida. One year later, he voted in the Sunshine State.
His plans to reside in Mar-a-Lago following his presidency was threatened in January by a 1993 agreement with the town of Palm Beach that limited his personal stay at the resort to seven consecutive days and 21 maximum days per year.
At a city council meeting on February 9, a Palm Beach attorney argued that Trump should be allowed to reside there as he's now considered a "bona fide" employee of the resort. Local officials agreed to allow the president to remain.
Newsweek reached out to Trump representatives for comment.