Two weeks before Election Day, President Donald Trump startled official Washington with an executive order that could unravel the country's 140-year-old civil service system. The White House insisted the move—which makes it easier to fire government lawyers, scientists and other employees in policy-making positions by putting them in a new job classification—was designed to remove incompetent people who are protected under current rules. But outraged observers in and outside the administration feared it gave Trump more latitude to dismiss people he views as disloyal or working to undermine his agenda.
To those in Joe Biden's circles, however, the action, tantamount to unraveling the country's civil service system, was regarded as a direct threat: a portent of the damage Trump can do while he's still in power over the 78 days between Election Day and Inauguration Day, when the power of the presidency officially changes hands. And Trump's actions in the period immediately following Biden's victory have done nothing to allay those concerns.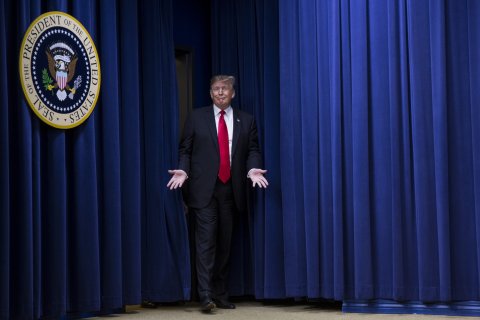 From executive orders like this one to presidential pardons, from regulatory decrees to judicial appointments and even military action, lame-duck presidents throughout U.S. history have used their remaining time in office to help secure their legacy, undermine the guy who just defeated them or pay back friends and foes alike. But given that Trump has pushed—some might say obliterated—the normal boundaries of how a president behaves, many D.C. insiders worry he may supersize the chaos an outgoing commander-in-chief can cause. And, in fact, Trump has already disregarded the rules of how an outgoing president behaves, first by refusing to concede the election and then by blocking the Biden team's access to secure workspaces, security clearances and funds dedicated to the work of the transition.
The October executive order looks like Exhibit A in what could be a very long list of actions to undermine the transition. Some in the Biden camp point out the order could conceivably result in Trump issuing hundreds of pink slips between now and Inauguration Day, which might throw the work of a long list of government agencies from the Centers For Disease Control to the Environmental Protection Agency to the Social Security Administration, into chaos. Already, Trump fired Defense Secretary Mark Esper on November 9th and began appointing loyalists to hard-to-dislodge civil service positions across a variety of agencies.
"These things are a declaration of war," a Biden transition consultant told Newsweek on condition of anonymity, referring to Trump's executive order. "He is turning this into the transition from hell."
There is no shortage of Beltway insiders, presidential scholars and activists who share concerns about what the current president might do to leave his mark after being rejected by the American people. Yet since 1801 when Thomas Jefferson took the reins from political foe John Adams, the smooth transfer of power between parties has been regarded as one of the most important American political rituals, a fraught moment that relies on the honor, patriotism and regard for precedent of the presidents involved, says Rebecca Lissner, a national security expert and professor of operational strategy at the U.S. Naval War College. The process, she says, is one of the defining differences between Western-style democracies and autocratic rule.
What could upset that process this time? "There's a range [of possibilities] from incompetence to outright sabotage," says Lissner, author of An Open World: How America Can Win The Contest for Twenty-First Century Order. "You could imagine a wide range of actions that a lame-duck Trump could take to vastly undermine his successor, in effect, locking in certain policy decisions that would be exceptionally difficult or costly to reverse. He could withdraw from NATO or take assertive actions with regards to Iran or China. There's nothing stopping President Trump from even starting a war."
Jeff Timmer, former GOP chair in Michigan and co-founder of the anti-Trump PAC The Lincoln Project, agrees: "Every time people have said, 'Oh, no one would do that,' Trump says, 'Hold my beer.' "
Normal vs. Trump
The most imminent threat, transition experts say, is President Trump's refusal to participate or allow his agency leaders to help. "You can imagine Trump telling everybody, 'We are going to give them the least amount of cooperation possible, we're going to drag our feet,'" says political scientist Norm Ornstein, resident scholar at the American Enterprise Institute, a centrist think tank. "Some of that he can't do because of the law, or at least he might not be able to get away with, but they can try." And Stanford University political science professor Terry Moe, a board member of the non-partisan advisory coalition White House Transition Project, fears Trump could deny Biden and his people security clearances and access to sensitive information. "The Trump presidency is not a normal presidency; it's an outlier and it's entirely possible that this transition will not be normal, either," Moe says.
Biden himself shrugged off the lack of cooperation at a November 10th press conference. "The fact that they're not willing to acknowledge that we won at this point is not of much consequence in our planning and what we're able to do between now and January 20," he said. Asked how he'll work with Republicans if they don't accept his victory, Biden grinned broadly and said, "They will. They will."
Indeed, Bidenites fully expected Trump to behave as he has, given his insistence before the election, without any evidence, that the voting would be rife with fraud. Asked by moderator Chris Wallace at his September 29th debate with Biden what he would do to ensure a smooth transition of power should he lose, he pivoted to complaints that he'd been deprived of a smooth transition by President Barack Obama and vanquished Democrat Hillary Clinton. "When I listen to Joe talking about a transition, there's been no transition from when I won," he said. "They came after me, trying to do a coup."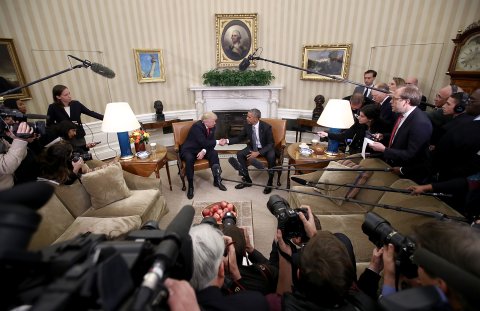 In December 2016, though, Trump described his takeover from Obama as going "very, very smoothly." Each department and agency, per laws written by former Biden chief of staff Ted Kaufman (when Kaufman briefly served as Delaware senator until a special election after Biden became vice president), provided a liaison to the incoming Trump staff as well as comprehensive dossiers on important matters of policy and issues. Kaufman, 81, is now Biden's 2020 transition co-chair. The hiccups came, Obama officials say, because Trump's victory took even his own campaign by surprise. Whatever transition planning had taken place was trashed when Trump fired former New Jersey Gov. Chris Christie as transition chairman the day after the election. "I don't think it was a lack of cooperation on our part," says Christopher Lu, co-chair of Obama's 2008 transition from President George W. Bush who was deputy Labor secretary during the 2016 switch. "It was their not being as organized to receive the information."
Much of what Congress codified over the past decade was drawn from the gold standard in modern times, the Bush-to-Obama experience. Bush deputy chief of staff Josh Bolton ordered departments to provide assistance to both Obama and McCain teams far in advance of Election Day, and there were several planning meetings and calls throughout the summer of 2008 in which staff from both would-be successors participated. The law also provides expedited security clearances, government office space and a budget. "It could not have been a more collaborative working experience," Lu says. "When President Obama took office, he was publicly effusive about the cooperation he got from President Bush and he pledged that same level of cooperation to the successor."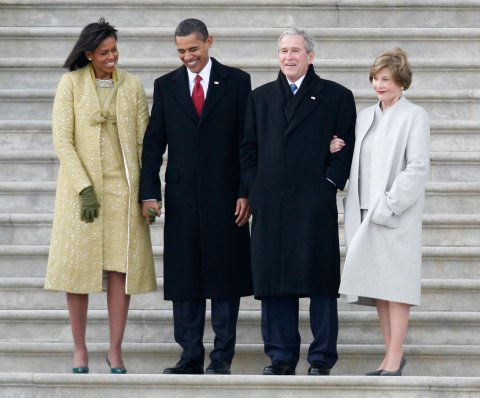 All of this matters because the transition is a gigantic undertaking that involves filling some 4,000 jobs and getting new folks up to speed as quickly as possible. "If you're running a company, if you're running a university, you wouldn't on one day just remove your entire senior leadership and put it in a whole new group of people, but that's what we do," Lu says. "It is a period where adversaries are going to try to take advantage."
Still, because Biden was so recently in power with Obama and has nearly a lifetime of experience working in the federal government, he doesn't need that much help from Trump anyway, says University of North Carolina political science professor Terry Sullivan, executive director of the White House Transition Project. Sullivan was likewise not concerned about the failure of the GSA to provide the resources and access typically accorded to the incoming team.
"I guarantee you that if the president were to block that, donors would step forward because the vast bulk of the funding for presidential transition planning comes from private donors anyway," Sullivan says. "I mean, the amount of government money is substantial and the building is sitting there and it's got computers in it and stuff like that. But you can ask anybody who's been through this before—the vast, vast amounts of money that are necessary come from private donors and they step up immediately and started writing checks." (The Biden transition would not commented on whether they are receiving private funds for transition.)
One prospect is that Trump simply disengages and refuses to participate in governance at all or decides in a fit of pique to veto whatever Congress does. The federal government will run out of money on Dec. 11, for example, and if President Trump refuses to allow another measure to keep it going, that could result in a devastating shutdown in the midst of the COVID-19 pandemic, says Gayle Alberda, political science professor at Fairfield University in Connecticut.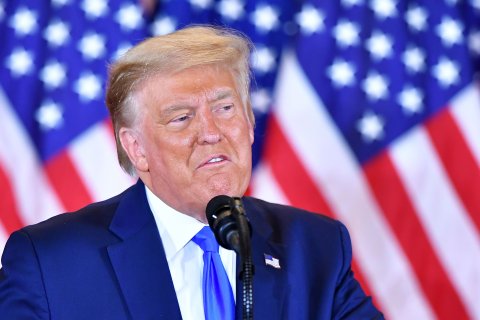 "Let's say Trump goes to his resort in Florida and just finishes out the presidency there, then what happens?" she asks. "We need him: he's part of the policy-making process. He has to sign laws and stuff like that. But if he doesn't, what do we do? If nothing is done with the coronavirus, like any sort of relief package or help with testing or anything like that, Biden faces a massive problem to deal with."
A "Menu of Mayhem"
Beyond creating logistical challenges, Trump and his Cabinet could take actions that could be difficult for Biden-ites to undo quickly. The range of options—executive orders, firings, appointments and implementation of new regulations—is so vast and deep that the Biden transition already has people focused specifically on trying to keep tabs on what Trumpers do, lest they overlook reversing something important.
"All transitions try to stay aware of what the party leaving power does at the end, but there are norms that kept the outgoing president from going too far," the Biden transition consultant says. "With Trump, you can imagine him ordering every last thing off the menu of mayhem."
There is little doubt Trump will use his pardon power liberally in his waning days, given the litany of federal and state-level investigations that are underway into possible illicit foreign business, financial and political dealings that could ensnare son Don Jr., daughter Ivanka and her husband, Jared Kushner, as well as high-profile associates like former New York Mayor Rudy Giuliani. All departing presidents step up their pardon activity as lame ducks, but experts are bracing for Trump to push the outer limit of that constitutional authority by attempting to grant blanket all-inclusive pardons to the likes of his 2016 campaign chairman Paul Manafort, political adviser Roger Stone and his former National Security Adviser Michael Flynn, all of whom have been convicted of various crimes. It's unclear whether a president can pardon himself or whether blanket immunity exists because neither has been tested in court; no-one mounted a legal challenge to President Gerald Ford's decision in 1974 to grant his disgraced predecessor, Richard Nixon, "a full, free, and absolute pardon" for "all offenses against the United States" committed during his presidential tenure. (Even if Trump attempts a self-pardon and it stood, he cannot give himself immunity from state-level prosecution.)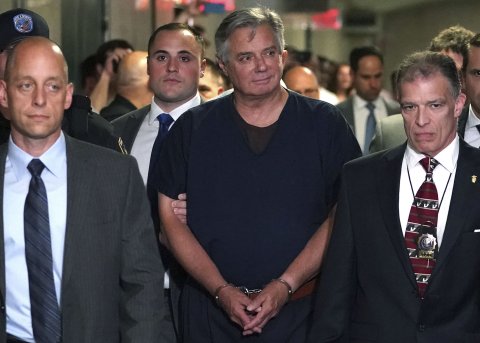 While some of that self-dealing would be obvious—people associated with the Russian collusion investigation, for instance—Lisa Gilbert of the progressive watchdog group Public Citizen worries about more obscure names whose significance won't become clear until later if they, say, provide an ex-President Trump with favors or financial support. "We might see other pardons for people that are close to him in particular, perhaps connected to him financially in ways that we won't know until we see it, but that sort of ongoing conflict of interest late in decision-making is something I anticipate in this moment," she says.
Another normal lame-duck activity, attempting to fill federal court vacancies, could also be taken to an extreme. The last president to have control of the Senate, which confirms judges, for any part of the transition period was Bill Clinton in January 2001, but he was hamstrung by the requirement for 60 votes to break a filibuster. The Senate, under then-Democratic Majority Leader Harry Reid, removed that speed bump from judicial appointments, so Trump will be unfettered if he wants to fill the 65 vacancies in the federal judiciary, 40 of which already have nominations pending. Even if the GOP loses control of the Senate after the two Georgia Senate runoff elections in January, observers fear the record speed with which Senate Majority Leader Mitch McConnell pushed through the confirmation of Supreme Court Justice Amy Coney Barrett is a new model for approval of judicial appointments. A turbo-charged Senate could swiftly hand lifetime appointments to dozens of unvetted and unqualified jurists, says Dennis Parker of the National Center for Law and Economic Justice. "This has consequences that are the longest lasting and can't be reversed," Parker says. "This administration has really prioritized this."
Trump supporters take issue with the idea that rushing through court appointments is a problem, noting that it is the president's prerogative. "The president has a great track record from a conservative standpoint on filling judicial vacancies and whatever vacancies are open that the Senate can continue to fill, they should absolutely do that," says Genevieve Wood, senior policy adviser for the conservative think tank, the Heritage Foundation. "You know, they're getting paid to the end of the year, so they should continue to do their jobs. That should not stop."
Immigration-reform advocates are also concerned that Trump, whose political rise was powered by a hard line on the issue, could order widespread Immigration and Customs Enforcement raids to "get rid of as many people as they can, essentially," says Sirine Shebaya, executive director of the National Immigration Project of the National Lawyers Guild. "Once they have a hold on someone, it's very hard to get them to unhold, even if there wasn't really a good reason for enforcement against that person in the first place. So some of these things will potentially have ramifications even if a Biden administration comes in."
Several major progressive groups also fear that Trump could rush through new agency rules that would require Biden to spend months working through the cumbersome rule-making process—which requires at least a 30-day period of public comment—or file lawsuits to prevent the enactment of Trump efforts. "The more they do in a flurry at the end of the administration, the harder it will be to catch everything," Gilbert says. "Even if the Biden administration comes in on Day One and says, 'All these rules are rescinded,' it's still going to take time to actually undo."
The list of possible rules is long. The EPA, for instance, has been planning to enact a regulation that would bar the agency from considering certain scientific studies on topics like climate change. The Department of the Interior has already finalized rules opening the environmentally vulnerable Arctic Wildlife Refuge to oil extraction and Tongass National Forest in Alaska to logging, so the Trump administration could move quickly to grant leases. "It's entirely possible that between now and January, that you could see a huge effort ramped up to logging at Tongass, and that you can't reverse," says Tim Donaghy, a senior research specialist with Greenpeace.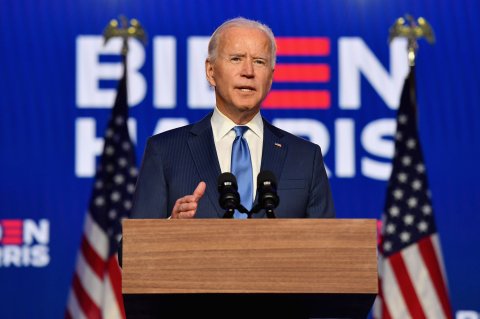 Conservatives have their own concerns. Wood, of the Heritage Foundation, is concerned about Trump's comments in the last month of the campaign about wanting a large COVID-19 relief package. "What conservatives want the president to do is not spend more money," Wood says. "We want to see spending reined in. We want the president to work with conservatives in Congress to ensure this doesn't turn into a spending train on the way out of office. That's not a way to enshrine your legacy among conservatives who've been real champions of his presidency."
Executive orders, too, are on the menu—although they can be reversed easily enough that even liberal alarmists doubt they will have much impact. Josh Horwitz, executive director of the Coalition to Stop Gun Violence, offered this prospect: "His sons are big into hunting and things like that, so maybe there are some rules around big game trophy importation or the export of certain firearms he could change by executive order."
One increasingly faint silver lining: If Democrats win the Senate by flipping both Georgia Senate seats in the January 5 runoffs, there is more recourse because of the Congressional Review Act. That gives Congress the ability to undo executive-branch rules passed within the prior 60 legislative calendar days. Republicans used that tactic to undo several last-ditch Obama rules upon Trump's arrival in 2017, but it requires undivided government.
"If he does a lot of rules, they can be rolled back if Democrats win the Senate, too," Ornstein says. "Otherwise, putting new rules into place is not something you can do overnight. That'll take a period of time. It's possible that what we would see during a transition period is a team of people who will go through all of Trump's executive orders and begin drafting new ones, to, if not erase them, at least alter them."
A serious fear is that Trump officials will attempt "to destroy documents or evidence that would point to really bad behavior," Ornstein says. Information about emails involving Commerce Department Secretary Wilbur Ross's efforts to curtail the 2020 Census, Education Secretary Betsy DeVos's dealings with private universities or HUD Secretary Ben Carson's involvement with no-bid contracts, for instance, could vanish. "You can just think of a million things because we're dealing with a level of miscreants that know no bottom," he says. "Yes, there are laws that theoretically prevent people from destroying documents, but once they are destroyed, they're destroyed."
Lu finds this prospect more remote, if only because career civil servants in much of the government make backups of most sensitive records. "Even if I were to go into my hard drive and wipe clean all of my files, it's still been backed up somewhere," he says. "Look, anything is possible, but it's not the easiest thing to do. You really need the cooperation or the assistance of career officials to help you do a lot of these things, and if they stand up and say, 'We're not doing this,' then that it gets much harder."
Ornstein, nonetheless, thinks Biden's team should be on high alert: "They would be guilty of dereliction of duty if they didn't go into this with their eyes wide open about the dangers and the risks."
If there's a comforting thought for those concerned about Trump's actions, it's that he will be replaced by "one of the most qualified, experienced people to become president," Lu says. Biden, having been vice president only four years ago and having served 36 years in the Senate, has an intimate understanding of what needs to be done and how the levers of government work. "That should give comfort to people who are concerned about a potentially problematic transition period, because he knows how government works." Agreed Lissner: "He's not like Clinton coming from Arkansas or even Bush coming from Texas. He already probably had a pretty good idea of who he can put into whatever positions. And it's not just him, it's that he has around him, a group of people who are very well-versed in administration and in transitions."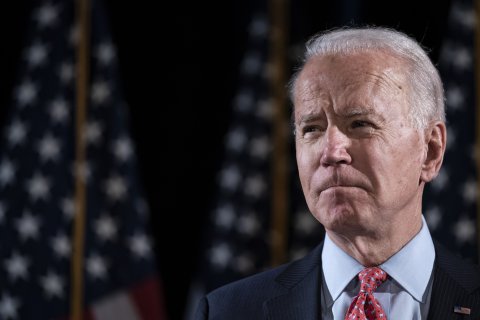 The latest recalcitrance, Lissner says, is especially unfortunate because Trump had followed the law regarding transitions until the election occurred. "Based on public reports, which is all I have to go on, it does seem that they have met the statutorily mandated deadlines that have come up thus far," she says. "They have a White House Transition Coordinating Council, which is chaired by [Chief of Staff] Mark Meadows. Each agency has designated some official who is overseeing transition efforts. But we don't know much about what the content of those efforts are. A transition will only be effective and smooth if there really is robust information sharing that happens between an outgoing team and an incoming team. Much of that is discretionary."
Moe says he is clinging to hope that Trump, if only for self-serving reasons, eventually will curb his most vengeful instincts. "I do think that in his own perverse way, he cares about his legacy," Moe says. "I don't think he wants to be regarded as the worst president the country's ever had. He wants to be on Mount Rushmore, you know, in his own head, that's what he thinks. And so that could constrain him from doing something really dangerous or really, really disruptive through his unilateral action, like start starting a war or attacking another country."
Lissner is more pessimistic. "The inability to make Donald Trump play by the rules, especially the normative rules rather than the legally codified rules, is really minimal, so I think we do need to brace for the most hostile transition in recent memory—maybe ever in history."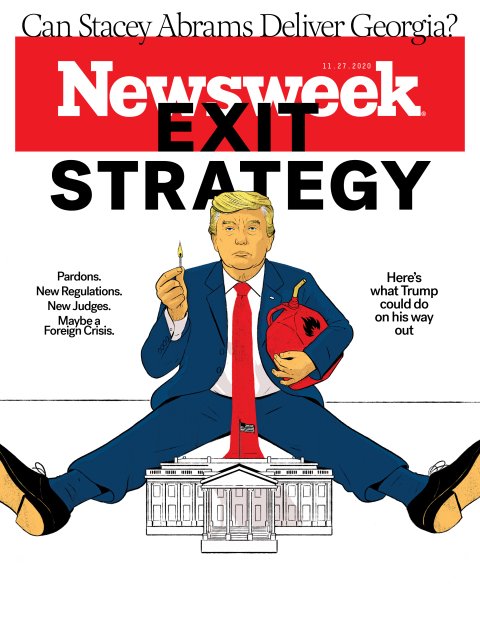 This story was updated on November 15, 2020, 8:52 a.m. ET.