Donald Trump's Christmas Day Twitter Barrage Took on Impeachment and California Governor Gavin Newsom on Homelessness
President Donald Trump blamed the governor of California for its levels of homelessness, reiterated his anger over the impeachment process, and touted high holiday season sales figures, in a series of Christmas Day tweets.
Golden State governor Gavin Newsom has been critical of the Trump administration on rising homelessness in California, which according to government figures, reached 129,972 in 2018.
Newsom launched a 100-day challenge in which cities and counties in his state can apply for emergency homelessness aid and urged Trump in a letter to order the Department of Housing and Urban Development to house 50,000 homeless Californians with federal housing vouchers, according to The Daily Californian.
Newsom said the White House was "not serious" and was "playing politics" with his "Housing First" policy, which focuses on getting people into homes first with a view to training them for work or treating their addictions.
Trump responded to video of Newsom's criticism, which was tweeted by Fox host Tomi Lahren. She called on the governor to "take accountability" and to "step away from the hair gel and get to work!!!" Trump retweeted Lahren's view and also blamed Newsom for the levels of homelessness in the state.
"Governor Gavin N. has done a really bad job on taking care of the homeless population in California. If he can't fix the problem, the Federal Govt. will get involved!" Trump tweeted at 5.29 p.m. on Wednesday. Newsweek has contacted Newsom's office for comment.
There is little love lost between Trump and Newsom. The president blamed the governor for doing a "terrible job of forest management" during the wildfires in California.
As Fortune fact checekrs noted: "Of the 33 million acres (13.3 million hectares) of forest land in California, 57 percent is owned and managed by the federal government, 40 percent by private landowners and 3 percent by the state, according to Newsom's office, Forest Unlimited and the University of California's Forest Research and Outreach center."
In turn, Newsom tweeted a video backing Trump's impeachment, with the message that the president "has spent 2019 attacking our institutions and fellow Americans," adding "so we're leaving him in the dust."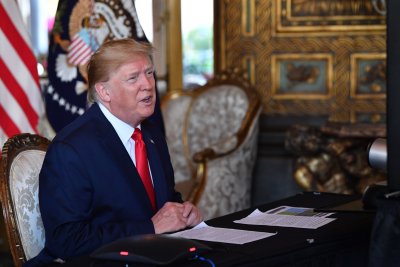 Trump's Christmas Day ire was not just restricted to the leader of the Golden State. Several hours later, he reiterated his condemnation of the impeachment process as well as the epithet he uses to describe House Speaker Nancy Pelosi.
At 9.59 p.m. he tweeted: "Why should Crazy Nancy Pelosi, just because she has a slight majority in the House, be allowed to Impeach the President of the United States?
"Got ZERO Republican votes, there was no crime, the call with Ukraine was perfect, with "no pressure, she said it must be 'bipartisan & overwhelming,' but this Scam Impeachment was neither."
"Also, very unfair with no due Process, proper representation, or witnesses," Trump added.
Legal experts dispute this, saying the vote in the House is considered a political process and Trump would get due process rights when the trial goes to the U.S. Senate.
Earlier in the day, Trump touted in a tweet in capital letters how holiday retail sales were "up 3.4 percent from last year, the biggest number in U.S. history."
Trump was seemingly referring to a data report published by Mastercard which did in deed note that overall holiday retail sales (excluding automobiles) had risen 3.4 percent on 2018 numbers.
However, Mastercard spokesman William Tsang, said this year's holiday sales growth was not the biggest ever and that in 2018 there had been 5.1 percent growth in total sales compared to 2017, Reuters reported.
Mastercard did note that "E-commerce sales hit a record high this year," according to senior adviser for Mastercard, Steve Sadove. According to Mastercard data, E-commerce sales were up 18.8 percent compared to 2018, accounting for 14.6 percent of total retails sales.
Newsweek has contacted the White House for comment.