Sen. Lindsey Graham has said he will not watch the start of the impeachment hearings of President Donald Trump because "it denies the basics of due process."
On Fox News, the South Carolina Republican with close ties to Trump, reiterated the main complaint of those who oppose the proceedings, which is that the president is being prevented from defending himself by not allowing him lawyers or witnesses at this stage of the inquiry.
He told The Sean Hannity Show that "due process requires the ability of every American to call witnesses on their behalf, except for President Trump," adding that "this couldn't happen in a parking ticket case." He said, "What's happening in the House is basically un-American."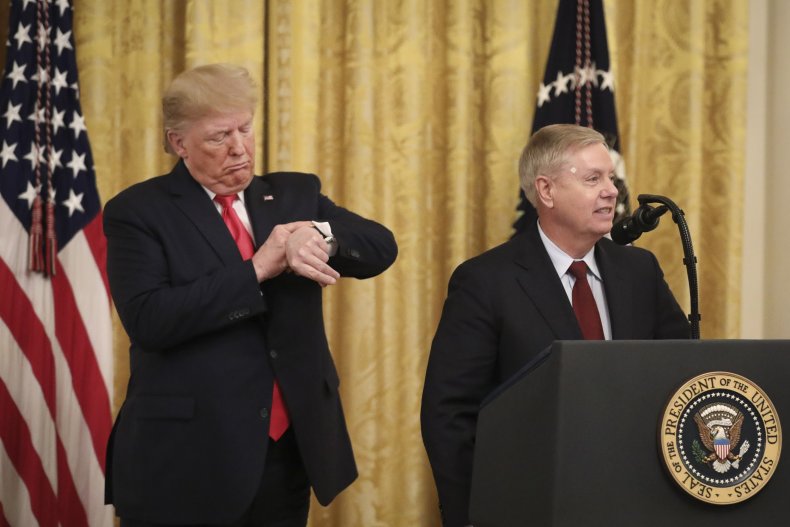 Like many of his GOP colleagues opposing the impeachment process, Graham said it was not fair that the identity remains unknown of the whistleblower who raised the alarm about claims Trump pressured the Ukrainian president Volodymyr Zelenskiy into investigating political rival Joe Biden and his son Hunter.
He told Hannity: "No American, including Donald Trump, should be accused of misdeeds without confronting their accuser, which is the whistleblower, and no American should be denied the ability to tell their side of the story by calling witnesses to explain their defense. That's being denied the President of the United States."
"So why am I not going to watch this tomorrow? Because I think it is a threat to the presidency. I don't want to legitimize it, it's un-American, it denies the basics of due process."
He said that he wanted his colleagues in the Senate to "step up and say what is going on in the house is unfair, un-American, we're not going to bless it. I would like Republicans to say, 'this is a bunch of garbage.'"
Legal experts have dismissed claims that the inquiry violates due process because Adam Schiff, who heads the House Intelligence Committee, is not legally obliged to allow Trump's lawyers or witnesses at this stage.
This is because impeachment in the House is a political process and that Trump would get due process rights if the trial goes to the U.S. Senate.
Wednesday will see the witness testimonies of State Department officials William Taylor, former ambassador to Ukraine, and George Kent, the Deputy Assistant Secretary of State handling European and Eurasian affairs.
In private depositions, Taylor backed claims of a quid pro quo by saying that Trump had withheld U.S. military aid from Ukraine unless it investigated the Bidens and a 2016 election interference conspiracy.