Donald Trump's Inaugural Committee Subpoenaed: Here Are the Crimes and the People Being Investigated by Prosecutors
Federal prosecutors in Manhattan subpoenaed President Donald Trump's inaugural committee on Monday and asked for information about its donors, including details about donations from foreigners, according to reports.
The subpoena requires the committee to give investigators documentation about almost every donor or donation received, as well as any benefits the committee may have offered to donors, including photo opportunities and meetings. The inaugural committee said in a statement that it would cooperate with the subpoena.
Federal election law prohibits foreign nationals from giving money to the inauguration, and there have been indications that foreigners have used straw men, or in this case Americans donating on behalf of foreigners, to circumvent these laws.
American lobbyist Sam Patten pleaded guilty in August to using a straw donor to give $50,000 to the Trump Inauguration Committee on behalf of a Russian and Ukrainian citizen, a sum that got him four tickets to the inauguration.
Accepting donations from foreigners is only a chargeable offense, however, if members of Trump's inauguration committee knew they were accepting illegal donations. Patten's guilty plea offered no indication that the people working for the committee were aware of his actions, but Monday's subpoena suggests investigators are looking into what inaugural committee officials were and were not aware of.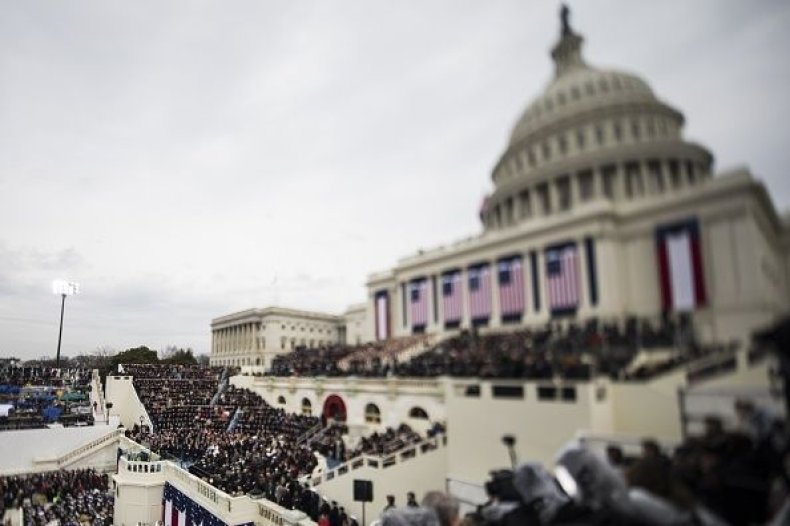 Patten has agreed to cooperate with special counsel Robert Mueller's office, which is investigating whether Trump and his associates collaborated with the Russian government to influence the outcome of the 2016 election. Patten's case offered the first indication that investigators were looking into Trump's inaugural committee. Monday's subpoena is not connected directly to the Mueller probe, but there is expected to be some overlap.
Analysts note that some wealthy individuals with ties to the Kremlin have been linked to Trump's inauguration through the president's longtime lawyer and fixer Michael Cohen. The Wall Street Journal first reported on the subpoena Monday evening, and said the investigation had developed out of a separate investigation into Cohen's business deals.
Andrew Intrater, the American cousin of Russian billionaire Viktor Vekselberg, developed a close relationship with Cohen in order to gain access to the GOP, including through the inauguration, notes Olga Lautman, an investigative reporter who tracks Trump's ties to Russia.
"They spoke for months, which led to Intrater and Cohen sitting together at Trump's inauguration dinner with Vekselberg, who is close to Putin," Lautman told Newsweek. "Eleven days before Trump's inauguration, oligarch Vekselberg met with Michael Cohen at Trump Tower. Vekselberg came to discuss Russia relations with Cohen, attended the inauguration, and then flew to see Putin on Jan 26th."
Federal Election Commission records demonstrate that Vekselberg's cousin Intrater donated $250,000 to the Trump inauguration committee in January 2017.
Donations from Leonard Blavatnik, an American businessman and GOP donor with financial ties to Russia, are also expected to be a subject of interest. Blavatnik's company Access Industries donated $1 million to the inaugural committee. The committee also accepted a $1 million donation from a Russian-American millionaire named Alexander Shustorovich, who has hinted at his ties to Russian President Vladimir Putin and Prime Minister Dmitri Medvedev in previous interviews.
Tickets, receptions, photos, dinners and other meetings are all under scrutiny by Manhattan prosecutors.
Mueller's team is reportedly looking into whether donors from Russia, Saudi Arabia, Qatar and the United Arab Emirates gave illegal donations to the committee. The special counsel's office has interviewed Thomas Barack, a close associate of Trump's who was in charge of fundraising for the committee. Barack was not named in Monday's subpoena.
The only person named specifically in Monday's subpoena is the L.A.-based financier Imaad Zuberi, who gave $900 to the inaugural committee through his company Avenue Ventures. Zuberi once registered with the Justice Department as a foreign agent because of his lobbying work for Sri Lanka.
Investigators are allegedly looking into a host of potential crimes, including money laundering, inaugural committee disclosure violations, conspiracy, wire fraud, the use of straw donors and the violation of laws prohibiting foreigners from making donations, among other crimes. The prosecutor named in the subpoena is known to specialize in corruption.
Trump's inaugural committee raised $107 million in donations, an exceptionally large amount compared to previous inaugural committees. The sum was more than double what former President Barack Obama raised for his inauguration.
Analysts say it is likely that the investigation is just beginning and that prosecutors will spend months collecting evidence.