Donald Trump 'Incredibly Vulnerable' Over FBI Raid, Eric Swalwell Says
Representative Eric Swalwell has said that former President Donald Trump is "incredibly vulnerable" following an FBI raid at this Mar-a-Lago residence in Palm Beach, Florida.
Swalwell, a Democrat who represents California's 15th congressional district, spoke to MSNBC on Wednesday about the Republican reaction to the FBI search, which was part of an investigation into the handling of presidential documents..
FBI agents reportedly seized around a dozen boxes and the former president claimed they searched his safe, also suggesting on Wednesday that they could have been "planting" evidence.
MSNBC's Alicia Menendez asked Swalwell how "vulnerable" Trump was following the raid.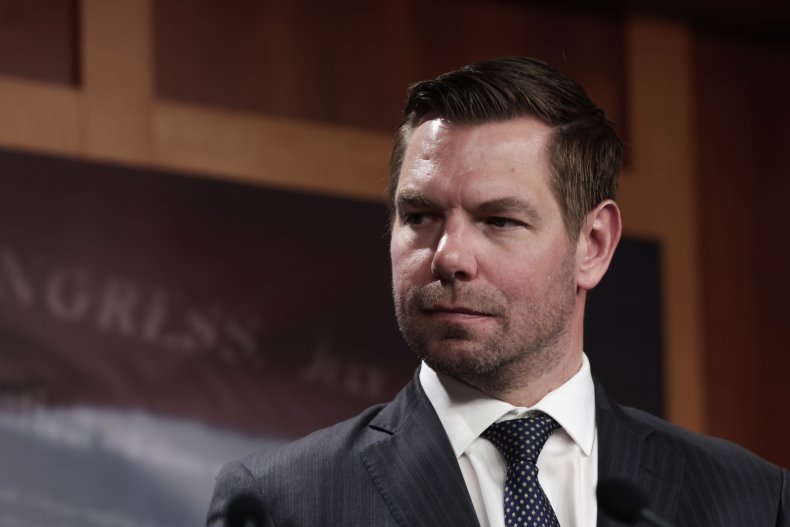 "Incredibly vulnerable," the congressman said. "This was a Donald Trump-appointed FBI director, an independent judge who looked at the evidence."
"And by the way, Alicia, this crowd for years said 'lock her up' with respect to Hillary Clinton," Swalwell said, referring to calls for the former secretary of state to go to prison for alleged mishandling of classified information.
"All that happened here, if we're talking about classified information, is it looked like it was just taken out of his residence," he went on. "Who knows what's gonna happen in the future but if that's the worst thing that happens to Donald Trump, it seems like they're getting all worked up for a lot of things."
"But what's really concerning and I think sad when you take a beat and step back is that when we saw that Donald Trump's residence was searched, no-one said 'Oh my God, that's the last thing I ever thought would happen,'" he said.
"Instead, most Americans speculated over which crimes the president's residence was being searched for, which just kind of level sets you for what he has brought to America," Swalwell went on.
"And what we're seeing now with this search and the crescendo of accountability and justice is finally the rule of law seems to be prevailing and the rule of cronyism, which we saw under Donald Trump, is in the rear-view mirror," he said.
Writing on Twitter late on Wednesday, Swalwell said: "Consider this: the FBI didn't broadcast they searched Trump's home. They didn't even send agents in FBI jackets. The only reason we know it happened is because TRUMP told us. The FBI didn't try to embarrass Trump. The guy who publicized it should be the one who shows the warrant."
Swalwell served as one of the impeachment managers for Trump's second impeachment following the Capitol riot on January 6, 2021.
Newsweek has asked former President Trump's office for comment.
Trump's team has not yet made public the search warrant that the FBI obtained in order to carry out the search at Mar-a-Lago but the former president and his allies have reacted to the raid with fury.
Trump wrote on Truth Social on Wednesday that during the raid: "Everyone was asked to leave the premises, they wanted to be left alone, without any witnesses to see what they were doing, taking or, hopefully not, 'planting.'"
"Why did they STRONGLY insist on having nobody watching them, everybody out? Obama and Clinton were never 'raided,' despite big disputes!" he said.
When contacted by Newsweek on Wednesday, the FBI declined to comment.