Marco Rubio Demands FBI Tell Him Why He Wasn't Told About Trump Raid
Florida Senator Marco Rubio is demanding to know why he wasn't informed of the FBI's Mar-a-Lago raid beforehand since he is a ranking member of the Senate Select Committee on Intelligence.
In a letter sent to FBI Director Christopher Wray on Wednesday, Rubio said he expects "an explanation as to why I, and to the best of my knowledge every other leader of the congressional intelligence committees, first learned of this raid on President Trump's residence via the media."
The Republican senator said that intelligence committees are supposed to know of all intelligence activities taken by federal law enforcement agencies.
The FBI search at former President Donald Trump's Florida residence reportedly pertained to classified documents allegedly taken when he left office but that were supposed to belong to the National Archives.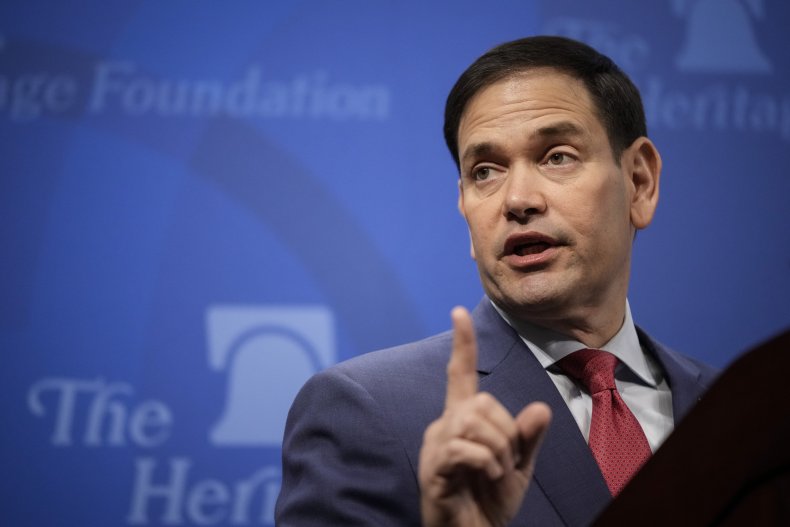 On Wednesday, Rubio said he was "outraged" to learn about the raid and accused the FBI of sowing "the same division" as adversaries like Russian President Vladimir Putin.
"The FBI's actions, less than three months from the upcoming elections, are doing
more to erode public trust in our government institutions, the electoral process, and the rule of law in the U.S. than the Russian Federation or any other foreign adversary," Rubio wrote.
He demanded that the FBI provide him with the number of investigations that were opened as a result of criminal referrals made by the intelligence community, how many of those led to raids and how many of those referrals resulted in a formal filing of criminal charges. Rubio asked that the bureau answer his questions by August 17.
He also requested a meeting with Wray.
"All Americans deserve the right to know why the FBI raided President Trump's
residence, but the law requires that you inform, at a minimum, the leadership of the congressional intelligence committees," Rubio wrote.
News that the FBI had searched Trump's home broke Monday afternoon and was confirmed by the former president.
"These are dark times for our Nation, as my beautiful home, Mar-A-Lago in Palm Beach, Florida, is currently under siege, raided, and occupied by a large group of FBI agents," Trump said in a statement just before 7 p.m.
He accused the raid of being "prosecutorial misconduct, the weaponization of the Justice System, and an attack by Radical Left Democrats who desperately don't want me to run for President in 2024."
On Tuesday, Rubio told Fox News' Sean Hannity that he believed Trump's supporters would be the next FBI target.
"The next step in this process is going to be that people who are supporters of Donald Trump or just conservatives complaining about this...are going to begin to get labeled as potential insurrectionists and are going to begin to get harassed by law enforcement," the senator said. "That's the next step in this playbook, sadly."