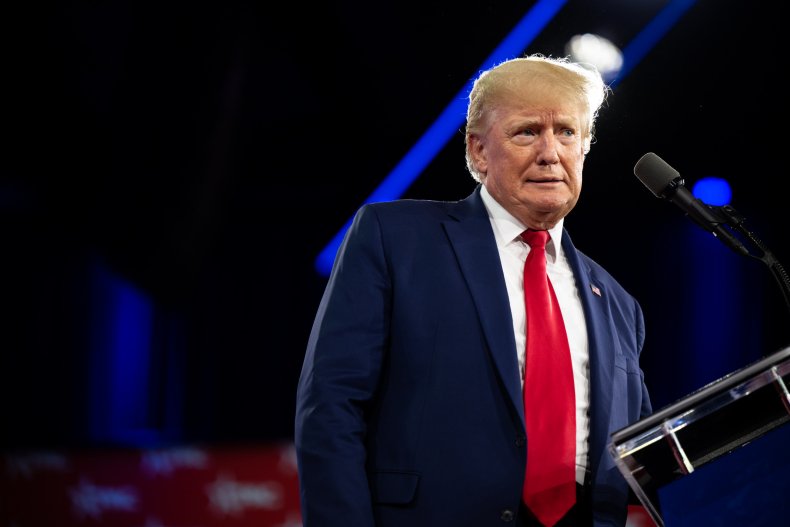 Former President Donald Trump has claimed that the rights of "every American citizen" were violated due to the FBI raiding his home in Florida.
Trump announced in a Truth Social post on Monday that his Mar-a-Lago resort home was "under siege, raided, and occupied," arguing that "this unannounced raid on my home was not necessary or appropriate." Neither the Department of Justice (DOJ) nor the FBI have announced a reason for the raid, although several news outlets have reported claims that the search was related to Trump's handling of official documents after he left the White House.
On Tuesday, the former president continued to lash out on Truth Social at the "Radical Left Democrats" that he says are responsible for the raid, insisting that his home being searched by federal agents was really an attack on all Americans.
"What took place yesterday, and long before, was an unprecedented infringement of the rights of every American citizen," Trump posted. "Scam after Scam, year after year, it is all the Radical Left Democrats really know, it is their lifeblood - they have no shame. Our Country is paying a very big price!!!"
A Trump fundraising email sent to supporters on Tuesday and obtained by Newsweek also claimed that the raid was an attack on "every" American, with the former president urging followers to donated because "it wasn't just my home that was violated - it was the home of every patriotic American who I have been fighting for since that iconic moment I came down the Golden Escalators in 2015."
In another Truth Social post earlier on Tuesday, Trump claimed that President Joe Biden "knew all about" the raid. The White House has denied that the president had any knowledge of the raid until after it happened, while The New York Times reported that Biden's aides found out about the search on social media and other senior White House officials learned of the news from Trump.
In an initial follow-up Truth Social post about the raid on Tuesday, Trump called the search "a coordinated attack with Radical Left Democrat state & local D.A.'s & A.G.'s."
"We are no better than a third world country, a banana republic," he added. "It is a continuation of Russia, Russia, Russia, Impeachment Hoax #1, Impeachment Hoax # 2, the no collusion Mueller Report, and more."
Although Trump maintains that he is being unfairly persecuted, federal agents conducted the raid of Mar-a-Lago after a federal search warrant was issued. Search warrants are approved by judges as part of a legal, not political, process. Probable cause, as well as some specificity about what materials are being searched for and where, are required for a warrant to be approved.
The process for obtaining a warrant also includes provisions to "protect against unnecessary intrusions." One key requirement for a warrant to be approved instead of forcing agents to rely on alternative evidence-gathering methods is whether a "delay in obtaining the materials would significantly jeopardize an ongoing investigation or prosecution," according to DOJ guidelines.
The search of Mar-a-Lago has sparked widespread outrage among conservatives in addition to Trump, with some commentators demanding punishment for the FBI and the DOJ officials involved in the raid or suggesting that the search was grounds for a new civil war.
Backlash over the alleged persecution of Republicans grew further on Tuesday after GOP Representative Scott Perry of Pennsylvania, a staunch Trump ally who has been investigated by the House January 6 committee, announced that his personal phone had been seized by the FBI the day after the search at Mar-a-Lago.
Newsweek has reached out to the DOJ and FBI for comment.