Eric Trump said that the security cameras at Mar-a-Lago caught FBI agents behaving improperly during Monday's raid, alleging that investigators were accessing parts of former President Donald Trump's Florida residence that they "shouldn't have been."
In an interview with DailyMail.com, Eric Trump said that because staff refused to turn off the surveillance cameras at the request of the FBI, the Mar-a-Lago cameras captured agents raiding areas that they weren't authorized to.
"There's 30 agents there," he recalled on Wednesday. "They told our lawyer...'You have to leave the property right now. Turn off all security cameras.'"
The former president was not on the property as he was in New York City at the time of the search. Eric Trump said he was the one who "got the call" about the raid.
The FBI declined Newsweek's request for comment.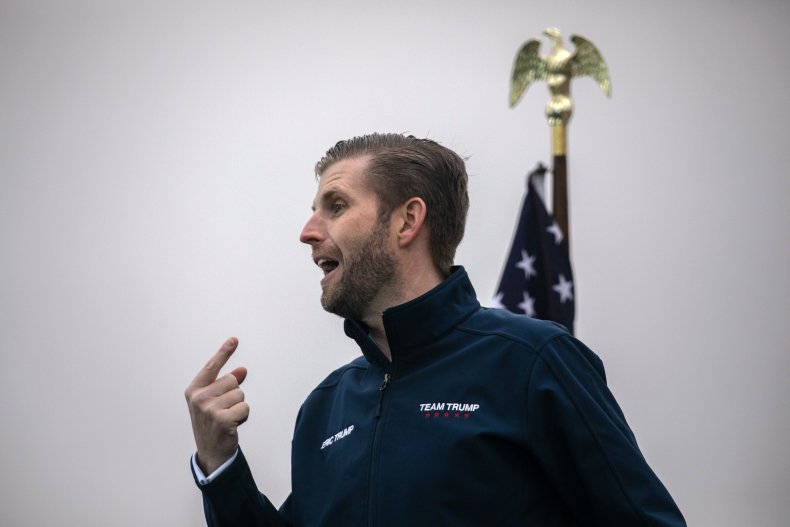 Eric Trump said that the FBI refused to give Trump's lawyer, Christina Bobb, a copy of the search warrant but "showed it to her from about 10 feet away," DailyMail.com reported. He also said he would be "thrilled" to find out if there was a valid reason for the search.
However, Bobb told The New York Times a day earlier that she received a copy of the warrant.
Bobb said the supporting documentation to the warrant was sealed and that Trump's team was still deciding whether or not they would go to court to ask for its release.
"It was very, I would say, thin, and as you can tell, it went from public records," Bobb told Real America's Voice on Tuesday. "The affidavit, the supporting documentation of what the probable cause was to obtain the warrant, has been sealed, so we're not allowed to see that. We have to go to court to request the judge to release that, which may or may not happen."
NBC News also reported that Trump's team has no plans to release their copy of the warrant despite calls for the former president to do so.
On Wednesday, Trump suggested that FBI agents may have planted evidence while conducting the raid, an accusation that some experts believe confirms Trump's guilt.
"The FBI and others from the Federal Government would not let anyone, including my lawyers, be anywhere near the areas that were rummaged and otherwise looked at during the raid on Mar-a-Lago," Trump wrote on Truth Social.
"Why did they STRONGLY insist on having nobody watching them, everybody out?" he added.
Update 8/11/22, 9:18 a.m. ET: This story was updated with the FBI refusing to comment.