Eric Trump Reveals What Was in Donald Trump's Safe During Mar-a-Lago Raid
There was nothing in a safe that FBI agents searched during their raid at former President Donald Trump's Mar-a-Lago residence in Palm Beach, Florida, on Monday, according to one of his sons.
Eric Trump told Fox News' Sean Hannity in an interview late Monday that he was the one who "got the call" about the FBI raid and informed his father of the search. He said that no family in American history "has taken more arrows in the back than the Trump family," and alleged that the actions stemmed from critics' desires to stop his father from running for president again and winning in 2024.
"And Sean, that's what this is about today, to have 30 FBI agents, actually more than that, descend on Mar-a-Lago, give absolutely no notice, go through the gates, start ransacking an office, ransacking a closet," he said. "They broke into a safe. He didn't even have anything in the safe."
The FBI search for documents at Trump's home was part of an ongoing probe into the former president's handling of classified White House records after he left office in January of 2021. Some prominent Republicans have condemned the move, while Trump supporters gathered outside of Mar-a-Lago to protest in the wake of the search.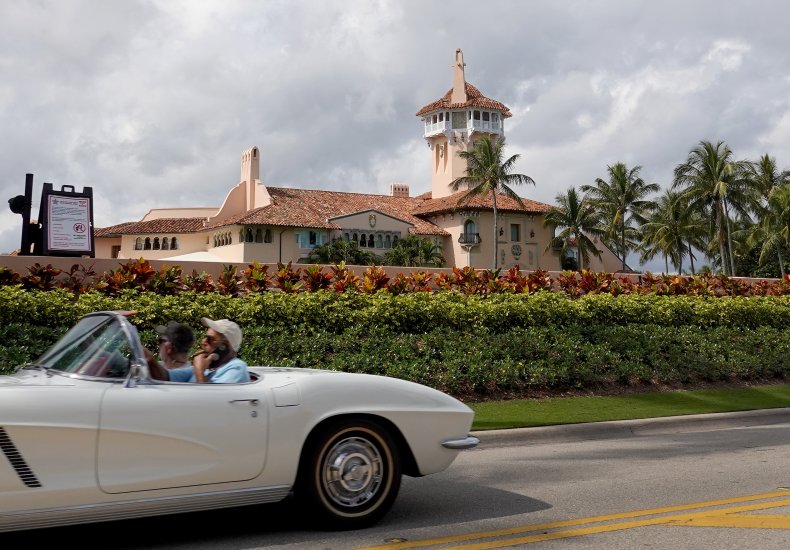 Donald Trump sharply criticized the FBI raid in a lengthy statement Monday evening.
"These are dark times for our Nation, as my beautiful home, Mar-A-Lago in Palm Beach, Florida, is currently under siege, raided, and occupied by a large group of FBI agents," the statement read. "Nothing like this has ever happened to a President of the United States before. After working and cooperating with the relevant government agencies, this unannounced raid on my home was not necessary or appropriate. It is prosecutorial misconduct, the weaponization of the Justice System, and an attack by Radical Left Democrats who desperately don't want me to run for President in 2024, especially based on recent polls and who will likewise do anything to stop Republicans and Conservatives in the upcoming midterm elections."
Trump has yet to officially announce whether he will run again in 2024, but he has teased his potential candidacy. A recent Conservative Political Action Conference straw poll found that 69 percent of the event's attendees chose Trump when asked who they preferred as the Republican presidential candidate for 2024.
The former president also mentioned in the statement that the FBI "broke into my safe," though he did not provide further details on what it did or did not contain.
The FBI declined to comment on Trump's safe to Newsweek.
In an Intelligencer story on Tuesday, Michael Cohen, a former attorney for Donald Trump, was quoted describing a safe at Trump Tower in New York City, though he said he could not speak for Florida.
He said that the only person at Trump Tower who had access to the safe—though he added "you can call it a safe, you can call it locked file cabinets"—was Trump's former head of security, Matthew Calamari.
Newsweek reached out to a Donald Trump spokesperson for comment.