Trump's Strong Disapproval Rating Drops Among Independents After a Month of Impeachment Hearings, Poll Shows
Ahead of the prospect of his impeachment, President Donald Trump is enjoying a small decrease in strong disapproval measures among independents, while public opinion among Democrat and Republican voters has remained relatively steady, according according to a new poll.
The latest Reuters/Ipsos Core Political online survey, conducted on December 9 and 10, questioned a cross section of people which included supporters of both major parties as well as neutrals.
One question was: "Overall, do you approve or disapprove of the way Donald Trump is handling his job as President?"
The results showed that 62 percent of independents—those voters who do not favor either major party—disapproved of how Trump is handling his job as president. This figure is unchanged from the Ipsos survey carried out on November 13.
However, when asked about the levels of discontent with Trump, the number of independents who "strongly disapprove" of Trump actually went down—from 48 percent to 38 percent.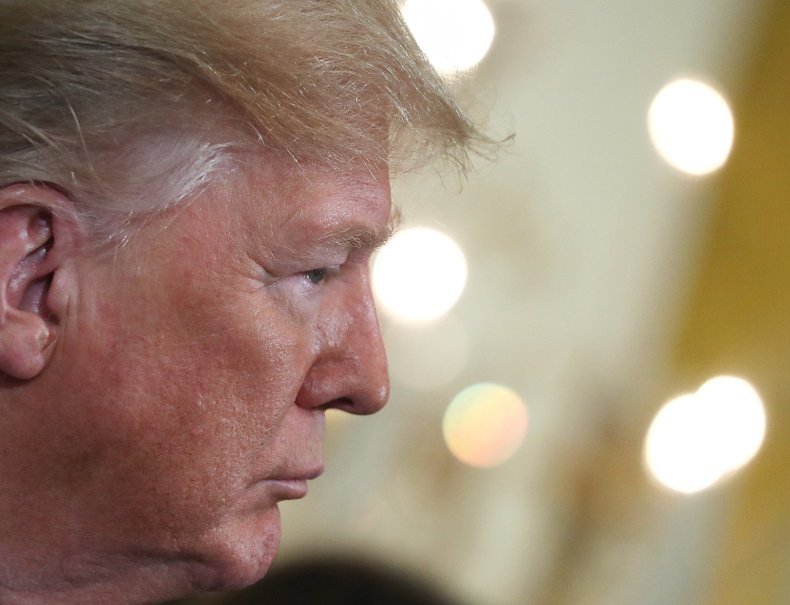 Among the 1,116 people surveyed, 40 percent of respondents approved of Trump as president—compared with 39 percent last month—while, 54 percent of people disapproved of him, which was down from 58 percent at the same time last month.
Since the previous poll conducted last month, there have been public hearings into Trump's impeachment, however these seem to have had relatively little negative effect on the president, according to the latest figures.
When asked whether Trump should be impeached, some 45 percent of all respondents said that he should be, which was exactly the same as last month. Also, 41 percent of people said he should not be impeached, which was a slight decrease from last month's figure of 42 percent.
However, fewer independents believe Trump should be impeached, with the figure of those who think that he should be, down from 41 percent last month to 38 percent this month.
Independents who think he should not be impeached have gone down to 35 percent this month, compared with 43 percent last month.
The precision of Ipsos' online poll is measured using a credibility interval which in this poll was 3.3 percent for the total respondents and 11.5 for registered independents. Newsweek has contacted the White House and Ipsos for comment.
The latest figures come in the week that House Democrats unveiled two articles of impeachment claiming Trump had abused his power and obstructed Congress during the impeachment inquiry.
He is also likely to have been bolstered by the findings of a separate poll by Republican public affairs firm Firehouse Strategies and Optimus, which puts Trump ahead of all Democratic primary frontrunners in the three key battleground states Michigan, Pennsylvania and Wisconsin.
Other polls suggest that little has changed since the start of the public hearings. According to a separate Monmouth survey released on Wednesday, 50 percent said Trump should not be impeached and removed from office, with 45 percent saying that he should be. This was little change from figures from the previous month.
"Opinion on impeachment has been rock steady since news of the Ukraine call first broke. Any small shifts we are seeing now are likely to be statistical noise," Patrick Murray, Monmouth University Polling Institute director, told Fox News.