Donald Trump Insisted on Cameos in Movies Filmed at His Properties, Says Ben Affleck
Two things we learned about President Donald Trump from Ben Affleck's interview on The Late Show with Colbert Thursday night:
He should never be a movie critic
He really wants to be a movie star
The current incarnation of Batman dropped by Colbert's late-night talker to discuss Justice League, which hit theaters Friday, and Colbert was quick to point out that despite pretty poor reviews for Batman v Superman: Dawn of Justice and Justice League, Batfleck has at least one fan.
Back in 2013, before Affleck had even shot a single frame of footage as Batman, Trump declared that he would "do a great job."
"It really made me reconsider everything I have ever thought about the man," Affleck said sarcastically. "He could be onto something...he could be a genius."
Colbert joked: "He could be commander-in-chief."
Affleck quickly rebutted: "He should certainly do casting."
Related: The ridiculous stories behind Donald Trump's film and TV cameos
That led to a funny anecdote from Affleck about how Trump reportedly insisted he was in movies that filmed at one of his properties. Maybe that explains that Home Alone 2 scene.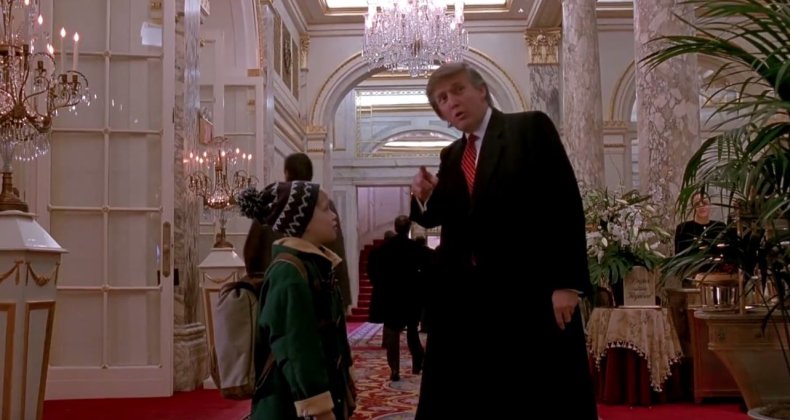 "I heard that in order to get permission to film at his properties, he insisted on being put in the movie as an extra," Affleck explained. "So you had to go through this whole ritual of pretending, 'OK, now is the scene, Donald. Action!' And then they'd say, 'Cut,' and he'd go home and it never ended up in any of the movies."
"Actually, I think there is one movie he did [make it into]," Affleck added.
But, hold on, Ben. The president isn't actually a one-movie wonder. A quick glance at his filmography shows he's actually got several credits, almost always cameoing as himself. As well as Home Alone 2, he's had bit parts in Zoolander, Two Weeks Notice and The Little Rascals.
What's more, Trump has actually won an award for his acting. Sure, it was a Razzie, but still. The future president won worst supporting actor for his appearance in 1989's Ghosts Can't Do It.
By the way, if you want Trump to cameo in your movie, the commander-in-chief has very specific instructions on how he must be filmed.
In 2016, Wall Street: Money Never Sleeps producer Eric Kopeloff told Newsweek that Trump's assistant emailed a list of filming demands ahead of Trump filming a cameo for the 2010 drama. The instructions included shooting Trump in "warm golden lighting" that accentuates his "golden blond hair, warm golden (even tone) tan skin and a more defined jawline."
His cameo was ultimately cut.